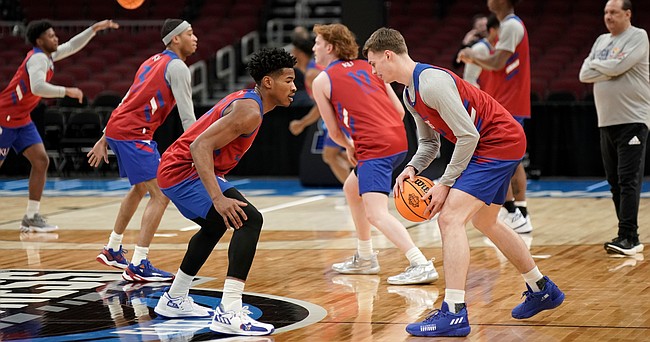 With the start of the NBA's pre-draft combine now just 10 days away, dozens of draft prospects have ramped up their training and workout schedules in anticipation of the event.
Running May 16-22 in Chicago, the combine is where a lot of the speculation and draft projections start to take on more of a concrete form.
With nearly 250 underclassmen having declared for this year's NBA draft — June 23 in New York City — and dozens of international players and college seniors also eligible, the combine helps sort out realistic expectations for those players who are vying to be a part of the 58-pick draft.
The Journal-World learned Friday that projected first-round picks Ochai Agbaji and Christian Braun both received their NBA combine invitations and are expected to report to Chicago on May 15.
Braun has been working out in Santa Barbara, California, and Agbaji has been in Phoenix, Arizona.
In addition, David McCormack's mother, Janine McCormack, said her son has been invited to the G League Elite Camp, which runs for two days on the front end of the combine — May 16 and 17, also in Chicago.
As of Friday afternoon, there was no word yet on whether any other Jayhawks had received combine or G League Elite Camp invitations.
A year ago, Jayhawks Marcus Garrett and Jalen Wilson were invited to the G League Elite Camp, but neither player was invited to stick around. Garrett, who went undrafted last summer, went on to make the Miami Heat roster through a two-way contract. Wilson, of course, returned to school and helped KU win a national championship.
While the G League combine is shorter, it still allows prospects to showcase themselves in front of NBA and G League coaches, scouts and front office executives. The top performers at the G League combine are invited to stick around for the rest of the NBA's pre-draft combine.
Last year, four of the 40 prospects who were invited to the G League Elite Camp were asked to stick around for the rest of the NBA combine.
As for where the KU crew sits entering draft prep season, Agbaji and Braun remain the only players appearing on any mock drafts.
Agbaji, who has been working out in Phoenix, was plugged into the final spot in this year's lottery at No. 14 to Cleveland in the latest ESPN.com mock draft.
Draft analyst Mike Schmitz called Agbaji "arguably the draft's most ready prospect behind (Iowa's) Keegan Murray," and he noted that Agbaji's 3-point shooting and ability to defend "up to three positions when at his best" were major strengths.
Agbaji was a lock in the first round throughout the 2021-22 season and he continues to land in the teens in most mock drafts.
"I am blessed and honored to be in this position," Agbaji said during an April Facebook Live meet and greet sponsored by Dick's Sporting Goods. "I think any team or teams that want me in their organization is a blessing. I don't have any preference at all."
ESPN's latest mock draft also has Braun in the 30-pick first round, listed at No. 28 to Golden State.
Draft analyst Jonathon Givony wrote that Braun "fits the Warriors' style perfectly, as he's a quick decision-maker, hard-nosed defender, active cutter, impressive transition finisher, excellent positional rebounder and capable standstill shooter who is comfortable filling in the gaps and playing off other stars."
If there's one area that scouts want to see Braun showcase most it's his ability to shoot the ball. Givony noted that the KU junior's shooting confidence "ebbs and flows," but added that he has a "winning pedigree" that NBA title contenders like.
Underclassmen have until June 1 to pull their name out of the draft pool and preserve their college eligibility for the 2022-23 season. Braun and Wilson both have indicated that they intend to maintain their amateur status throughout the pre-draft process.