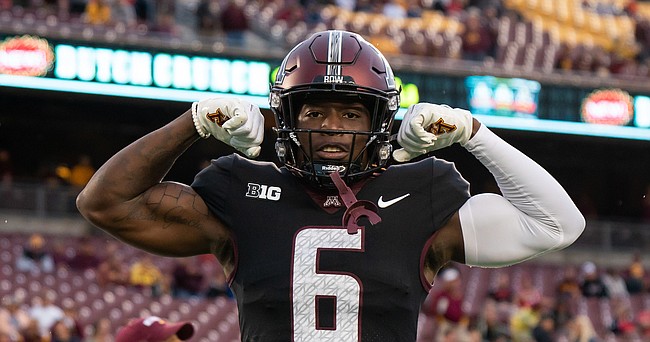 The Kansas football team received a commitment Monday morning from former Minnesota wide receiver Douglas Emilien, whose addition will address what had been an emerging need.
Emilien enrolled at Minnesota in 2020, redshirted his first season and appeared in just two games last season. He has four seasons of eligibility remaining because of the redshirt and the extra year granted by the NCAA to players at the start of the pandemic.
Three wide receivers have left Kansas in the last month — Kyler Pearson, Tristan Golightly and Majik Rector — and a fourth, Lawrence Arnold, had decided to leave before he was convinced to stay.
Emilien, who is 6-foot-1, 190 pounds and from Fort Lauderdale, Florida, wrote on his social media platforms on April 12 that he had decided to transfer from Minnesota, and he took a recruiting visit to Kansas the weekend of April 23.
A consensus three-star recruit in the Class of 2020, Emilien earned scholarship offers from nearly two dozen schools. He chose Minnesota over Cincinnati and Virginia, and LSU, Miami, Iowa State, West Virginia, Kentucky, Pitt, NC State, Maryland and Boston College were among the others who extended a scholarship offer.
Emilien played at American Heritage School for coach Patrick Surtain, a three-time Pro Bowl cornerback who played seven seasons for the Miami Dolphins and four for the Kansas City Chiefs. Surtain was hired as a defensive assistant by the Dolphins in February.
Kansas' leading receiver last season, Kwamie Lassiter II, was a sixth-year senior who on Saturday signed a contract with the Cincinnati Bengals. Three other wide receivers who played significant snaps — Trevor Wilson, Luke Grimm and Steven McBride — are expected to return alongside Arnold.
Another former Minnesota player, running back Ky Thomas, transferred to Kansas in January. Thomas, who is from Topeka, made the move in order to be closer to his family.
Emilien is the second player to decide to transfer to Kansas in three days. Offensive lineman Flavio Gonzalez, formerly of Butler Community College, did so on Saturday.