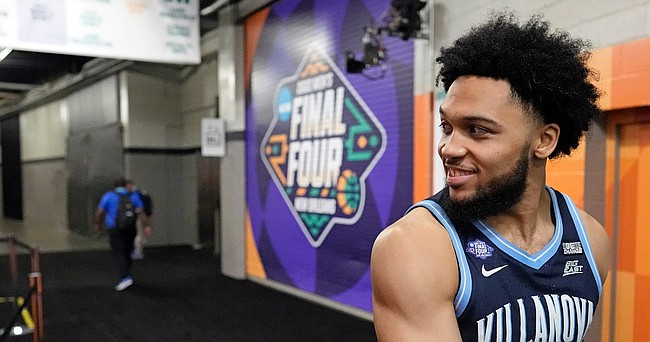 New Orleans — Collin Gillespie had done his homework, but he wasn't prepared for the test that followed.
It was May 2019, and Gillespie, Villanova's hard-nosed, sharpshooting point guard, was asked by the coaching staff to challenge a prospective recruit to a shooting contest. Gillespie went to his computer and watched the highlights of that player, Caleb Daniels, a New Orleans native who was visiting Villanova after deciding to transfer from Tulane.
That shooting contest devolved into a game of one-on-one, and it didn't take long for Daniels, who averaged 16.9 points per game during his sophomore season, to get the better of his opponent.
"When we started playing, he got up 13-0, and I was like, 'This dude can really help us,'" Gillespie said. "I knew right away he was a great fit for our program, just him as a person."
Daniels knew it, too. Although Gillespie won three of the four games the two played that day, that didn't deter him from deciding to transfer to Villanova. A week later, Daniels called coach Jay Wright and told him he was on board.
Now, nearly three years later, as Daniels finds himself back in his home city, he has been thrust into a role he couldn't have anticipated the last time he played a college basketball game in New Orleans.
He's expected to step in for junior guard Justin Moore, who tore his right Achilles tendon last weekend, and start for Villanova in its Final Four game against Kansas on Saturday at the Superdome.
"It's definitely, honestly, a true blessing and honor to be a part of this, to have the Final Four here" Daniels said Thursday. "I started my college career here, so it's definitely an honor and a blessing. But nevertheless, we're locked into what we do here at Villanova. We're just locked into each other and focused on each other."
Yet on Thursday, much of the focus was on Daniels, a fifth-year senior guard who described his journey from being the valedictorian at New Orleans' St. Augustine High School in 2017 to reaching the Final Four this spring as "a marathon." When he had decided to transfer, Tulane went 4-27 and lost all 18 of its games against American Athletic Conference opponents.
Villanova, meanwhile, could win its third national championship in six years if it wins on Monday.
"There's a lot of great feelings about coming to the Final Four, but watching and experiencing Caleb come back home and playing the best basketball of his career is really heartwarming for me," Wright said. "He's been through everything."
Daniels contracted COVID-19 a year ago, then was diagnosed with myocarditis, an inflammation of the heart that can be caused by the disease, and unable to do any physical activity from April through September, Wright said. He then caught the virus again in January and missed two games of a season in which he averaged 10.2 points and shot 42.7 percent in 27.2 minutes a game.
"What's been so impressive is, I think, his faith and his mental toughness," Wright said. "You never saw him back down. You never saw it, even when he was coming back from injuries and stuff. You didn't see him frustrated. It's incredible. And it's why he's in the position he is in now."
Moore, Villanova's second-leading scorer at 14.8 points per game, collapsed with 37 seconds remaining in the Elite Eight game against Houston when he was trying to drive past J'Wan Roberts.
He underwent surgery on Monday and received a call shortly thereafter from perennial NBA All-Star Kevin Durant, who tore an Achilles in the NBA Finals in 2019 and missed all of the following season before returning. Durant told Moore that while the injury used to mean one's days playing basketball were over, that's no longer the case.
"It's always good to have Justin around," Daniels said. "Him just being around just gives us all confidence and makes us all OK, so seeing him Saturday will be very special to us."
Moore's absence, and Daniels' ascension, shouldn't pose many obstacles in scouting for Kansas, coach Bill Self said. Although Moore played 34.4 minutes per game this season, he missed a game against UConn in early February in which Daniels stepped in as a starter and scored 16 points on 5-of-7 shooting.
"They were able to play without him, so they can draw from that and know they're very capable of playing very well even without Justin," Self said.
That's what Gillespie, also a fifth-year senior, learned that all those years ago. In 2019-20, the season Daniels was forced to sit out after transferring from Tulane, Gillespie said he "was always pushing us, making us better" when playing on the scout team during practices.
Daniels, true to his roots, never wanted to back down.
"I've never let the best of me or worst of me ever dictate who I was in the moment," Daniels said. "I just stayed in the moment, stayed where my feet were, kept my head in it and realized it's one day at a time. And honestly, I feel that's been the story of my career."
Here's a look at our coverage from New Orleans so far:
• Kansas, Villanova don't care if they're playing in the Final Four shadow of Duke and North Carolina
• Kansas' confidence, swagger during Final Four run drawn from experience
• Kansas will be tested by Villanova's strategy of posting up its guards
• KU guard Ochai Agbaji is in position to add name next to Danny Manning's on exclusive list
• Hi Mom: KU coach Bill Self's mom has been back in the bleachers for KU's run to the Final Four
• Villanova's Caleb Daniels completes 'marathon' from New Orleans to Final Four
• Bill Self, Jay Wright agree – 2018 matchup has no bearing on this year's game
• Self finds it 'pretty special' to have Kansas City-area kids Ochai Agbaji and Christian Braun as key part of KU's run
• Bill Self hopes Jayhawks play for themselves and each other and 'just enjoy it'
• Photo gallery from Day 1 of KU-Villanova
• Duke coach Mike Krzyzewski reached out to KU coach Bill Self after passing of Self's father
• Bill Self breaks down Villanova guard Collin Gillespie
• Villanova, Jay Wright give initial thoughts on Kansas
• A quick capsule glance at Villanova
• Kansas enjoying 'great experience' in its first day at the Final Four
• Jayhawks arrive in New Orleans ready to soak up 'college basketball's best'