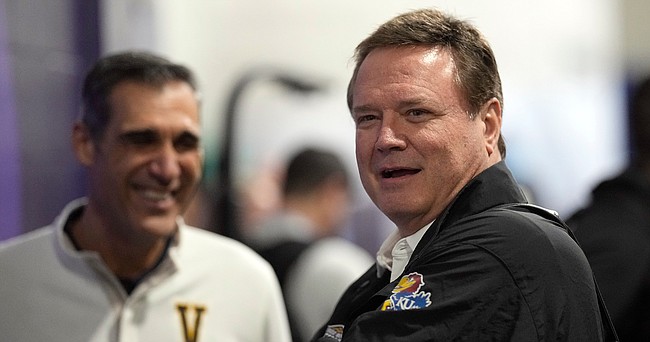 New Orleans — Kansas junior guard Christian Braun said the first days at the Final Four have "all been really fun" as the Jayhawks settle in to prepare for their national semifinal game against Villanova on Saturday.
It's the first Final Four appearance for the Jayhawks since 2018 and the fourth under coach Bill Self, who is in his 19th season as their coach.
The team arrived in New Orleans on Wednesday afternoon, and on Thursday morning, Self and his players went through a series of interviews and recorded their pregame introductions for the television broadcast before practicing at the Superdome.
That practice was closed, but all four teams — Kansas, Villanova, North Carolina and Duke — will hold an open practice on Friday that fans will be allowed to attend.
"It's a great experience," Braun said. "I think walking out on the court is probably my favorite part so far, just walking out there, being on the court, just getting to enjoy the guys and enjoy the experience."
Braun joked that he was "a little embarrassed" earlier Thursday because the players were asked to dance for cameras as part of the pregame introductions.
"I can't really dance," Braun said. "I think (my teammates are) having fun with that."
The Superdome, home of the New Orleans Saints, is hosting the Final Four for the sixth time. Because the stadium is so large, players were shuttled around between the locker room and media areas on golf carts.
Although North Carolina, Duke and Villanova have their locker rooms clustered together, Kansas' locker room is on the opposite corner, farther from the media areas.
Two players — sixth-year senior forward Mitch Lightfoot and fifth-year senior walk-on guard Chris Teahan — were on the Jayhawks when they reached the Final Four in 2018.
They also faced Villanova then and lost, 95-79, in a game in which the Wildcats led 22-4 in the opening minutes and made a Final Four-record 18 3-pointers on 40 attempts.
The teams have played twice since — a 74-71 win by Kansas at Allen Fieldhouse on Dec. 15, 2018, and a 56-55 win by Villanova in Philadelphia on Dec. 21, 2019. The Wildcats won that game when Jermaine Samuels, who is now a fifth-year senior, made a 3-pointer with 20.5 seconds left.
"I remember that game was electric," Samuels said. "Their presence is always felt and is always noticed, and I'm expecting — we're expecting — to see that on Saturday."
It's the 32nd consecutive NCAA Tournament appearance for the Jayhawks, who were knocked out of the tournament in the second round a year ago with a loss to USC.
"Last year it (stunk) getting out in the second round," senior guard Ochai Agbaji said. "But we knew what it took. We knew it took taking it gamy by game and really focusing in on every single game, every single possession, and not taking anything for granted."
Senior forward David McCormack said that he has been trying to emphasize "just being present" while at the Final Four and appreciate the atmosphere of the event.
He spoke Thursday about wanting to win games for Marcus Garrett, the lone senior who left the program after last season, and his former teammates who did not have a chance to compete in the NCAA Tournament in 2020 when it was canceled at the start of the COVID-19 pandemic.
"Just being in the moment and being here with my brothers is honestly the most important part," McCormack said. "Being in the big stadium, you're playing for your family, for your fans, but you got to this point because of the people you've played and sit next to. So, I just appreciate spending time with them here."
Kansas is looking to win its sixth national championship and its second under Self, who led the Jayhawks over Memphis in 2008. They also played in the Final Four in New Orleans in 2012, when they lost to Kentucky in the championship game.
Should they defeat Villanova, they'll play Duke or North Carolina in the national championship game on Monday.
"This whole year, we've been looking back and showing this is what we're capable of," redshirt sophomore guard Jalen Wilson said. "And now that we're at this moment, we've just got to seize everything we have."
Said Braun: "This is what we've worked hard for. We're here so we're going to compete and we're having a good time."
Here's a look at our coverage from New Orleans so far:
• Kansas, Villanova don't care if they're playing in the Final Four shadow of Duke and North Carolina
• Kansas' confidence, swagger during Final Four run drawn from experience
• Kansas will be tested by Villanova's strategy of posting up its guards
• KU guard Ochai Agbaji is in position to add name next to Danny Manning's on exclusive list
• Hi Mom: KU coach Bill Self's mom has been back in the bleachers for KU's run to the Final Four
• Villanova's Caleb Daniels completes 'marathon' from New Orleans to Final Four
• Bill Self, Jay Wright agree – 2018 matchup has no bearing on this year's game
• Self finds it 'pretty special' to have Kansas City-area kids Ochai Agbaji and Christian Braun as key part of KU's run
• Bill Self hopes Jayhawks play for themselves and each other and 'just enjoy it'
• Photo gallery from Day 1 of KU-Villanova
• Duke coach Mike Krzyzewski reached out to KU coach Bill Self after passing of Self's father
• Bill Self breaks down Villanova guard Collin Gillespie
• Villanova, Jay Wright give initial thoughts on Kansas
• A quick capsule glance at Villanova
• Kansas enjoying 'great experience' in its first day at the Final Four
• Jayhawks arrive in New Orleans ready to soak up 'college basketball's best'