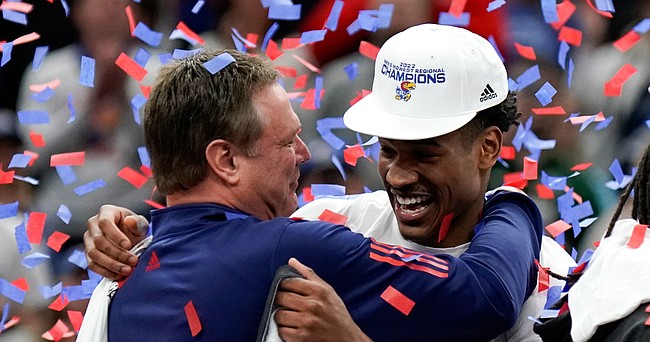 New Orleans — With confetti flying around them and the rest of the Jayhawks celebrating top-seeded Kansas' 26-point win over Miami in the Elite Eight last Sunday in Chicago, Kansas basketball coach Bill Self quietly pulled Ochai Agbaji to the side of the celebration stage for a quick chat.
On Thursday afternoon, between Final Four media sessions at the Caesars Superdome, Self shared the message he delivered during that conversation.
"Ochai has the chance to have the best year that anybody's had at Kansas since Danny Manning," Self told a small group of reporters before being whisked away by a golf cart to another media obligation.
Self told Ochai that very thing in Chicago, saying simply, "I don't know if you realize this, but it can be."
Self continued: "You've got to (go to New Orleans) and play well and win two games. But the bottom line is nobody would have a resume that he has had his last year in college except for Danny."
That resume, for Agbaji, already includes the following: Big 12 Player of the Year, Big 12 regular season champion, Big 12 tournament champion, Big 12 tournament MVP, first-team All-American and Final Four participant.
Even Manning, who led the Jayhawks on a miracle run to the 1988 national title, did not win the regular season or postseason Big Eight titles.
He did, however, win national player of the year honors and a national championship.
That Agbaji's name is already being tossed around in the same conversation with the player that many believe is the greatest Jayhawk of all time is a testament to both the work he has put in and the decision he made to return to school after testing his NBA draft status last summer.
Manning, who was chosen No. 1 overall in the 1988 NBA draft a few months after leading KU to the title, did everything for that Kansas team. He the Jayhawks in scoring (24.8 points per game), rebounding (9), blocks (1.9), steals (1.8) and minutes (35) was also the emotional leader and the face of the entire program.
Agbaji, who enters Saturday's 5:09 p.m. Final Four showdown with Villanova averaging 18.9 points and 5.2 rebounds per game while shooting 40% from 3-point range, has shown the ability to do similar things. But part of what has made him so successful this season is that he entered his final year of eligibility willing to do as much or as little as the team needed.
"Whether that's talking, making sure everyone's right or being aggressive and being that main scorer for the team," Agbaji said. "Just anything the team needed me to do for us to be successful."
While it's a link to Manning that's on the line for Agbaji this weekend, there was also another recent KU player who came close to joining the conversation.
In 2018, Devonte' Graham racked up many of the same honors that Agbaji has won this year.
Graham, who led the 2017-18 Jayhawks with far more personality and flash than Agbaji has displayed this season, also won Big 12 regular season and postseason titles. He was the regular season conference player of the year and a first-team All-American.
"But he didn't win it," Self said of Graham's 0-1 record in his only trip to the Final Four.
All three players one day will see their names and numbers hanging in the Allen Fieldhouse rafters together. Manning's is already there and the other two are locks to go up. They, along with dozens of other former KU greats, will always be remembered for the contributions they made to the program.
But it's not every year that a player produces at such a high level that he becomes one of the first names you think of when you're talking about the all-time great seasons at tradition-rich Kansas.
Agbaji has done that, and, the best part about it, at least in Self's eyes, is that his senior leader is still writing his story.
"Och has to play well for us to play well," Self said Thursday. "Especially on this stage. But nobody can take away what he or this team (have) already done. All we can do is add to it."
Here's a look at our coverage from New Orleans so far:
• Kansas, Villanova don't care if they're playing in the Final Four shadow of Duke and North Carolina
• Kansas' confidence, swagger during Final Four run drawn from experience
• Kansas will be tested by Villanova's strategy of posting up its guards
• KU guard Ochai Agbaji is in position to add name next to Danny Manning's on exclusive list
• Hi Mom: KU coach Bill Self's mom has been back in the bleachers for KU's run to the Final Four
• Villanova's Caleb Daniels completes 'marathon' from New Orleans to Final Four
• Bill Self, Jay Wright agree – 2018 matchup has no bearing on this year's game
• Self finds it 'pretty special' to have Kansas City-area kids Ochai Agbaji and Christian Braun as key part of KU's run
• Bill Self hopes Jayhawks play for themselves and each other and 'just enjoy it'
• Photo gallery from Day 1 of KU-Villanova
• Duke coach Mike Krzyzewski reached out to KU coach Bill Self after passing of Self's father
• Bill Self breaks down Villanova guard Collin Gillespie
• Villanova, Jay Wright give initial thoughts on Kansas
• A quick capsule glance at Villanova
• Kansas enjoying 'great experience' in its first day at the Final Four
• Jayhawks arrive in New Orleans ready to soak up 'college basketball's best'