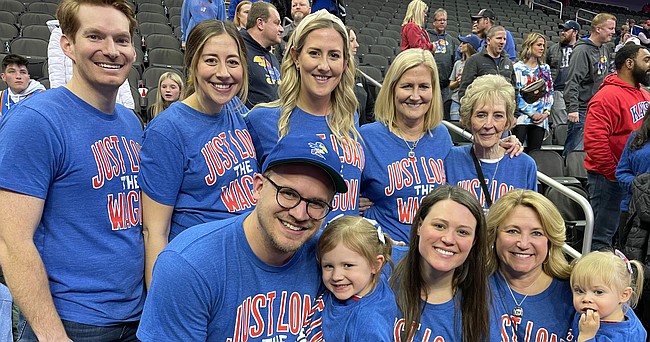 New Orleans — Bill Self Sr. died nine days before KU was to host Kentucky in January, and amid the sadness and tears that the family was experiencing at the time, a bright spot emerged for his wife Margaret.
With Self Sr. ailing, it had been four years since Margaret last attended a Kansas basketball game at Allen Fieldhouse, and KU coach Bill Self and the rest of his family thought it would be good for her to get back to a game.
"One of my girls said, 'Mimi, now you can go to the game Saturday,'" Self's sister, Shelly Anderson recently recalled in an interview with the Journal-World. "She immediately said, 'Well, I can't go.' And then she kind of caught herself and realized, 'I can go.'"
And she's been going ever since.
Margaret, who will be in New Orleans for the Final Four this weekend, told the Journal-World that her ability to get out and about and have something as enjoyable as Kansas basketball to keep her mind off of her late husband has been "a real blessing."
Her children see it the exact same way.
"She's had to re-program herself a little after not doing things and getting out in order to stay home with my dad," Anderson said. "But I'm so glad she's wanting to go."
Self agreed and said that he has been less worried about how his mom was holding up after his father's passing because he knew she had been staying busy.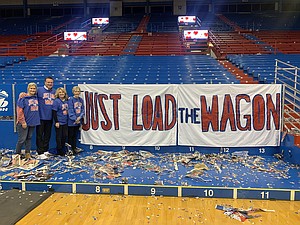 Following the Jayhawks to the end of the regular season and at every stop this postseason has been a big part of that. But Self said his mom and sister even took in a state tournament game of a family friend in Tulsa on their drive up to Kansas City for the Big 12 tournament.
"Just little things like that are great," Self told the Journal-World. "She's getting out and staying busy, which is what she needs to do, and I'm thankful that the busy times will exist at least a little longer. It's been good for her. She was a caretaker for quite some time."
Basketball played a huge role in the lives of Margaret and Bill Sr., who celebrated their 60-year anniversary last July. Whether it was watching their children play or following their son's coaching career, the Selfs always seemed to have some tight connection to the game.
Bill Sr. coached and Margaret also played. In fact, she owns the family record for points scored in a single game, besting her son's career-high by one point.
"She knows ball," Self said of his mother. "And she loves it. She got 36 one game back in high school. Of course, her dad was also the coach, so she got to shoot all the free throws."
Back then, girls basketball games were played differently than they are today. In many states, only three players from each team were allowed to cross half-court. And when a player was fouled, the coach could pick any of the six players on the floor to shoot the foul shots.
Self said Margaret, 80, only recently told him about her career night for the Boynton High Cardinals in Muskogee County, Oklahoma. To her credit, she included the part about her father, A.B. Crocker, being the coach and hand-picking her to shoot so many free throws.
"That was 100 years ago," Margaret said with a laugh. "But I did grow up around basketball. My daddy always coached and I've always been a basketball fan. When Bill Jr. was little, I was more or less the cheerleader or the chauffer and Bill Sr. was always the coach. When basketball season ended, we went into a real funk, and it was always, 'Well, what are we going to do now.'"
Those feelings continued throughout their lives after every one of their son's seasons at Oral Roberts, Tulsa, Illinois and Kansas.
When Self's father first became ill, his parents stopped going to games. Their last regular run with the Jayhawks came in 2018, at the Final Four in San Antonio. As thrilled KU's head coach he was to have them there, Self said a lot of extra effort went into making sure his dad could attend games that postseason.
In addition to Bill Sr. having to find the energy to go, Self and his family had to arrange for a golf cart drive him to his seat in the stadium and find a place for his walker to sit nearby in case he needed it.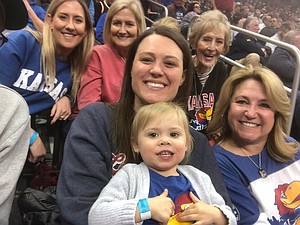 Those challenges inspired the Selfs to create a new game-day experience for themselves and they began watching all of the KU games on their big screen television at home. Occasionally, they invited friends or family members to the house to watch with them and Margaret said they reached the point where they started to enjoy it almost as much as actually being there. The size of their big screen TV had something to do with that.
"You could almost count the eyelashes on their eyes when the cameras would get close to the players," she said. "Bill Sr. could've gone to more ballgames, but he always felt like it was just too much trouble for everyone else for him to be able to go."
Now that she's back in the stands, Margaret is creating new memories and traditions for herself.
She calls it "the new normal," and it extends beyond game day. On Tuesday, still recovering from KU's trip to Chicago for the Sweet 16 and Elite Eight, Margaret slept in until 11:01 a.m.
"I haven't done that in years," she said.
And the routine, which she's been able to perfect during the Jayhawks' deep run through this year's NCAA Tournament, includes everything from getting used to the idea of simply being able to go to games again to who sits where on the superstitious family's seating chart.
It used to be Bill Sr. in the aisle, Margaret next to him, Anderson next to her and Self's wife, Cindy, in front of Self's father. Now, Margaret gets the aisle seat.
"We've all moved down one," she said before adding, "It's been a different thing not having Bill there because for so many years he's always been right there by my side. Each time it gets a little bit easier and a little bit better. But there are still times when a little wave of sadness washes over you. But it's been fun. I know my time will come before long, and I'm going to try to enjoy the rest of my time as much as I can."
Like her son, who said he has felt his father's presence during the Jayhawks' run to the Final Four, Margaret said she has sensed Bill Sr. being a part of the Jayhawks' current run, too.
"I'm sure he's trying to orchestrate some of it," she joked. "We're just so proud of Bill and the whole team, the whole contingent of fans and KU people. I know it means so much to so many people. And everyone has just been so wonderful. Even fans who I don't know have been so kind. And it really does help. People may not realize that, but it really does."
Anderson has been able to see more of that than her brother, who has had other things on his mind on game days. But both of them said they have thoroughly enjoyed seeing Margaret in the stands, smiling and happy while tagging along for the Jayhawks' latest ride.
"It's been great adding her back into the basketball world," Anderson said. "This sport has provided us with so much more family time than we would have normally, but we've been missing some pieces the last few years."
Added Self: "I guess I didn't really realize I missed it as much as I did."
Here's a look at our coverage from New Orleans so far:
• Kansas, Villanova don't care if they're playing in the Final Four shadow of Duke and North Carolina
• Kansas' confidence, swagger during Final Four run drawn from experience
• Kansas will be tested by Villanova's strategy of posting up its guards
• KU guard Ochai Agbaji is in position to add name next to Danny Manning's on exclusive list
• Hi Mom: KU coach Bill Self's mom has been back in the bleachers for KU's run to the Final Four
• Villanova's Caleb Daniels completes 'marathon' from New Orleans to Final Four
• Bill Self, Jay Wright agree – 2018 matchup has no bearing on this year's game
• Self finds it 'pretty special' to have Kansas City-area kids Ochai Agbaji and Christian Braun as key part of KU's run
• Bill Self hopes Jayhawks play for themselves and each other and 'just enjoy it'
• Photo gallery from Day 1 of KU-Villanova
• Duke coach Mike Krzyzewski reached out to KU coach Bill Self after passing of Self's father
• Bill Self breaks down Villanova guard Collin Gillespie
• Villanova, Jay Wright give initial thoughts on Kansas
• A quick capsule glance at Villanova
• Kansas enjoying 'great experience' in its first day at the Final Four
• Jayhawks arrive in New Orleans ready to soak up 'college basketball's best'