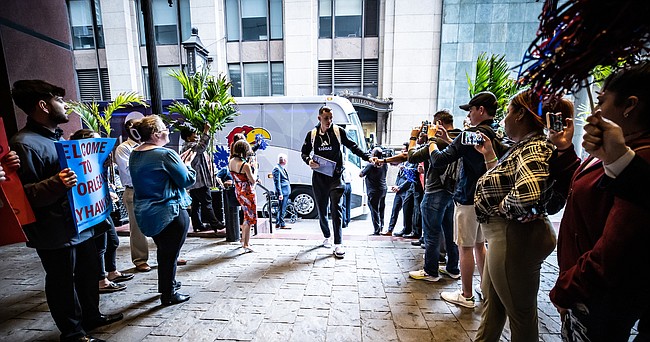 New Orleans — Kansas basketball coach Bill Self had a simple thought go through his head when the Jayhawks' team bus pulled up to its J.W. Marriott headquarters at the Final Four just after 4:30 p.m. on Wednesday.
"Pretty cool," Self said. "I know I won't ever go there, but how far's Bourbon Street from here?"
The New Orleans hot spot is roughly two blocks from KU's team hotel, and Self hinted at the potential for his players to see a little of the sights in and around the city on Wednesday evening.
"The guys seem great," Self said. "We're excited to go get some Cajun food tonight and enjoy the city a little bit and then we'll get to business (on Thursday)."
Avoiding distractions is as much a part of the Final Four experience as scouting one's opponent and trying to stay locked in on what got teams there. Self said he explained that to his players before they left Lawrence.
"I've asked them to trust me," he said. "Not that I've been here enough. But I've been here enough to know that there are some serious dos and don'ts. To care as much as you have to get here, you've got to be smart enough and care enough to do it five or six more days if you're fortunate enough to win (on Saturday). I think we'll be good. Enjoy it, have fun, soak it up, but there will be some strict guidelines within our team that the guys have to adhere to."
The reason behind that is to give your team the best chance possible to be the one cutting down the nets on Monday night.
"I thought our sport was cool until we (won a national championship in 2008), and then you realize there's another level," Self said Wednesday. "It would be like getting to the (conference) championship game in the NFL and not getting to the Super Bowl. Now our guys will experience what college basketball's best to offer is. And this year maybe even more so than other years."
Last year, the Jayhawks were knocked out in the second round and the entire NCAA Tournament took place in one city and with a limited number of fans in attendance. The year before that, it was called off altogether because of the pandemic. So the return of the tournament in all its glory has been both a welcome sight throughout college basketball and appears to be ending with a bang.
"They're excited," Self said of his players, many of whom are playing in their first Final Four. "You've got a band waiting for us getting off the plane, and the anticipation, with Duke and (North) Carolina playing and (Duke) Coach (Mike) Krzyzewski's last year and then two other blue bloods playing.
"I don't know that too many people are talking about (Villanova) and Kansas right now," he added. "And that's great. But I think that this could be as anticipated and as well attended and as much watched as maybe any Final Four ever. It could be pretty special."
Top-seeded Kansas and Villanova will tip off at 5:09 p.m. Saturday at the Caesars Superdome. Duke and North Carolina will follow. The two winners will meet Monday night for the national championship and the days between then and now will be spent practicing, preparing, meeting with the media and trying to get to tipoff.
Self said he thought his team was in a good spot, mentally, upon arriving in New Orleans.
"I don't know anybody that wouldn't be loose on a Wednesday when you play on Saturday," he said after Wednesday's arrival. "Maybe talk to me Friday night or something."
Here's a look at our coverage from New Orleans so far:
• Kansas, Villanova don't care if they're playing in the Final Four shadow of Duke and North Carolina
• Kansas' confidence, swagger during Final Four run drawn from experience
• Kansas will be tested by Villanova's strategy of posting up its guards
• KU guard Ochai Agbaji is in position to add name next to Danny Manning's on exclusive list
• Hi Mom: KU coach Bill Self's mom has been back in the bleachers for KU's run to the Final Four
• Villanova's Caleb Daniels completes 'marathon' from New Orleans to Final Four
• Bill Self, Jay Wright agree – 2018 matchup has no bearing on this year's game
• Self finds it 'pretty special' to have Kansas City-area kids Ochai Agbaji and Christian Braun as key part of KU's run
• Bill Self hopes Jayhawks play for themselves and each other and 'just enjoy it'
• Photo gallery from Day 1 of KU-Villanova
• Duke coach Mike Krzyzewski reached out to KU coach Bill Self after passing of Self's father
• Bill Self breaks down Villanova guard Collin Gillespie
• Villanova, Jay Wright give initial thoughts on Kansas
• A quick capsule glance at Villanova
• Kansas enjoying 'great experience' in its first day at the Final Four
• Jayhawks arrive in New Orleans ready to soak up 'college basketball's best'