Chicago — The long history between Kansas and Villanova will be rekindled on Saturday when they meet in the Final Four.
The teams have played eight times since the Jayhawks hired Bill Self as their coach prior to the 2003-04 and the Wildcats have won five of them. That includes a lopsided victory in the Final Four in 2018, the last time Kansas reached that stage.
Photo Gallery
Kansas Basketball v. Miami (Elite 8)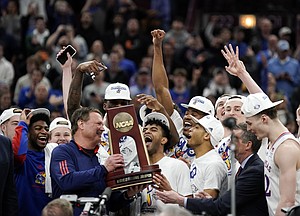 View a photo gallery from the Jayhawks' Elite 8 matchup against Miami in Chicago.
Kansas, the No. 1 seed in the Midwest Region, beat Texas Southern, Creighton, Providence and Miami to reach New Orleans. Villanova, the No. 2 seed in the South Region, dispatched Delaware, Ohio State, Michigan and Houston.
The winner of the last three NCAA Tournament games between Kansas and Villanova has won the national championship. Is that a sign? Let's relive the history between the two since Self and Villanova's Jay Wright took over their programs.
Jan. 2, 2004: No. 13 Kansas 86, Villanova 79
The Jayhawks made 35 of 41 free throws and went on a 23-5 run to lead 66-48 with 8:58 to play, but the Wildcats still closed to within five at 80-75 with 55 seconds left before falling at in the first game of a home-and-home series at Allen Fieldhouse. Keith Langford finished with 24 points, including two free throws to cap that run, and Wayne Simien Jr. scored 23.
Jan. 22, 2005: Villanova 83, No. 2 Kansas 62
Kansas entered the game unbeaten at 14-0 but took its first loss after Allen Ray scored 27 points and Curtis Sumpter scored 25 in Philadelphia. The Wildcats put the Jayhawks away with a 31-5 run to open the second half and at led by as many as 32 points. Ray and Sumpter combined to make nine 3-pointers, and Kansas committed 22 turnovers. "I hate that this happened today, but maybe a little humiliation will do us some good," Self said.
March 28, 2008: No. 4 Kansas 72, Villanova 57 (Sweet 16)
The Wildcats were a mere stepping stone for the Jayhawks, who won easily in Detroit on the road to their fifth national championship. They dazzled with four alley-oops in the opening nine minutes, including a highlight-reel connection when Russell Robinson threw the ball off the glass to Brandon Rush, who slammed it home. "I wasn't expecting that at all," said Rush, who finished with 16 points. Robinson scored 15 and Mario Chalmers had 14.
Nov. 29, 2013: Villanova 63, No. 2 Kansas 59
Kansas held Villanova without a field goal for nearly the final seven minutes, but Ryan Arcidiacono made a 3-pointer with 10.1 seconds left to give his team the win in the semifinals of the Battle 4 Atlantis in the Bahamas. Frank Mason III scored, drew a foul and made a free throw with 34.2 seconds left to reclaim the lead for the Jayhawks, but they couldn't hold on in what turned out to be a game of runs. They led 11-2 then found themselves down 29-19, and they erased an 11-point lead with a 13-1 run late.
March 26, 2016: No. 6 Villanova 64, No. 1 Kansas 59 (Elite Eight)
Kansas' 17-game winning streak ended in Louisville, Kentucky, with an upset loss to Villanova, a No. 2 seed that led just 60-59 with 15 seconds left before it made its free throws to hang on. Perry Ellis, the Jayhawks' leading scorer, was held to just four points in a battle between teams that had been ranked No. 1 in the AP poll during the season. Devonte' Graham scored 17 points and Frank Mason III and Wayne Selden Jr. each had 16. The Wildcats won their second national championship a week later by defeating North Carolina.
March 31, 2018: No. 2 Villanova 95, No. 4 Kansas 79 (Final Four)
The Wildcats made a Final Four-record 18 3-pointers on 40 attempts on what Wright called "just one of those nights" in San Antonio. Villanova took a 22-4 lead in the battle of No. 1 seeds and stifled Kansas' offense. "The game plan went to crap," Self said. "You get caught in between on defense, and it's the worst thing you can do." Villanova beat Michigan 79-62 two days later to win its second national title in three years.
Dec. 15, 2018: No. 1 Kansas 74, No. 17 Villanova 71
Chiefs quarterback Patrick Mahomes and Royals Hall of Famer George Brett were in attendance at Allen Fieldhouse as Devon Dotson made four free throws over the final 1:10 to keep the Jayhawks on top. Lagerald Vick scored 29 points and Dedric Lawson had 28 points and 12 rebounds for Kansas in a game that included eight ties and eight lead changes. "This atmosphere was just awesome," Wright said.
Dec. 21, 2019: No. 18 Villanova 56, No. 1 Kansas 55
Jermaine Samuels made the winning 3-pointer with 20.5 seconds left as the Wildcats, who shot 10-for-43 from beyond the perimeter, won in Philadelphia and became the first team to beat the Jayhawks twice when they were ranked No. 1 under Self. Dotson missed what would have been a tying free throw on the next possession, and a turnover by Villanova gave the Jayhawks another chance, but Dotson missed a contested layup as time expired.
https://www.youtube.com/watch?v=lYD7EwyRFWM
https://www.youtube.com/watch?v=YfD0hVtc6fo