Chicago — Kansas coach Bill Self said Friday that he was confident Ochai Agbaji would soon get back to his scoring ways and that "the lid will come off eventually."
It didn't take long.
Agbaji, a finalist for the major national player of the year awards, had his best performance of the postseason in Kansas' 76-50 victory over Miami on Sunday in the Elite Eight as he finished with a team-high 18 points, five rebounds and four assists, and tied a career high with four steals.
Photo Gallery
Kansas Basketball v. Miami (Elite 8)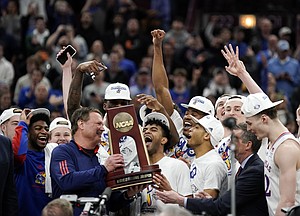 View a photo gallery from the Jayhawks' Elite 8 matchup against Miami in Chicago.
Kansas outscored Miami 47-15 after halftime, and Agbaji, who had 12 points following the break, had his fingerprints all over the 19-5 run that began the second half.
He stole the ball on a bad pass by Jordan Miller on the Hurricanes' first possession, sank a pair of layups — including one on a breakaway that could have easily been an emphatic dunk — and threw a baseball-style, three quarters-court pass that set up a layup by David McCormack on which he drew a foul.
"Ochai has carried us all year long," coach Bill Self said. "For him to not get 20 or 22 in a game does not mean he's in a slump or anything like that. He has labored offensively, I think, in large part because of how people have defended him. And maybe we haven't done a good job of getting him the ball. But I know now, after the way we played the second half, he'll be full of confidence moving forward."
Agbaji also made a 3-pointer with 10:16 remaining after he collected a ball in the left corner that Jalen Wilson prevented from going out of bounds. That put the Jayhawks up, 54-42.
"David's and-one and my 3, those are plays we needed in the second half to get us momentum moving forward," Agbaji said. "So, once we made those plays, it was just like, no looking back."
Agbaji scored a season-low five points in Kansas' 66-61 win over Providence in the Sweet 16 on Friday. Although he ended the regular season averaging 19.8 points per game, he entered Sunday averaging 13 points per game in the 10 games the Jayhawks have played in March and 12.4 in the postseason.
His shooting percentages have also dipped, from 47.7% in the regular season to 41% in the postseason, and from 41.1% on 3-pointers in the regular season to 25.8% in the postseason.
On Sunday, he shot 8-for-12 (66.7%) and made both of his 3-point attempts.
"I see the game maybe a little differently than a lot of folks," Self said. "I think Ochai can play well without making shots. But I think to the public, that's what we depend on him to do.
"So, I mean, I think if you have to prove your worth, whether you play good or not, if the ball goes in the hole or not, that doesn't really mean you're the player you can be. Ochai has carried us all year long."
https://www.youtube.com/watch?v=lYD7EwyRFWM
https://www.youtube.com/watch?v=YfD0hVtc6fo