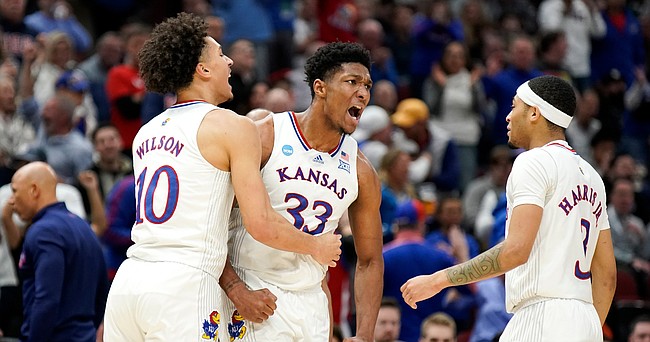 Chicago — David McCormack swung his left arm outward, then his right, then screamed to release all of the fury that had been bottled up and burning inside him.
McCormack isn't one to offer an outburst, but Sunday's wasn't just any game.
The senior forward finished with 15 points, including the two that led to his emotional explosion, as well as four rebounds and an all-Midwest Region team selection to power top-seeded Kansas' second-half renaissance in a 76-50 victory over No. 10 seed Miami.
Photo Gallery
Kansas Basketball v. Miami (Elite 8)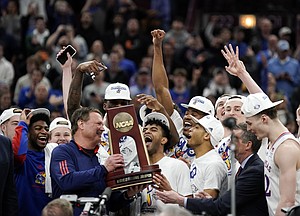 View a photo gallery from the Jayhawks' Elite 8 matchup against Miami in Chicago.
It was an awakening for McCormack, who had only scored more than 10 points once during the Jayhawks' previous six postseason games and has been limited for stretches because of foot soreness.
And his performance was the perfect remedy for the Jayhawks, who couldn't figure out how to best handle the undersized Hurricanes in the first half before turning back to what they do best — pound the ball inside and run in transition — in the second.
"My teammates and coach (Bill) Self for sure put a lot of faith in me and trust me to perform and excel anytime the ball is in my hands," McCormack said. "I just do what I can to make the team better and use every opportunity to score or pass out of the post."
The play that had McCormack so riled up was an example of what he does best. With 14:29 remaining and Kansas up 45-40, Miami's Isaiah Wong missed a long jumper that landed with a flat rebound in the hands of the Jayhawks' Ochai Agbaji.
Agbaji turned, saw Jalen Wilson running back in transition and tossed the ball with his right hand, like an outfielder, to Wilson at the opposite free throw line.
Wilson spun around Wong, who had raced back on defense, and tried a fadeaway jumper from 6 feet. It didn't fall, but McCormack jumped, tipped the ball back toward himself on the rebound, pulled it away from Miami's Charlie Moore and went back up with it, drawing the foul from Sam Waardenburg before the ball went through the rim.
Photo Gallery
Downtown Lawrence celebrates Jayhawks run to Final Four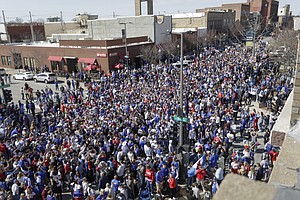 View a gallery of photos as fans in downtown Lawrence celebrate the Jayhawks' win to advance to the Final Four.
Once McCormack heard the whistle blow and the ball drop, he began an exaggerated crab walk in front of the cheerleaders to celebrate what he knew was a significant shift in momentum in favor of the Jayhawks.
After using a television timeout to cool down, he made the ensuing free throw as well.
"I thought David was fabulous," Self said. "Especially the start of the second half. We had a size advantage inside, and also, they were playing through some foul issues, so we just kept trying to throw it to him as much as possible."
Self said Saturday that McCormack "got off to a slow start" in the 66-61 victory over No. 4 seed Providence in the Sweet 16, and he finished that game with eight points and two rebounds in 23:19.
Kansas started Sunday's game going through McCormack — he scored the game's first points — but went away from that strategy as the first half wore on.
The effort to do so was much more concentrated in the second half. McCormack posted Waardenburg up on the Jayhawks' first possession and was fouled — he made only the second free throw — and called for the ball on the second possession, only to have Moore swat it out of his hands after he took it down to his waist.
On the third, which began with Wilson intercepting a bad pass from Moore, McCormack took a bounce pass from Dajuan Harris Jr. at the foul line and stormed in for a dunk. It pulled Kansas, down six points at halftime, within three at 35-32, and gave McCormack 1,100 career points.
"He put us in foul trouble," Miami coach Jim Larrañaga said. "We were never able to double-team him and cause him problems. Because of the speed in which they moved the ball and moved their players around, we were a little bit getting to the double team. That was true throughout the game, but especially to start the second half."
Miami figured to pose matchup problems with Kansas given its tallest rotation player, Waardenburg, who like McCormack is 6-foot-10, is more of a stretch five type of player. Waardenburg spent much of the game playing away from the basket, leaving McCormack to battle with forward Jordan Miller, who is 6-foot-7, and backup Anthony Walker, who is 6-foot-9.
"Knowing that Jalen would be guarding Waardenburg, I helped off a lot, plugging the paint, doing whatever I can," McCormack said. "And when Miller came into the game, just things like that, I knew I had to be out on the perimeter. As long as we communicated as a team — ball switches, everything like that — everything went smoothly."
McCormack shot 6-for-7 and made three of four free throw attempts in 18 minutes, though Self said after the game that the senior "got the short end of the stick" because he didn't realize how little McCormack was in the game in the second half.
He was on the court for 10 minutes in the first half, then, after starting the second, was substituted out for Mitch Lightfoot with 12:32 remaining and did not return.
Lightfoot, too, had one of his better games of the season as he finished with nine points and three rebounds in a very active 12 minutes.
"The reality is you combine those two — that's how I look at it; there's 40 minutes there — and I don't know what you get, but you get 24 points and whatever and (they were) very, very efficient," Self said. "That was huge in today's game, especially when we have a size advantage."
A year ago, McCormack was limited by a broken foot that required surgery after the season — an injury that played a role in Kansas losing in the second round of the NCAA Tournament.
Now it's onto the Final Four, and McCormack played as large a role on Sunday as ever. His celebration lasted longer than that moment.
"I don't know what it cut the lead to at that point, but I just know it pumped energy into the bench and everyone on the court, which makes us guard better, move faster," McCormack said. "It just helped the team all around."