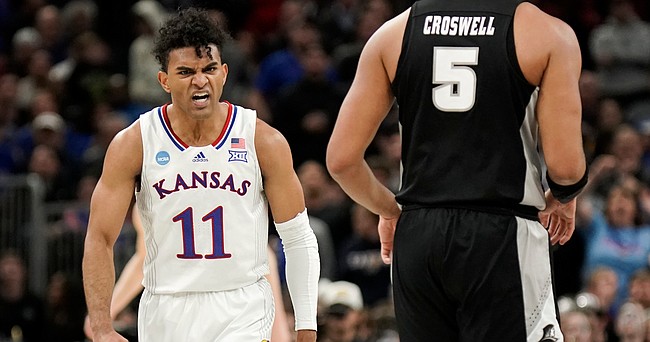 Chicago — Before coming to Kansas, super-senior point guard Remy Martin never made it farther than the first round of the NCAA Tournament during two trips to the Big Dance with Arizona State.
Today, he sits one win away from reaching a Final Four. In order to get there, Martin knows he must first remember the feeling of sitting in the losing locker room with the Sun Devils, dreams dashed, emotions raging.
"You don't forget those feelings," Martin said of his 1-2 NCAA Tournament record prior to this season. "You try to wear that, you try to turn them into a positive and you try to work hard to be able to reach the point where you want to go. I think that's part of my story, just being able to fail so many times and keep getting back up and continue to try to reach your goal. I'm just living in that story right now."
What a story it has been.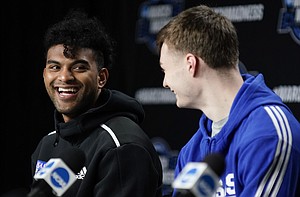 From injury issues to limited minutes to rock star status and everything in between, Martin's one-year ride with the top-seeded Jayhawks has never been dull. Frustrating, sure. But never dull.
As he prepares to help Kansas take on 10th-seeded Miami at 1:20 p.m. in Sunday's Elite Eight at United Center, Martin's mind remains locked in on playing with the same passion and production he has during the past three weeks and his heart has exploded with appreciation for the opportunity.
"I'm having an incredible time," he said Saturday during one of two media sessions that followed KU's Sunday afternoon practice. "It's probably the best time of my life, with the best coach and the best teammates."
For most of the season, Martin has lived those words.
When things were rough and he wasn't playing much or playing hurt, he said he was happy to be at Kansas.
Before Senior Day, three games into his return from a month-long shutdown to bring his right knee back to full health, Martin said every opportunity to wear the KU uniform was a blessing. And before the Jayhawks' postseason run began, which has included six consecutive victories and Martin playing a major role in each one of them, the 6-foot senior with the passionate game and California personality said he thought he still had something left in the tank to offer.
Boy, was he right.
That the reserves in the machine that is Martin would include him being KU's best player at key stages of do-or-die games in March was hard to predict. But that's what made it easy for Martin and his teammates to embrace.
"That's what I think is special about this team," KU sophomore Jalen Wilson said Saturday. "We all follow each other. No one's afraid to lead. No one's afraid to listen."
Never was that more evident, when it comes to Martin, than near the end of the first half of Friday's Sweet 16 win over Providence.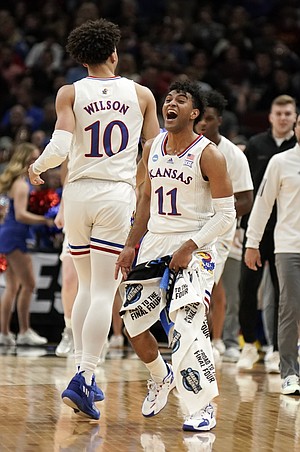 After draining a jumper to put the Jayhawks up 26-15 in the final minute of the half, Martin went into full puppet master mode. As Kansas got back on defense, Martin instructed the Kansas crowd to come to their feet and get loud. They did.
"It'd be awkward if they didn't," Martin said Saturday with a sly grin.
Moments later, with Providence holding for the final shot of the half, Martin talked through a defensive assignment scenario with Wilson, taking the lead on what the two Jayhawks needed to do on the play.
The switch was executed perfectly. And none of it was premeditated.
"I think it was just feeling the moment; It was just the right time," Martin said of that sequence. "It's just kind of part of me. There's really no explanation of it. It's just a feeling and it's just who I am. At the moment, I was just like, 'Man, let's get it going and get the crowd going.' I only do things that may benefit the team. That's just what it is. All of me."
Wilson said moments like that from Martin take his energy to a higher level.
Even-keeled All-American Ochai Agbaji said what little fire he does flash came from Martin. And he remembers the moment when it first took root.
"When he came in, we had a pick-up game for the campers and he was on my team, and it was the first time I had ever played with him," Agbaji said Saturday. "It was just like, you know, kind of feeling things out. He's over here talking me up like, 'Go! That's you! That's you, Och!' All that stuff. I kind of got it from him, and then he kind of spread it to everyone else. That kind of confidence came from, honestly, Remy coming in here with just a different vibe."
No matter who you ask, the Jayhawks all will tell you that Martin's positive attitude during even the most frustrating moments of this memorable season was what allowed him to get to today.
"We've said all along that we had a chance to be a much better team than what we displayed, even though we had a really good year, just because of him," KU coach Bill Self said on Saturday. "But not knowing what "him" really was. So, yeah; It's been great. He's one of the few guys out there than can have a miserable or very poor year by his own expectations and he would tell you right now he's having the time of his life. It's been the best year ever (for him) in large part because of the last couple of weeks."
Martin credited Self for a lot of his success during this final run, both as a player and a person.
"He's the best coach I've ever played with and he brings something out of me that a lot of coaches don't know how to do," Martin said of Self.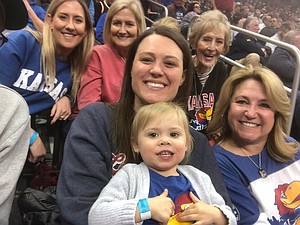 While his return to the court has reenergized everything about him, Martin has continued to emphasize the one thing that he said mattered most when he decided to come to Kansas. Winning.
That the Jayhawks have continued to do just that has brought Martin and his teammates extreme joy.
But KU's late-arriving X-factor also has been able to successfully manage the emotions that come with a run like this — all business between the lines, staying loose with his teammates off the court and soaking up every second of the journey, from the sights and sounds and keepsakes to the final scores and individual stats.
"I'm absorbing it," Martin said Saturday. "This is my last year. I'm not letting it get to us because we've still got a lot more to go. It's honestly amazing to be able to survive (in this tournament) and I don't take that for granted at all."
His teammates are right there with him, both for Martin and for their own memory banks.
And as much as they all will say what Agbaji said on Saturday about not having Martin throughout most of the Big 12 season — "Obviously, it sucked" — they all did whatever they could to keep his head in the right place and keep the chance alive for him to come back and help this team make a run.
"That's why I knew, at some point, his success would come because he's had this great attitude," Agbaji said Saturday. "He hasn't done anything wrong. He's just been injured. So he's kept his spirits high and that's paid off, obviously. You see it happening now."