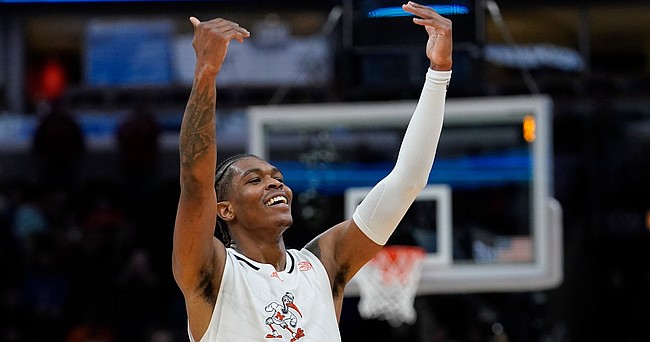 Chicago — The top-seeded Kansas men's basketball team's run in the NCAA Tournament continues Sunday when it faces No. 10 seed Miami in the Elite Eight at United Center in Chicago.
Kansas defeated No. 4 seed Providence 66-61 on Friday behind fifth-year senior guard Remy Martin, who scored 23 points, and redshirt sophomore forward Jalen Wilson, who had 16 points and 11 rebounds.
Miami advanced to the Elite Eight for the first time in school history by defeating No. 11 seed Iowa State 70-56. Kameron McGusty scored 27 points, two shy of a career high, and Jordan Miller had 16 points and seven rebounds for the Hurricanes.
Here's what you should know about Miami heading into the Elite Eight matchup.
Record: 26-10; 14-6 ACC
Located: Coral Gables, Florida
Qualification: At-large bid; finished fourth in the ACC
Coach: Jim Larrañaga (11th season at Miami; 226-140)
Top players: Sixth-year senior guard Kameron McGusty (17.8 points per game, 4.9 rebounds per game); redshirt sophomore guard Isaiah Wong (15.3 ppg); sixth-year senior guard Charlie Moore (12.6 ppg, 4.7 assists per game); fourth-year junior guard Jordan Miller (10.3 ppg, six rebounds per game); sixth-year senior forward Sam Waardenburg (8.5 ppg, 4.3 rpg, shooting 42.1% from 3-point range).
NCAA Tournament appearance: 11th; last in 2018, a first-round loss to Loyola-Chicago.
Strengths: The Hurricanes force 14 turnovers per game and are producing 8.9 steals per game, good for 15th and the most of the eight teams remaining in the NCAA Tournament. Three players have at least 60 steals this season. Furthermore, their 13.8 turnover percentage, per BartTorvik.com, ranks sixth in Division I, and they're not careless with the ball, either, as they rank fifth with a turnover margin of plus-4.6. Miami enters ranked 18th in adjusted offensive efficiency at 114.8, according to KenPom.com, and it is shooting 55 percent on 2-pointers.
Weaknesses: With a smaller starting lineup, it's no surprise that Miami is one of the worst rebounding teams in the nation. Its 30.7 rebounds per game rank last among any team in the six major conferences and 340th out of the 350 full Division I schools. Miami hasn't outrebounded an opponent since Feb. 15, and it has done so just once in its last 15 games. It's also, predictably, a poor defensive team against shots at the rim. According to Hoop-Math.com, the Hurricanes are allowing teams to score on 63.8 percent of all layups, dunks or tip-ins.
Notable wins: At then-No. 2 Duke, 76-74, on Jan. 8; at home against North Carolina, 85-57, on Jan. 18; in the NCAA Tournament against No. 2 seed Auburn, 79-61, on March 20.
Notable losses: At home to UCF, 95-89, on Nov. 13; to Dayton, 76-60, in Kissimmee, Florida, on Nov. 25; at Virginia, 71-58, on Feb. 5.
Three points
1. More for Moore: Sixth-year senior point guard Charlie Moore transferred from Kansas to DePaul after the 2018-19 season and played two seasons for the Blue Demons before using his final year of eligibility a bit farther from his Chicago home. The decision has paid off for Moore, whom coach Jim Larrañaga has repeatedly said is the best point guard in the ACC. Moore has been a consistent scorer and facilitator for the Hurricanes this season, and he surely would like nothing more than leading Miami to the Final Four with a win against one of his former schools in his home city.
2. Do it on defense: The Hurricanes are proud of their "scramble" defense, not so much in terms of shooting or scoring but how they disrupt opponents' offenses. They have held opponents to 70.2 points per game and 45.7% shooting — rather average numbers — but they have forced 14 turnovers per game. Only three times this season has Miami had more turnovers than its opponent, and it is scoring 16.8 points per game off turnovers. They do not want to allow shots at any cost. "It all starts with our defense, honestly," McGusty said Thursday. "Our defense turns our offense up. It's what gets our offense going. We're playing in transition. We're getting steals. We're getting stops, clapping. And that's what gets us going. That's what gets our energy going and our energy flowing. So, it's definitely going to start on the defensive end."
3. Not backing down: Larrañaga has not shied away from the "why not us?" mentality during the postseason, consistently reminding observers that Miami was picked to finish 12th in the ACC in the preseason poll. Now, the Hurricanes, who went 10-17 last season, are the second team to reach the Elite Eight one year after winning 10 or fewer games since the tournament expanded to 64 teams in 1985 (Ohio State, in 1998-99, is the other). Miami eked by No. 7 seed USC in the first round, but blew the doors off No. 2 seed Auburn in the second round and used an emphatic second half to beat Iowa State on Friday. And remember, if anyone can play that card, it's Larrañaga, who led George Mason to the Final Four in 2006. "Sadly to say, they're tired of hearing about George Mason and have told me, 'Hey, let's do what they did so you can talk about us in the future rather than them,'" he said Thursday. "The George Mason is a good story to share with them about being underrated, underappreciated and even basically told you're not even going to make the dance."
Here's a look at our coverage from the Windy City so far:
• Survive & Advance: Top-seeded Kansas reaches Elite Eight with grind-it-out, 66-61 over Providence
• Ochai Agbaji's lob dunk gives Kansas the lift it needs to hold off Providence
• The KU Sports Ratings following Sweet 16 win over Providence
• Photo gallery: Kansas vs. Providence
• Providence challenges Kansas late behind Ed Croswell's physical presence
• Game Day Breakdown: Kansas vs. Providence
• Sweet 16 Notebook: Jayhawks, Friars mirror each other
• Photo gallery from Thursday's open practices
• Providence eager to face college basketball blue blood
• Bill Self on leaving Illinois: 'It's worked out well for us'
• Basketball Friends breaks down what's at stake for KU in Chicago
• Experienced transfers lead Providence to Sweet 16
• Former Kansas guard Charlie Moore's long basketball journey takes him back to Chicago