No. 1 Kansas Jayhawks (31-6) vs. No. 10 Miami Hurricanes (26-10)
Time: 1:20 p.m., Sunday, March 27, 2022
Location: United Center, Chicago, Illinois
TV: CBS | Radio: IMG Jayhawk Radio Network
Keys for Kansas
1. Defend Miami's stretch 5
It's somewhat fitting that Kansas has reached this point in its season — on the brink of a trip to the Final Four with nothing standing between them but a scrappy Miami team that features a 6-10 center who can step out and shoot the 3.
Stretch 5 players have given Kansas fits all season, and finding a way to defend those types of players has been the one challenge that KU has not consistently had an answer for.
Think Oklahoma's Tanner Groves. Think Texas Tech's Bryson Williams. Think Kentucky big man Keion Brooks Jr. Think Baylor's Jeremy Sochan and Texas center Tre Mitchell.
OK. You get the point. All of those players had serious success stepping outside of the paint — many beyond the 3-point line — and knocking down jumpers against the Jayhawks.
And now it will be Miami big man Sam Waardenburg's turn to try.
For the season, the 6-foot-10 forward has hit 42% of his 3-point attempts, making 40 of 95 shots from behind the arc on the season while averaging 30 minutes per game.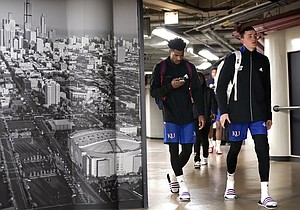 Kansas is going to have to find a way to guard him out there.
Jalen Wilson did an admirable job of defending a similar player on Friday night in Providence's Noah Horchler, who shot 4-of-14 for the game and just 2-of-8 from 3-point range.
But this can't be all about Wilson. The Jayhawks are going to play David McCormack and Mitch Lightfoot some at the 5. McCormack will start. And, like it has all season, KU will look to get him going inside to see if his size, strength and skill around the rim can give Kansas an edge.
In order for that to be a viable option for any length of time, Kansas is going to have figure out a way for McCormack and Lightfoot to defend the perimeter. Both have done it. It's not a strength for either. But it will be absolutely crucial in this game.
Because as good as he was coming off the bench late to guard Groves in KU's home win over Oklahoma, you're not likely to see freshman forward Zach Clemence get the call in this one. The game is too big and the stakes are too high for Kansas to go away from its core. It will now simply but up to that core to figure out how to get this done.
2. Fall back on your training
This is a pretty cliché approach throughout all of sports and life, but it has not been more important or relevant for this Kansas team than it is in this one.
The Jayhawks will have a basic scouting report on the Hurricanes. They will know Miami's tendencies and strengths and favored sets and all of the other things that have helped the underdog Hurricanes make this Elite Eight run.
But the prep time to absorb all of that information and commit it to memory is severely limited with tipoff coming just 36 hours after the matchup was officially set. It's an equal challenge for both teams, no doubt. And that's why you should expect both teams to focus way more on themselves than their opponent on Sunday afternoon.
For Kansas, that means falling back on all of the things you've done well all season. KU won't be successful in every area, of course. And, like with all games of this magnitude, there will be an element of having to adjust on the fly that will force Kansas out of its comfort zone. But if there's one thing that Kansas' 37 games up to this point have prepared the Jayhawks for, it's being uncomfortable.
Sophomore Jalen Wilson said after Friday's win over Providence that KU never gets rattled. And while that may not be true for every minute of every game, this team has shown a knack for staying calm even when things around them are getting crazy.
"Considering that we come from the toughest conference in the country, we've seen games like this almost every single night," Wilson said Friday. "And I think we're just so well prepared for anything. We just have to remain calm and continue to play our game, just know we can't get too high or low."
That element of KU's training is as important at this point as anything else right now. The Jayhawks know their sets. They're not going to forget fundamentals. And even the defense appears to be approaching the Bill Self standard.
Playing together, staying connected and trusting what has gotten them here — in other words, grinding, grinding, grinding — will be as important as any kind of scouting-report detail on the Hurricanes that the Jayhawks drum up in the 36 hours of preparation time they get.
"All their actions they run, we're not going to remember all those," Self said Saturday. "But you can familiarize them with it and understand this is how we guard ball screens or this is how we guard baseline runner. I don't think it's a time where you do anything other than play to principles. They'll be a hard team to prepare for, but they've also got to prepare for us, too."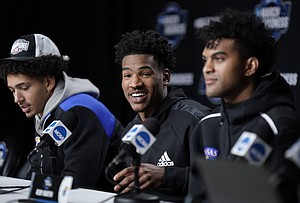 Self said he's always believed that going late on the day between the Sweet 16 and Elite Eight games is beneficial to the players. KU utilized its closed practice session at United Center on Saturday. But they also played duck-duck-goose and sank four consecutive half-court shots to close out the practice.
"Fresh legs and fresh minds are far more important than practice time," Self said after his team's workout.
3. Be prepared to 'Scramble'
For years, and with multiple programs, Miami coach Jim Larrañaga has emphasized a style of defense that helps his teams overcome a lack of size and force opponents into a number of mistakes.
It's called "Scramble" and it has served these Miami Hurricanes incredibly well throughout their run in the 2022 NCAA Tournament.
It's predicated on pressuring the ball at all times with one, two and even three players and the general philosophy behind it is simple: The best thing you can do if you can't rebound is don't let your opponent shoot.
For the season, the Hurricanes are averaging just 9.4 turnovers per game on offense and forcing 14 per game by their opponents.
In their first three games of the NCAA Tournament, that number has gone up to 16.3 turnovers forced per game, including a whopping 18 by Iowa State in Miami's Sweet 16 win on Friday night.
"I think the fact that they can score off turning people over is what we have to be concerned about," said Self, whose team ranks 117th nationally in turnover percentage (17.5%) and 72nd overall in non-steal turnover percentage (8%). "They can score in a lot of ways, but the biggest thing is live-ball turnovers leads to them being able to utilize their offensive (strength), which is really strong."
The Scramble philosophy will put plenty of pressure on KU's ball handlers to be strong with the ball and find ways to make plays behind that pressure. That certainly brings McCormack into the picture, and if the Kansas guards can get it to him, the KU forward could have a big night.
One other way the Jayhawks could put a damper on Miami's scramble plans is by attacking in transition.
Larrañaga said Saturday that getting back on defense is the No. 1 thing you have to do against Kansas.
"If you don't, they're going to score on you fast and often," Larrañaga said.
Marquee Matchup
KU point guards Dajuan Harris Jr. and Remy Martin vs. Miami point guard Charlie Moore
Despite the obvious storyline, Larrañaga said Saturday that this game will not be a tale of Moore against his old team.
"We never spoke about it," he said. "We won't even bring that up. This is about our team versus their team. And Kansas is a great basketball program."
Also on Saturday, Self said he's looking at the total picture of his five versus Miami's five and not worrying too much about individual matchups or singular position battles.
"We've got to play five-on-five against them," Self said. "And that will be a big goal of ours (on Sunday)."
With all of that said, this game still is about Moore versus the Jayhawks, if only because Moore is one of the Hurricanes' top players and the point guard that makes their offense go.
In 36 starts and 33 minutes per game for Miami this season, Moore has averaged 12.6 points (third on the team) and 4.7 assists per game while shooting 45% from the floor, 37% from 3-point range and 74% at the free throw line.
There is a little familiarity with Moore and some of his former teammates, but both he and Kansas are in different places today than where they were when Moore spent two seasons as a Jayhawk from 2017-19.
Asked Saturday about Moore's growth since leaving Kansas — he spent two seasons at DePaul before ending up at Miami — Self said he sees a lot of the same things he saw when the 5-foot-11 Chicago native was on the Kansas roster.
"He's playing his tail off," Self said of Moore. "I think Charlie may have the best vision of anybody left in the tournament. He sees a lot of things. He did with us. But Charlie's talented. He's clever. He can get his own shot. He can certainly create for others. And he's crafty. He's very crafty."
Having a two-pronged approach to throw at Moore defensively could help Kansas try to keep him off balance and out of rhythm.
But it's worth noting that Moore has scored in double figures in 19 of his past 23 games for the Hurricanes and is averaging 5.4 assists per game in that stretch, as well. That includes a 7.3 assists-per-game average in the NCAA Tournament.
Jayhawk Pulse
Back in the Elite Eight for the 11th time in his career and the ninth time at Kansas, Self has put all of his focus on helping this team do whatever it has to do to get to New Orleans instead of thinking back what might have gone wrong during his seven losses in his 10 previous trips.
Five of those, along with all three wins, came at Kansas.
"I think we're 3-7 in my career in Elite Eight games, so that's not good enough," Self said Saturday.
Regardless of any past successes or failures, the only thing that matters in the moment is what happens in this one game. If the Jayhawks win, Self will head to his fourth Final Four and find himself two wins away from a second national title.
If the Jayhawks lose, his record will dip to 3-8 in the Elite Eight and the stigma of this round being a nightmare for him will continue to follow him.
None of that matters to Self, though. And it matters even less to his players.
"It's just really motivating, knowing how far we've come, all the work we've put in and we're at this point," Agbaji said on Saturday. "We're just so close to getting to a Final Four — a dream for everyone on our team — so just staying focused, staying locked."
Added Wilson: "I think every single win we get just makes us hungrier for the ultimate goal, which is a championship. I'm super excited and super hungry to play."
KU leads the all-time series with Miami, 3-1 and Self is 1-0 all-time against the Hurricanes.
Sunday's meeting will be the first between these two programs since 1991 and just the third since 1987.
Oddsmakers in Las Vegas list Kansas as a 6-point favorite over Miami and KenPom.com gives KU a seven-point edge and a 75% win probability.
Probable Starters
No. 1 Kansas
G – Dajuan Harris Jr., 6-1, 180, Soph.
G – Ochai Agbaji, 6-5, 210, Sr.
G – Christian Braun, 6-7, 205, Jr.
F – Jalen Wilson, 6-8, 225, Soph.
F – David McCormack, 6-10, 265, Sr.
No. 10 Miami
G – Charlie Moore, 5-11, 180, Sr.
G – Isaiah Wong, 6-3, 185, Soph.
G – Kameron McGusty, 6-5, 190, Sr.
F – Jordan Miller, 6-7, 195, Jr.
F – Sam Waardenburg, 6-10, 225, Sr.
https://www.youtube.com/watch?v=5Fi4bJVY1kY
https://www.youtube.com/watch?v=YIAyV4f-qto
https://www.youtube.com/watch?v=l6Sbkti8MBA
https://www.youtube.com/watch?v=zavNgX-10T8