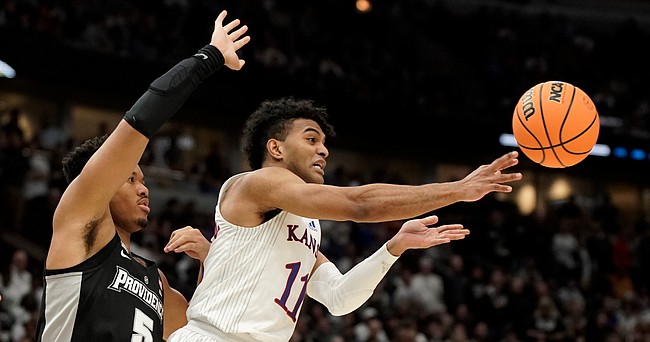 Chicago — Providence coach Ed Cooley said senior Ed Croswell's performance in the second half of the game against Kansas on Friday allowed the Friars to recover from a 13-point deficit and briefly take the lead before they lost 66-61 in the Sweet 16.
Croswell, a senior who transferred to Providence from La Salle prior to last season, finished with nine points and six rebounds in 17 minutes. He played 12 second-half minutes, during which he scored all nine of those points and had four rebounds.
"We knew we were going to need him," Cooley said. "I told him at halftime, 'Be ready, because you're going to do something special in this half.' And I thought he responded.
"He's done that in enormous amounts of big games this year, and I'm very, very proud of how he responded. He's the reason why the game got where it was."
Croswell is one of six players who transferred to Providence after beginning their college years at other schools. He entered the game having averaged 5.2 points and 4.7 rebounds this season and reached double figures in scoring eight times.
Nate Watson, the Friars' starting center, finished with eight points and two rebounds in 22 minutes. He played 15 minutes in the first half but battled foul trouble in the second, when he missed a 10-minute stretch after picking up his third foul, then returned for 1:07 before picking up a fourth foul.
It was a physical game from the start, though only 10 fouls were called in the first half. Twenty-six were called in the second.
Kansas held Providence to 17 first-half points, the fewest it has allowed in a half this season, and 20% shooting in the opening 20 minutes — including 1-for-13 from 3-point range.
"They had a lot of ball pressure," senior point guard Al Durham said. "They were switching and trying to make it hard on us to run our stuff. It took us a little bit to get adjusted to how they were defending."
"To follow up on that," Cooley said, "I thought our players had to adjust with the physicality on and off the ball. We're accustomed to playing against that level of defense when we play a team like Villanova because they switch on and off the ball. ... We definitely made the right adjustment to get the game where we needed it to be."
Here's a look at our coverage from the Windy City so far:
• Survive & Advance: Top-seeded Kansas reaches Elite Eight with grind-it-out, 66-61 over Providence
• Ochai Agbaji's lob dunk gives Kansas the lift it needs to hold off Providence
• The KU Sports Ratings following Sweet 16 win over Providence
• Photo gallery: Kansas vs. Providence
• Game Day Breakdown: Kansas vs. Providence
• Sweet 16 Notebook: Jayhawks, Friars mirror each other
• Photo gallery from Thursday's open practices
• Providence eager to face college basketball blue blood
• Bill Self on leaving Illinois: 'It's worked out well for us'
• Basketball Friends breaks down what's at stake for KU in Chicago
• Experienced transfers lead Providence to Sweet 16
• Former Kansas guard Charlie Moore's long basketball journey takes him back to Chicago