Chicago — When in doubt, Kansas knows it can trust in Ochai Agbaji.
Agbaji's dunk off a lob pass with 2:59 remaining spurred the resolve and determination the top-seeded Jayhawks needed to hold off No. 4 seed Providence on Friday night and win 66-61 in the regional semifinals of the NCAA Tournament.
Photo Gallery
Kansas basketball v. Providence (NCAA Sweet 16)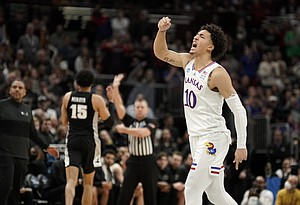 View a gallery of photos from the Kansas Jayhawks' Sweet Sixteen matchup against the Providence Friars on Friday in Chicago.
A finalist for the major national player of the year awards, Agbaji finished with a season-low five points on 2-for-8 shooting against the Friars.
That mattered little to coach Bill Self, who knew he could turn to the senior guard to put the Jayhawks in the Elite Eight.
"Sometimes, when you're really struggling and you've got a guy who can go upstairs like that, sometimes that's the easiest basket you can get," Self said. "We've always liked throwing them, and they took away our backdoors and our lobs all night long, but we caught them on that, just because it was probably unexpected."
Self said he called the play during the previous timeout, a media stoppage with 3:36 remaining, and he knew it would be effective given Providence had turned to a 2-3 zone defense.
Remy Martin, who led Kansas in scoring with 23 points, tipped a shot by Providence's Jared Bynum with 3:14 remaining. Christian Braun caught the ball under the basket before tossing it back to Martin.
He slowly took the ball up the right side of the court before passing it back to Braun, who had stopped at the top left side of the perimeter. With Agbaji set up in the right corner and calling for the ball, Braun tossed it to the far side of the rim, where Agbaji flushed it for the 57-50 lead after breaking past Providence's Justin Minaya.
"CB made a great pass and Och got up there and dunked it, man," Martin said. "All in all, man, that play really sparked us and he got us going."
"They made a great basketball play," Providence coach Ed Cooley said. "That's something that they do. You're not going to stop everything they do. I mean, they get a lob out of the corner just about every game they've played. We had it well-scouted and they executed something coming out of a timeout, so you've got to give them credit."
Minaya, whom Providence has assigned to defend its opponents' top scoring guards all season, followed Agbaji for much of the game. Agbaji went 1-for-6 shooting in the first half and 1-for-2 in the second, and he knocked down one of his two free throw attempts with 12:06 remaining.
Although Agbaji ended the regular season averaging 19.8 points per game, his scoring has slowed in recent weeks. He is averaging 14.5 points per game in the postseason, including 11 points in the NCAA Tournament opener against Texas Southern and 15 in the second-round win over Creighton, and is averaging 14.4 points per game in the nine games the Jayhawks have played in March.
"We could look at it as a shooting slump, and I guess it is, but when you only take eight shots, I don't know if I ever consider that a slump," Self said. "I know one thing — the lid will come off eventually, and when it does, it will be good for KU people.
"But right now, I think he's doing enough stuff to help us win and we've had other guys step up, so we don't put too much emphasis on that at all."
Here's a look at our coverage from the Windy City so far:
• Survive & Advance: Top-seeded Kansas reaches Elite Eight with grind-it-out, 66-61 over Providence
• Ochai Agbaji's lob dunk gives Kansas the lift it needs to hold off Providence
• The KU Sports Ratings following Sweet 16 win over Providence
• Photo gallery: Kansas vs. Providence
• Game Day Breakdown: Kansas vs. Providence
• Sweet 16 Notebook: Jayhawks, Friars mirror each other
• Photo gallery from Thursday's open practices
• Providence eager to face college basketball blue blood
• Bill Self on leaving Illinois: 'It's worked out well for us'
• Basketball Friends breaks down what's at stake for KU in Chicago
• Experienced transfers lead Providence to Sweet 16
• Former Kansas guard Charlie Moore's long basketball journey takes him back to Chicago