Chicago — When the odds to win the 2022 college basketball national title reset after the Sweet 16 was set, top-seeded Kansas had the second best odds in the eyes of the gang at BetOnline.ag.
No. 1 Gonzaga was the favorite at 9/4 and fellow-top-seeds KU and Arizona were next at 5/1.
Then Thursday night happened and Gonzaga and Arizona both went down in hard-fought Sweet 16 losses to Arkansas and Houston, respectively.
Those outcomes, followed by KU's 66-61 survival victory over No. 4 seed Providence at United Center on Friday night, have left the Jayhawks (31-6) as the lone No. 1 seed remaining in the entire tournament and as the betting favorite in the eyes of several gambling outlets.
Baylor was bounced in the second round by No. 8 seed North Carolina. And fellow-top seeds Gonzaga and Arizona bowed out on Thursday night.
Photo Gallery
Kansas basketball v. Providence (NCAA Sweet 16)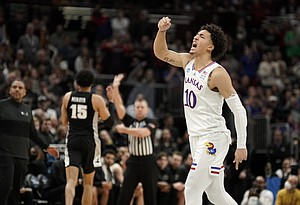 View a gallery of photos from the Kansas Jayhawks' Sweet Sixteen matchup against the Providence Friars on Friday in Chicago.
"We hung in there and grinded and had some guys make some big individual plays when we didn't have much going on offense at all," Self said after Friday's win. "We couldn't be happier to be playing on Sunday."
For what it's worth, Houston was the fourth highest favorite entering the Sweet 16 at 8/1 and Duke was at 14/1. Both are near the top with Kansas heading into the weekend.
Betting odds certainly don't guarantee anything, but they do provide an indication of the road ahead. And Kansas, for better or worse, continues to have one of the better roads to the Final Four on paper.
Thursday's losses by UA and Gonzaga marked just the fourth time since 1979 that multiple top seeds lost on the same day prior to the Elite Eight.
It also marked the third time ever that the No. 1 and No. 2 ranked teams in the Associated Press poll lost on the same day in the NCAA Tournament.
This year marks just the fourth time since the NCAA Tournament expanded to 64/68 teams that three No. 1 seeds lost before the Elite Eight.
And, now, thanks to KU finding a way to win after leading for more than 35 minutes of Friday's game, college basketball still has never seen all four No. 1 seeds lose before the Elite Eight round.
All alone in first
Friday's win moved Kansas into first place on college basketball's all-time wins list, one victory ahead of the Kentucky Wildcats.
KU moves on to the Elite Eight with 2,354 all-time victories, with the potential to still rack up three more wins before the 2021-22 season ends.
KU entered the season four wins behind the Wildcats but benefited from UK bowing out in the first round in an upset loss to 15th-seeded Saint Peter's. Kentucky finished the season at 26-8 and KU is headed to the Elite Eight — with Saint Peter's — at 31-6 overall.

Block party
Early on, during Friday's win over Providence, it was clear that the Jayhawks were prepared to do what they had to do defensively to advance to the next round.
Turned up from the beginning, the Jayhawks got three early blocks from senior guard Ochai Agbaji, who struggled offensively and finished with a season-low five points.
KU (31-6) finished the night with 11 blocks. Agbaji finished with four. Mitch Lightfoot added four of his own in 16 minutes. And Jalen Wilson, David McCormack and Remy Martin added one apiece.
Playing at MJ's house
Legendary Chicago Bulls star Michael Jordan played 172 games inside the United Center during his NBA career.
But Friday night, it will be a handful of Kansas Jayhawks who are the best-known names inside Jordan's former home arena.
Still, with His Airness being a global icon whose greatness has transcended generations, a handful of Jayhawks were asked this week about the opportunity to play on the same floor Jordan once dominated late in his Hall of Fame career.
At least one of them wasn't impressed.
"Did you see LeBron (James) dropped a 38-point triple-double yesterday," KU junior Christian Braun said with a smirk on Tuesday afternoon. "I'm a big LeBron fan."
It's worth noting that moments into KU's open practice on Thursday, Braun yelled out the name "Jordan!" while hoisting his first shot inside United Center. He followed it up with a shot from the corner that carried the name "Scottie Pippen!" with it. Braun has never been afraid to mix it up and argue with anybody. But there's little doubt that playing at the United Center still carries a little juice with it.
That's certainly true for at least one of Braun's teammates, who said this week that he thought it was a thrill to be playing in the same building that Jordan once starred in and the venue that features a statue of MJ near the entrance.
"I know a little bit about Michael Jordan," said KU sophomore Jalen Wilson. "To be able to share the same court that he once played on is definitely cool to me."
This and that…
Friday's win pushed Kansas into the Elite Eight for the 25th time in school history and the eighth time under Self. … KU is now 10-1 in neutral-site games this season — 4-0 at T-Mobile Center, 2-0 at Dickies Arena, 1-0 at Madison Square Garden, 1-0 at United Center and 2-1 at HP Field House in Orlando. … KU now leads the all-time series with Providence 1-0 and is 42-13 all-time as a No. 1 seed and 5-5 against a No. 4 seed. … Bill Self is now 759-229, 553-124 at Kansas and 52-21 in the NCAA Tournament, with 42 of those wins coming at KU.
Here's a look at our coverage from the Windy City so far:
• Survive & Advance: Top-seeded Kansas reaches Elite Eight with grind-it-out, 66-61 over Providence
• Ochai Agbaji's lob dunk gives Kansas the lift it needs to hold off Providence
• The KU Sports Ratings following Sweet 16 win over Providence
• Photo gallery: Kansas vs. Providence
• Game Day Breakdown: Kansas vs. Providence
• Sweet 16 Notebook: Jayhawks, Friars mirror each other
• Photo gallery from Thursday's open practices
• Providence eager to face college basketball blue blood
• Bill Self on leaving Illinois: 'It's worked out well for us'
• Basketball Friends breaks down what's at stake for KU in Chicago
• Experienced transfers lead Providence to Sweet 16
• Former Kansas guard Charlie Moore's long basketball journey takes him back to Chicago
• Top-seeded Kansas arrives in Chicago
https://www.youtube.com/watch?v=6nur_mjaWUY