Chicago — Providence coach Ed Cooley bristled Thursday when he was asked about rarely getting a chance to face the most storied programs in college basketball.
The Friars, the No. 4 seed in the Midwest Regional, will play top-seeded Kansas for the first time when the teams meet in the regional semifinals on Friday.
Photo Gallery
NCAA Midwest Regional practices (Chicago)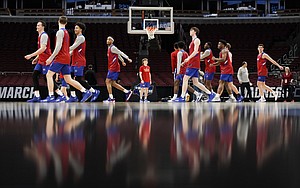 View a gallery of images from Thursday's practices at the United Center in Chicago
"The reason we don't play the blue bloods is because they don't want to come to the Dunkin' Donuts Center," Cooley said, referring to the Friars' home arena. "Let's call it exactly what it is. We'd love that opportunity and embrace that opportunity."
Providence has hosted a ranked team from one of the six major conferences only twice in the past 15 years — a 73-64 win over Boston College on Nov. 22, 2006, and an 86-74 loss to Minnesota on Nov. 13, 2017, as part of the Gavitt Tipoff Games series between the Big East and Big Ten.
It has not played regular-season games against UCLA since 1972-73, North Carolina since 1978-79 and Duke since 1979-80. It played Indiana in November 2020, but that was in the first round of the Maui Classic, and faced Kentucky in Newark, New Jersey, in the 2013-14 season and in Lexington in 2014-15.
This season, the Friars faced Texas Tech at home on Dec. 1 as part of the Big East-Big 12 Battle and won, 72-68. They earlier traveled to Wisconsin and won, 63-58, on Nov. 15, and beat Northwestern and lost to Virginia in the Legends Classic in Newark in late November.
Kansas, meanwhile, would win its 2,354th game and pass Kentucky for the most in college basketball history should it defeat Providence.
"It's a challenge — a great challenge that we are prepared for," Cooley said. "But an opportunity to play against a No. 1 seed is just something that you dream about, and we're living that dream and, hopefully, continue to dream it big."
Stay in touch with KUsports.com throughout the day and night for complete coverage from Chicago.
Here's a look at our coverage from the Windy City so far:
• Game Day Breakdown: Kansas vs. Providence
• Sweet 16 Notebook: Jayhawks, Friars mirror each other
• Photo gallery from Thursday's open practices
• Providence eager to face college basketball blue blood
• Bill Self on leaving Illinois: 'It's worked out well for us'
• Basketball Friends breaks down what's at stake for KU in Chicago
• Experienced transfers lead Providence to Sweet 16
• Top-seeded Kansas arrives in Chicago
https://www.youtube.com/watch?v=g7piVMh5El4
https://www.youtube.com/watch?v=cSqOQDgiy6E
https://www.youtube.com/watch?v=Zl3tae0kn4Y
https://www.youtube.com/watch?v=X812uStizT4
https://www.youtube.com/watch?v=9u93qDsHHlU