Chicago — When Charlie Moore decided to transfer from Kansas to DePaul following the 2018-19 season, he wanted to have a chance to play in front of his family and be closer to home.
But when DePaul fired coach Dave Leitao a year ago, Moore spoke to his father, Curtis, who suggested he use his final year of college eligibility to play somewhere that would make him happy.
Photo Gallery
NCAA Midwest Regional practices (Chicago)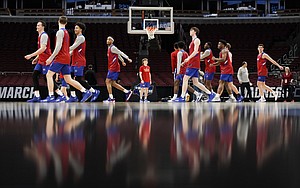 View a gallery of images from Thursday's practices at the United Center in Chicago
He chose Miami, and as a sixth-year senior, he has the Hurricanes in the Elite Eight for the first time. As the No. 10 seed in the Midwest Region, they'll face No. 1 seed Kansas on Sunday at 1:20 p.m. CT with the winner earning a trip to the Final Four.
"It's been a unique experience with me, but going through what I went through, going from college to college, I've learned a lot," Moore said. "I don't regret anything. It made me who I am today as a person and I'm pretty happy with who I am.
"But to end it in Miami, with these guys, our coaching staff, the Miami family, it's been a blessing, to put it into words."
Moore is averaging 12.6 points, 4.7 assists and two steals this season. In an 88-87 home win against Syracuse on Jan. 5, he scored a season-high 25 points off six 3-pointers and had six assists and five rebounds.
"He's playing his tail off," Kansas coach Bill Self said. "He has gone to another level being at the University of Miami. I think he's just done fantastic, and I'm happy for him."
Moore committed to Memphis while in high school but instead enrolled at Cal for the 2016-17 season. He transferred to Kansas after the season, sat out one season due to transfer regulations and played in 35 of 36 games as a reserve point guard for the Jayhawks in 2018-19.
He was immediately eligible at DePaul in 2019-20, when he averaged team highs of 15.5 points and 6.1 assists, but he appeared in only 16 games last season. Granted the extra year of eligibility because of the COVID-19 pandemic, Moore opted to use it and headed south.
"We bonded right away," Miami coach Jim Larrañaga said. "I gave him the ball and said, 'Look, you need to be our quarterback. Now, we have another freshman point guard, but you've got the experience. I have tremendous confidence in you.'"
Larrañaga recruited Moore out of high school, and because he still had his phone number, he sent Moore a text message immediately after finding out he was looking to transfer last spring.
Their connection appears genuine. Larrañaga told a pair of stories about Moore — one about how he sarcastically mocked a teammate during an early-season practice and another about trying to convince him he's the best point guard in the ACC — that hinted to the closeness of their relationship.
Moore did so, too, when he said he "will appreciate (Larrañaga) for the rest of my life."
"Coach Larrañaga is more like a father figure or a teacher more so than a coach, who is always down on your back and stuff like that," Moore said. "I feel like when you've got a relationship with a coach or your father, you love them a different way. You will do things differently for them. So, I think that relationship helps me and my teammates go out there and give extra percentage of work ethic every time we step out on the court."
Several people have reached out to him to try to get tickets to the weekend's games, Moore said, but he only knew for certain his father and his mother, Tanya Casey, would be in attendance.
And that Moore's college career is finally winding down with a trip to Chicago, and one more game at United Center, is not at all lost on him.
"It's a blessing," Moore said. "The things Michael Jordan did here — they have multiple other people, too. Derrick Rose, one of my favorite all-time point guards. It's a blessing to play here.
"I'm from Chicago. I grew up in watching Chicago basketball, grew up going to the games, and to actually now be playing on the court with my teammates, it's amazing."
Here's a look at our coverage from the Windy City so far:
• Game Day Breakdown: Kansas vs. Providence
• Sweet 16 Notebook: Jayhawks, Friars mirror each other
• Photo gallery from Thursday's open practices
• Providence eager to face college basketball blue blood
• Bill Self on leaving Illinois: 'It's worked out well for us'
• Basketball Friends breaks down what's at stake for KU in Chicago
• Experienced transfers lead Providence to Sweet 16