Chicago — Early in the week, once the Sweet 16 matchup with fourth-seeded Providence was set, Kansas basketball coach Bill Self said preparing for the Friars would be interesting because the two teams kind of "mirror" one another.
On Thursday, at the Thursday press conferences at United Center, Providence coach Ed Cooley echoed Self's comments when asked to pinpoint what jumps out to him when watching Kansas on film.
"Well, everything concerns me. I'm a coach," Cooley said Thursday. "(Ochai) Agbaji jumps out. (Christian) Braun jumps out. (David) McCormack jumps out. Bill Self jumps out. Superman jumps out. There's a lot for us to worry about. And they're very, very talented. They're very athletic. We kind of mirror one another. Four around one. (They) have McCormack (and we) have (Nate) Watson. They stretch the floor. Very, very good driving the ball. A lot jumps out."
Photo Gallery
NCAA Midwest Regional practices (Chicago)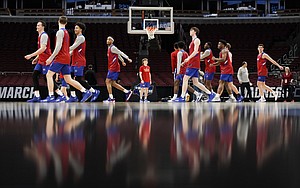 View a gallery of images from Thursday's practices at the United Center in Chicago
Because of their similar personnel, the matchups and defensive assignments figure to be easier to manage than against a lot of times. But Self said he did not see any real advantage or disadvantage in preparing for a team that reminds him of his own.
"We don't run the same stuff," Self said Thursday. "But personnel reminds us (of each other). I don't think there's an advantage or disadvantage to that."
Neither do the players. But because both teams feature talented athletes with high levels of confidence, players on both sides seem to have a good idea of what they'll be in for when the ball goes up on Friday night. And because of that familiarity, players on both sides are looking toward the defensive side of the ball as the area that can make the biggest difference.
"We kind of have to find what we're best at and really stick to it," KU All-American Ochai Agbaji said Thursday. "Because they're going to try to do the same thing for us. So it's really focusing on the defensive end. I think that's where the game is going to be won."
Providence senior Jared Bynum said he thought the similarities between the two programs could "help and hurt us at the same time." But he said the Friars were not willing to put too much weight on their familiarity with how they play when trying to prepare for Kansas.
"It's basketball," Bynum said. "Anything can happen. They can come out and play a different way than we scouted for and vice versa. We don't know exactly how they're going to go into the game and what their exact game plan is going to be."
That may be the case in terms of Xs and Os or when to call certain plays or run certain defenses. But KU senior Remy Martin said the core philosophy of both teams was another area that made the two programs look and play so similarly.
"I think both coaches are pretty hard-nosed and want players out there that just go hard and give it their all," Martin said. "So I think it's going to be an incredible game, one we all are looking forward to playing in."
Just win, baby
All season — and every year, really — the Jayhawks have operated with the idea that winning raises all ships.
The philosophy goes that teams that play well and win a lot of games tend to get the most recognition in terms of postseason honors and love from the outside world.
While that has been especially true this season for Agbaji, who has earned several All-American honors and was named the MVP of the Big 12 regular season and postseason tournament, deep runs in March can help other Jayhawks, as well.
KU junior Christian Braun was asked about that concept on Thursday and he doubled-down on the idea that winning — however it comes — is this team's top priority right now.
"The more you play, the more people you play in front of and the more games you win, the more people get to see you play and do what you can do," Braun said. "Jalen (Wilson), Remy, Dave (McCormack), Dajuan (Harris), everyone is focused on getting those wins because winners are rewarded. We know if we win games, that means everybody is playing well and that will mean the most opportunities for everybody."
For some players — Braun being one of them — the distraction of what playing well in March could mean for their NBA draft stock can play a role at this time of the year. But Self said he did not believe that was an issue with this team.
"I do think it could play a role in helping everybody that performs well," Self said Thursday. "But that's not what we're thinking about. If players are thinking about that right now, their head's not right. You worry about those things after you've taken care of business here."
Self happy at Kansas
Self said Thursday he initially had doubts after leaving Illinois to become the men's basketball coach at Kansas in 2003 but is pleased he did so because of the level of success he and the Jayhawks have achieved.
"It was the right move for me to do what we did," Self said during a Thursday press conference at United Center. "I doubted it. Buyer's remorse for a while because you never know, because the situation we left behind was pretty good, as you all know. But it's worked out well for us and certainly, I'm proud of the time I had in Champaign (Illinois), even though it was limited. But I still have a lot of people that I'm very close to here."
Self, 59, spent three seasons at Illinois, where he won 72.9% of his games and claimed two Big Ten regular-season titles and a conference tournament championship.
"Every time driving up and seeing the skyline, I used to think, 'Man, there's some stuff getting done in this city,'" Self said Thursday. "This is where action happens, whether it be recruiting, business or whatever. And I always liked that. I loved Chicago."
Self was hired by Kansas to replace Roy Williams following the 2002-03 season, and he has since won 81% of his games and made the NCAA Tournament every year it has been held.
He said he was happy the tournament's selection committee put the Jayhawks in the Midwest Region because they would have the opportunity to play in Chicago.
"San Antonio has been really good to us, and there's other places that have been good to us, playing regionals in different areas," he said. "But this was my hope — that we would be in Chicago. This is about as good as it could be for me, personally, and for our fan base being right here."
Anyone, anytime
Cooley bristled when he was asked about rarely getting a chance to face the most storied programs in college basketball.
"The reason we don't play the blue bloods is because they don't want to come to the Dunkin' Donuts Center," Cooley said, referring to the Friars' home arena. "Let's call it exactly what it is. We'd love that opportunity and embrace that opportunity."
The Friars faced Texas Tech at home on Dec. 1 as part of the Big East-Big 12 Battle and won, 72-68. They traveled to Wisconsin and won, 63-58, on Nov. 15.
The Friars have hosted a ranked team from one of the six major conferences only twice in the past 15 years — a 73-64 win over Boston College on Nov. 22, 2006, and an 86-74 loss to Minnesota on Nov. 13, 2017, as part of the Gavitt Tipoff Games.
Stay in touch with KUsports.com throughout the day and night for complete coverage from Chicago.
Here's a look at our coverage from the Windy City so far:
• Game Day Breakdown: Kansas vs. Providence
• Sweet 16 Notebook: Jayhawks, Friars mirror each other
• Photo gallery from Thursday's open practices
• Providence eager to face college basketball blue blood
• Bill Self on leaving Illinois: 'It's worked out well for us'
• Basketball Friends breaks down what's at stake for KU in Chicago
• Experienced transfers lead Providence to Sweet 16
• Top-seeded Kansas arrives in Chicago
https://www.youtube.com/watch?v=g7piVMh5El4
https://www.youtube.com/watch?v=cSqOQDgiy6E
https://www.youtube.com/watch?v=Zl3tae0kn4Y
https://www.youtube.com/watch?v=X812uStizT4
https://www.youtube.com/watch?v=9u93qDsHHlU