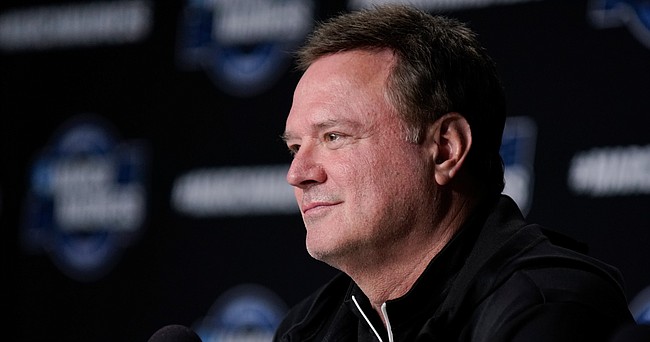 CHICAGO — Bill Self said he initially had doubts after leaving Illinois to become the men's basketball coach at Kansas in 2003 but is pleased he did so because of the level of success he and the Jayhawks have achieved.
Self, who coached the Jayhawks to a national championship in 2008, has guided them to an 11th appearance in the Sweet 16 in his 19 seasons at Kansas. As the top seed in the Midwest Region, they'll play No. 4 seed Providence on Friday.
Photo Gallery
NCAA Midwest Regional practices (Chicago)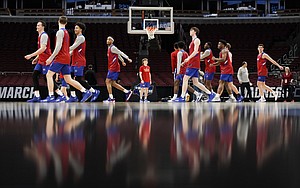 View a gallery of images from Thursday's practices at the United Center in Chicago
"It was the right move for me to do what we did," Self said during a Thursday press conference at United Center. "I doubted it. Buyer's remorse for a while because you never know, because the situation we left behind was pretty good, as you all know.
"But it's worked out well for us and certainly, I'm proud of the time I had in Champaign, even though it was limited. But I still have a lot of people that I'm very close to here."
Self, 59, spent three seasons at Illinois, where he won 72.9% of his games and claimed two Big Ten regular-season titles and a conference tournament championship.
"Every time driving up and seeing the skyline, I used to think, 'Man, there's some stuff getting done in this city,'" Self said. "This is where action happens, whether it be recruiting business or whatever. And I always liked that. I loved Chicago."
Self was hired by Kansas to replace Roy Williams following the 2002-03 season, and he has since won 81 percent of his games and made the NCAA Tournament every year it has been held.
He said he was happy the tournament's selection committee put the Jayhawks in the Midwest Region because they would have the opportunity to play in Chicago.
"San Antonio has been really good to us, and there's other places that have been good to us and playing regionals in different areas," Self said. "But this was my hope — that we would be in Chicago. This is about as good as it could be for me, personally, and for our fan base being right here."
Stay in touch with KUsports.com throughout the day and night for complete coverage from Chicago.
Here's a look at our coverage from the Windy City so far:
• Game Day Breakdown: Kansas vs. Providence
• Sweet 16 Notebook: Jayhawks, Friars mirror each other
• Photo gallery from Thursday's open practices
• Providence eager to face college basketball blue blood
• Bill Self on leaving Illinois: 'It's worked out well for us'
• Basketball Friends breaks down what's at stake for KU in Chicago
• Experienced transfers lead Providence to Sweet 16