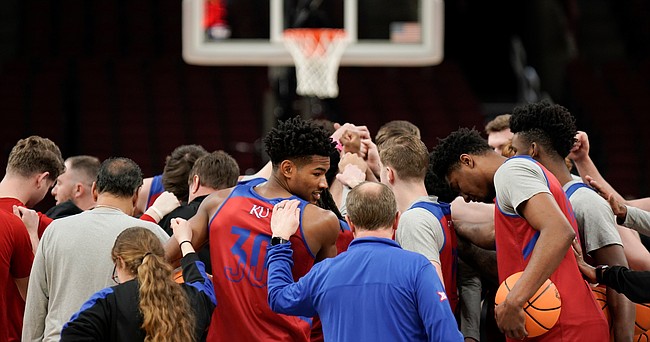 No. 1 Kansas Jayhawks (30-6) vs. No. 4 Providence Friars (27-5)
Time: 6:29 p.m., Friday, March 25, 2022
Location: United Center, Chicago, Illinois
TV: TBS | Radio: IMG Jayhawk Radio Network
Keys for Kansas
1. Win the 3-point line
The Jayhawks struggled with this in their Round 2 win over Creighton, and, in many ways, have had issues with defending the 3-point line throughout the season.
Part of that had to do with the way the Bluejays game-planned to attack Kansas and part of it had to do with the Jayhawks still being a work in progress defensively.
Controlling the 3-point line will be absolutely critical in this one, and the Jayhawks seem to have very clear understanding of that. That emphasis starts with defense.
Photo Gallery
NCAA Midwest Regional practices (Chicago)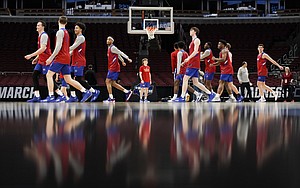 View a gallery of images from Thursday's practices at the United Center in Chicago
Providence ranks 94th nationally in 3-point percentage, knocking in 35% of their 3-point tries, a point-and-a-half better than the national average. The Friars made 20 of 44 from behind the arc (45.5%) in their first two NCAA Tournament wins, bringing even more attention to their ability to hit from the outside. Earlier this week, Self said KU's preliminary scouting of the Friars showed that Providence typically has four players who can stretch it on the floor at the same time.
So, the key for Kansas will be to prevent catch-and-shoot opportunities as much as possible.
"We have to have great switches," Self said Thursday. "You've got to switch to take something away rather than let them catch and then react. They're going to make 3s. But you would rather them get them off the bounce than off the catch."
Added Providence guard Al Durham of the KU D: "They want to speed you up. They want to deny. They want to be in the passing lane. They try to disrupt you. So we've got to be able to get open and not let them steer us off what we have planned."
Defensively, Providence has been even better when it comes to 3-point shooting. The Friars limited opponents to 30.2% shooting from 3-point range this season, which ranks 32nd nationally.
The Jayhawks' four-guard lineup and deep ball prowess will be a tough test for the Friars. KU ranks 10th nationally in 3-point shooting, at 40.1%, and they hit 43.5% (17-of-39) from behind the arc in their two wins in Fort Worth, Texas, last week.
Providence limited Richmond to 1-of-22 3-point shooting in Round 2 and held South Dakota State to 7-of-23 from the outside in their opening-round win.
2. Push in transition
Providence wing Jared Bynum said Thursday that transition defense would be a big key for the Friars against Kansas.
So it would make sense for the Jayhawks to want to exploit that matchup as much as possible. It's not that Providence can't run, it's just that they generally don't prefer to do so.
The Friars rank 283rd national in adjusted tempo, which tracks the number of offensive possessions a team has per game. Kansas, meanwhile, ranks 144th in that category, and the Jayhawks have shown throughout the season that they will look to run whenever the opportunity presents itself.
While steals, deflections and defensive intensity have proven to be the easiest way for KU to create transition opportunities, KU has shown it can and will run after both misses and makes, as well.
Sophomore wing Jalen Wilson is one of the most dangerous Kansas players in transition because of his ability to clean up the glass and push the ball up the floor immediately. Wilson did a lot of that in Fort Worth and will look to keep it going against Providence.
But it's not just Wilson. Ochai Agbaji, Christian Braun, Dajuan Harris and Remy Martin have all been trained to pitch the ball ahead as soon as possible to KU's wings who like to fly up the floor at the first sign of trouble for the opposing team.
"Transition defense is going to be one thing that we kind of have to hone in on because they're athletic and they play good defense," Durham said Thursday. "(When they) get out in transition in the open court, they can find shooters and get to the rim and finish and make plays."
Said KU's Christian Braun of his team's love of running the floor: "That's when we're at our best. We know when we get out and we get stops, we can run."
3. Offense is nice but ugliness is better
Throughout his time at Kansas, Self often has referred back to one of his Illinois teams that won the Big Ten title despite shooting 42% from the floor for the season.
"It wasn't us playing good," Self recalled again on Thursday. "The mindset was we just have to make sure that everybody else plays worse."
This Kansas team, which has been led by its fifth-ranked offense throughout much of the season, has started to embrace that approach during their current postseason run.
"We haven't been consistent with that," Self said Thursday. "But I do think we're getting better at it. We won the (2008) national championship and had a great, great team and their whole mindset was that if the other team can't score, you can't lose. We haven't developed that as of yet, even though I think we've made some pretty big strides on it."
The do-or-die nature of the postseason has helped hammer home that message, and the Jayhawks have started to take more pride in their ability to grind out wins even on off nights.
"It's easier to make a team play bad than it is to go out and make shots every game," Braun said. "So we've got to focus on making them play bad, focus on their sets and take things away that we know they're good at. If we can do that, we can win the game."
Marquee Matchup
Kansas senior Ochai Agbaji vs. Providence senior Justin Minaya
There's not a defense out there that Agbaji has not seen at least once or twice this season. And very few of them have had much success in slowing him down.
Even the ones that have — Texas and Oklahoma come to mind — have helped make Agbaji a better player, creating the need for him to find new and more creative ways to score or pushing him into the role of decoy and distributor.
He's fine with any of it because his No. 1 goal every time he takes the floor is for Kansas to win.
The bigger the games, the more important your All-American players become. So Agbaji, one way or the other, will play a huge role in this one, regardless of whether he's red hot or laboring to get what he gets.
He knows that, and he says his past experience against different defensive looks has prepared him for just about anything.
"He's a really good player," Providence big man Nate Watson said of Agbaji. "But we have one of the best defensive players in the country, Justin Minaya, so I'm excited to see that matchup."
So, too, is Agbaji. But that's more because finding out how he'll be guarded has become a part of his game day process throughout the past couple of months.
"Going into every game, it's kind of a mystery," he said Thursday. There's some teams that will face-guard me. There's some teams that will play regular (defense). So it's kind of just one of those things where you have to get out and see in the moment how they're playing me."
The 6-foot-5, 215-pound Agbaji's athletic ability and ability to elevate on his jump shot should help him in this matchup with the 6-7, 210-pound Minaya. But even the tale of the tape is an area that these two seem to be made to square off with one another.

Jayhawk Pulse
The Jayhawks have reached the point in their season where it's all about preparation and execution now. The latter carries a little more importance than the former, because even the best game plan can go awry with poor execution.
But being loose, playing with confidence and having at least a little bit of experience to fall back on can do wonders at this time of the season, and the Jayhawks are flush in all three of those areas.
Even the demanding Self has been pleased with the way his team has conducted and carried itself throughout the past few weeks.
"There's a lot of things I like a lot," Self said of his team. "They're fun to be around. We have a good blend of youth and experience. I think we have some toughness. I think we have some skill. But the biggest thing, I think, is they like to compete. That, to me, is what makes it more fun."
Self kept going.
"It's always fun to compete and win," he added. "But it's also fun, in some guys' minds, when you're down three at the under-four timeout (and you say), 'Let's figure this out.' I do think we have a team that enjoys that."
As Self noted, Providence does, too, with the Friars boastin an 11-2 record in games decided by five points or fewer.
Friday's matchup will be the first all-time between the Friars and Jayhawks, and it features teams, and head coaches, in two different positions.
For Self, Friday's game will mark his 14 Sweet 16 appearance as a head coach. He's 10-3 in his previous 13 Sweet 16 games. For Cooley, it will mark his first Sweet 16 game as a head coach and just his second in a 28-year coaching career.
As you might expect, that was reflected in the way the two carried themselves on Thursday during their pregame press conferences at United Center.
Self was loose, laughing with reporters and his players and comfortable in his surroundings. Cooley was much more intense, carrying a season-long demand for respect into just about every answer.
"Not a lot of people believe that we should be here," Cooley said. "Guess what, doubters? Providence is in the damn building and I'm proud of those kids. Drop. The. Mic."
Despite those comments toward Providence's critics, Self said no such opinion about the fourth-seeded Friars resides in the Kansas locker room.
"(They) have a chip every time they play," Self said of Providence. "Which is part of being a good salesman. Teams need to buy into a certain thought or theory. And I'm sure that's been the thing that's probably been driven into them as much as anybody. But they're not a team, from our perspective, that gets no respect. They have gotten respect and they've earned it all. I know they're going into this game believing that if they play well, they can handle us. And we know that we're going to have to play well to do that to them."
Oddsmakers in Las Vegas list Kansas as a 7.5-point favorite in this one. KenPom.com has KU with a 7-point edge and a 74% win probability.
Probable Starters
No. 1 Kansas
G – Dajuan Harris Jr., 6-1, 180, Soph.
G – Ochai Agbaji, 6-5, 215, Sr.
G – Christian Braun, 6-7, 205, Jr.
F – Jalen Wilson, 6-8, 225, Soph.
F – David McCormack, 6-10, 265, Sr.
No. 4 Providence
G – Al Durham, 6-4, 180, Sr.
G – A.J. Reeves, 6-6, 205, Sr.
F – Justin Minaya, 6-7, 210, Sr.
F – Noah Horchler, 6-8, 220, Sr.
C – Nate Watson, 6-10, 260, Sr.
Stay in touch with KUsports.com throughout the day and night for complete coverage from Chicago.
Here's a look at our coverage from the Windy City so far:
• Game Day Breakdown: Kansas vs. Providence
• Sweet 16 Notebook: Jayhawks, Friars mirror each other
• Photo gallery from Thursday's open practices
• Providence eager to face college basketball blue blood
• Bill Self on leaving Illinois: 'It's worked out well for us'
• Basketball Friends breaks down what's at stake for KU in Chicago
• Experienced transfers lead Providence to Sweet 16