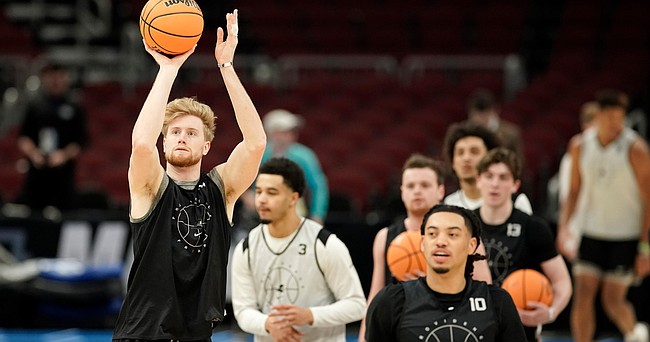 Chicago — Al Durham played in 123 games at storied Indiana for four seasons, yet it wasn't until he transferred to Providence for his fifth that he finally got a chance to play in the NCAA Tournament.
That's nothing to say of the opportunity Durham has Friday night, when the fourth-seeded Friars face top-seeded Kansas in the regional semifinals of the NCAA Tournament.
Should they win, they'll advance to the Elite Eight for only the fifth time in school history, the third time since the tournament expanded to 64 teams in 1985 and the first time since 1997.
Photo Gallery
NCAA Midwest Regional practices (Chicago)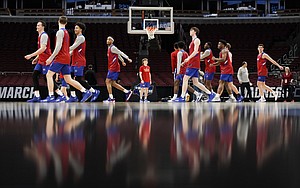 View a gallery of images from Thursday's practices at the United Center in Chicago
And if they do, they'll have Durham and five other players who transferred to Providence after enrolling elsewhere to thank.
"We've all had our time in college — four years, fifth years, even six years," Durham said. "We all experienced different things. We took all those experiences and brought it here to Providence, and that's helped us a lot, helped us in close games, helped us keep our composure and never be rattled because we've seen a lot.
"We've all seen different scenarios and different games. That's been the key to us winning a lot of these games is having veteran approaches and veteran experiences. So, I feel like that's just helping for us."
Durham, a fifth-year senior, is second on the Friars with 13.3 points and 3.4 assists per game. Sixth-year senior Noah Horchler, who played at East Florida State and North Florida, leads them in rebounding with 8.5 per game.
Justin Minaya (South Carolina), Ed Croswell (La Salle), Jared Bynum (St. Joseph's) and Brycen Goodine (Syracuse) are also upperclassmen who transferred to Providence — some as graduates, some as undergrads — and are part of its nine-man rotation.
That makes Nate Watson, A.J. Reeves and Alyn Breed the outliers. The three have played only for Providence, and they have seen the changes that have washed over the program in recent years.
"Everybody said we're an older group, so we all know we have to do what it is to do in order to become a great team " said Watson, a fifth-year senior and 6-foot-10 center who leads the Friars with 13.5 points per game.
"We have this motto that says, 'Us we together, family Friars,' and that's what we go by. As soon as I stepped foot on campus, I knew it was a family. And the way these guys have really gelled together so quickly is just a testament to how good we can be."
Providence (27-5), picked to finish seventh in the Big East, won the regular-season title for the first time. It was bounced from the conference tournament in the semifinals by Creighton, which Kansas beat in the second round on Saturday.
Prior to this season, the Friars hadn't been in the NCAA Tournament since 2018. Durham and Minaya said they each chose to transfer to Providence for their final season of eligibility because of the relationship they built with coach Ed Cooley, who sold them on a belief that the team could accomplish something special and the passion of the fan base.
"A lot of times when you're in the portal and recruiting, it comes down to trust," said Cooley, who has guided the Friars to the NCAA Tournament now six times in his 11 seasons. "So many times in today's world, everybody looks at name. They look at what's been done in the past. My job as head coach of Providence College is to inspire people to come and trust us to be where we are right now, and that's what the players have believed in."
Durham was a two-time captain for Indiana and scored 1,035 points as a three-year starter, but the Hoosiers fired coach Archie Miller and Durham looked elsewhere.
He found a home with the Friars — and now he'll try to get them past Kansas and into a game against Miami or Iowa State with a Final Four appearance on the line.
"We've always been the underdog in every game we play," Durham said. "We've been looked down upon. We use it as fuel to the fire that keeps us going and keeps us working hard and keeps us dedicated and locked in."
Stay in touch with KUsports.com throughout the day and night for complete coverage from Chicago.
Here's a look at our coverage from the Windy City so far:
• Game Day Breakdown: Kansas vs. Providence
• Sweet 16 Notebook: Jayhawks, Friars mirror each other
• Photo gallery from Thursday's open practices
• Providence eager to face college basketball blue blood
• Bill Self on leaving Illinois: 'It's worked out well for us'
• Basketball Friends breaks down what's at stake for KU in Chicago
• Experienced transfers lead Providence to Sweet 16