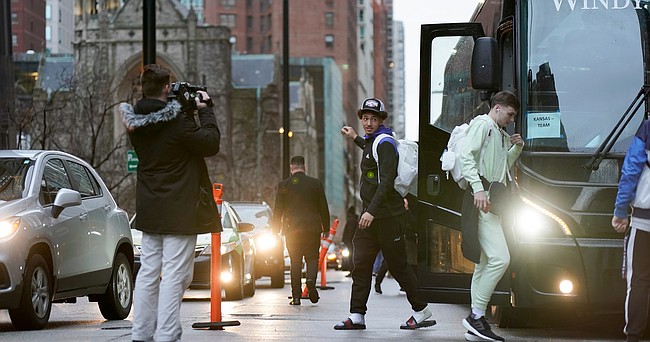 Chicago — The top-seeded Kansas men's basketball team arrived at its team hotel in The Windy City via police escort on a rainy Wednesday evening, much to the delight of head coach Bill Self.
"I love Chicago," Self said in a brief chat with reporters after getting off one of three team buses. "Chicago has been very good to me and our programs, respectively, at Illinois and, obviously, Kansas. We've got some really good players out of these areas. It's nice to be back."
So many of Self's previous trips to Chicago were on recruiting assignments. And Kansas certainly landed its fair share of talent from Chi Town. Sherron Collins and Jamari Traylor were from the heart of the city. And several other Jayhawks — Julian Wright, Cliff Alexander, Mario Little, Devon Dotson, Isaiah Moss, Charlie Moore and others — grew up at least partially in and around the area, as well.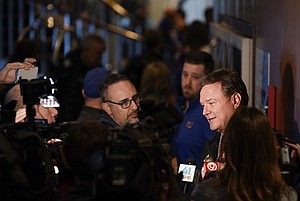 While none of those names will have any bearing on how top-seeded Kansas (30-6) performs here this week — the Jayhawks are 4-1 inside the United Center under Self — Self KU's return brought a good vibe to the program.
"We're excited to be here," he said. "I can't think of a better place for us to be and if I had to pick any place for us to be this week, it'd be here."
While the wait between last Saturday's win over Creighton in Fort Worth, Texas, and Friday's 6:29 p.m. tipoff with No. 4 seed Providence has been agonizing for many Kansas fans, Self said it has been good for the Jayhawks themselves.
A big reason for that was the extra rest and rehab time it provided senior forward Mitch Lightfoot, who is still nursing a sprained knee.
Self said he would estimate that Lightfoot played at 75-80% last weekend. He thinks he'll be better than that on Friday.
"It may not be 100%," he said. "But (the long break) gives him a better chance to be effective. So, we needed that. We caught a break in our mind."
The break comes from playing Thursday/Saturday in Rounds 1 and 2 and not again until Friday in the Sweet 16.
Speaking of the Sweet 16, Self said preparations for Providence are just now starting to ramp into high gear. The Jayhawks were off on Sunday, practiced hard Monday and Wednesday and held a walk-through on Tuesday.
"We've only had two practices this week so far where we really got after it," he said. "Providence does a ton of stuff, on both ends, but primarily offensively. So, we've got a lot of work to still do to be comfortable before the game on Friday."
Stay in touch with KUsports.com throughout the day and night for complete coverage from Chicago.
Here's a look at our coverage from the Windy City so far:
• Game Day Breakdown: Kansas vs. Providence
• Sweet 16 Notebook: Jayhawks, Friars mirror each other
• Photo gallery from Thursday's open practices
• Providence eager to face college basketball blue blood
• Bill Self on leaving Illinois: 'It's worked out well for us'
• Basketball Friends breaks down what's at stake for KU in Chicago
• Experienced transfers lead Providence to Sweet 16