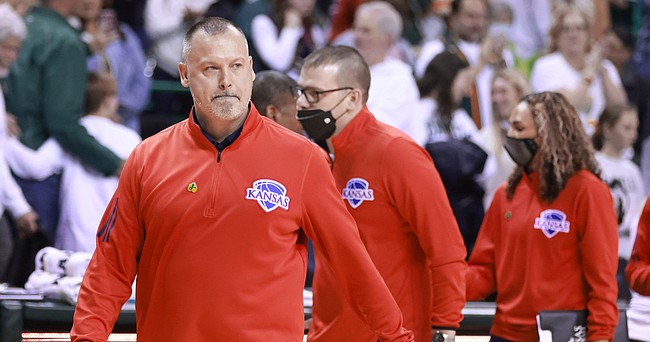 That coach Brandon Schneider and his assistant coaches began holding exit meetings with Kansas women's basketball players Wednesday was unique.
Those meetings began earlier than he would have liked, but they were also held later than ever before.
"We don't want to take a step back in the offseason," Schneider said. "If we can position ourselves to, throughout the summer and fall, be creating the momentum to take the next step, (that) is what we'd like to do."
At this point, it's all about progress for the Jayhawks, whose season ended Sunday in the second round of the NCAA Tournament. A 91-65 loss on Sunday to Stanford, the defending national champion and top seed in the Spokane Region, closed the book on a storied season for Kansas (21-10), a No. 8 seed that had not been to the tournament in Schneider's first six seasons as its coach.
Players began cycling into Schneider's office on Wednesday and more will follow on Thursday. Those interviews are the first of two they'll each have in the coming weeks — one to take stock of the season and check up on players' academics and injuries, and the other to lay out a plan for offseason development.
Much of the discussion will be centered on Kansas' success and each player's role in it. The focus now shifts, however, to maintaining that performance, which hasn't been possible for the Jayhawks over the past decade.
"You can learn a lot from the Stanford game, and competing against a program like that, I think, helps you make the next step," Schneider said. "But we took a significant step forward this year, and I think we have to talk about, as a program, what is the next step that we feel like we're in position to take."
Although sixth-year senior guard Julie Brosseau has exhausted her eligibility, senior Aniya Thomas has not, and her decision — which is expected to be made in the coming weeks — will shape how Schneider builds the roster in the coming weeks and months.
Thomas has played in a school-record 114 games since she joined the Jayhawks prior to the 2018-19 season, but she has a year of eligibility remaining because of the extra year granted by the NCAA to all players as a result of the COVID-19 pandemic.
Kansas will welcome two high school graduates in the summer in Bella Swedlund, a 5-foot-8 combo guard out of Winner, South Dakota, and Zsofia Telegdy, a 6-foot-3 power forward from Hungary by way of Sharpsburg, Georgia, whom Schneider envisions as more of a stretch four.
But the Jayhawks will also be monitoring the transfer portal. Although he'd like to find an experienced point guard to help lessen the load on Zakiyah Franklin, who will be a senior next season, he's open to adding "a difference-maker" at another position, too.
"My hope is all of our underclassmen choose to return," Schneider said. "Those are, I'm sure, things that are going to come about in meetings over the next couple of days. There's about 75 kids a day going into the transfer portal, but we're hopeful, I guess. All of our underclassmen will be invited back, and we look forward to having them back."
Kansas beat every conference opponent, aside from Baylor and Iowa State, at least once this season. It won 20 games for the first time since 2012-13 and finished 11-7 in the Big 12 — good for fifth place.
That means the Jayhawks know what it's going to take to play at a level that will routinely challenge the top teams in the Big 12. To help it do so, Schneider said he's planning to beef up the nonconference schedule beginning next season. A game at Nebraska and an appearance in an early-season exempt tournament in California are under contract, and he'd like to find another Power 5 opponent to face.
In past seasons, a softer nonconference schedule gave Kansas a runway to learn about new players before games against Big 12 opponents began. It doesn't need to do that next year, given how many players will return.
That doesn't mean they're perfect, however. Schneider doesn't have any wide-ranging targets for players to reach collectively during the offseason other than to continue to develop. That should be easier for the Jayhawks' six European players, some of whom will be selected to represent their countries in the FIBA U20 European Championship in Hungary in July.
"Everybody's a little bit different," Schneider said. "They're almost going to be what I would consider prescriptions: We can't all take the same medicine. ... Let's continue to work on your strengths but there's areas of attention in everybody's game that we want to continue to address and develop."
Schneider will begin recruiting this weekend, then head to Minneapolis late next week for the Final Four. (He believes three teams — South Carolina, Stanford and UConn — can win the national championship, with the first two "clear favorites.")
And although the players dribbling balls and taking shots outside his office window Wednesday morning were not his — the men's team was practicing before heading to Chicago for the Sweet 16 later in the day — he recognizes there are still victories that can come from playing deeper into March than the Jayhawks had in nine years.
"I think it's created momentum," Schneider said. "You definitely don't want to stall where you're at. I think you want to try to continue to move it forward, whether that's through player development in the offseason (or) obviously recruiting, but yeah, we're excited about the trajectory of the program."