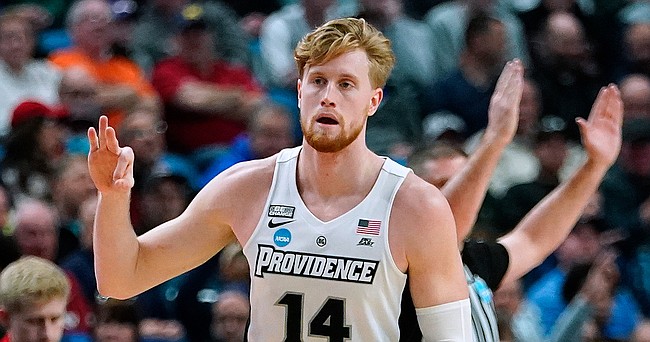 The top-seeded Kansas men's basketball team's run in the NCAA Tournament continues Friday when it faces No. 4 seed Providence in the Sweet 16 at United Center in Chicago.
Kansas defeated No. 9 seed Creighton 79-72 on Saturday after surviving a late challenge from the undermanned Bluejays, who went with a six-player rotation until the outcome was settled in the final minute. Fifth-year senior guard Remy Martin had 20 points, seven rebounds and four assists and redshirt sophomore forward Jalen Wilson had 14 points and 14 rebounds.
Providence, led by Big East Coach of the Year Ed Cooley, advanced to the Sweet 16 by defeating No. 12 seed Richmond 79-51 in Buffalo, New York, on Saturday. Five players reached double figures in scoring for the Friars, with Noah Horchler, a sixth-year senior transfer from North Florida, finishing with 16 points and 14 rebounds.
Here's what you should know about Providence heading into the Sweet 16 matchup.
Record: 27-5; 14-3 Big East
Located: Providence, Rhode Island
Qualification: At-large bid; finished first in Big East
Coach: Ed Cooley (11th season; 221-140)
Top players: Fifth-year senior center Nate Watson (13.5 points per game, 5.3 rebounds per game); fifth-year senior guard Al Durham (13.3 ppg, 3.4 assists per game); redshirt junior guard Jared Bynum (12.6 ppg, 4.1 apg); sixth-year senior forward Noah Horchler (9.9 ppg, 8.5 rpg, shoots 45.4%).
NCAA Tournament appearances: 21st; last in 2018, a loss to Texas A&M; in the first round.
Strengths: Opponents are shooting 41% against Providence this season, including 47% from 2-point range and 30.3% on the perimeter. The Friars are good at getting to the free throw line and good at making a lot of foul shots, but they are only an above-average free throw shooting team. They average 15.3 points per game on 21 foul shots for a free throw shooting percentage of 72.9. At 112.0, they rank 32nd in adjusted offensive efficiency, according to KenPom.com, and 28th at 111.8, according to Bart-Torvik.com, meaning they would score that many points in 100 possessions against an average Division I opponent. Providence has won 11 games by five or fewer points, showing that it knows how to finish.
Weaknesses: The Friars are an average team in nearly every major offensive statistical category. They score 71.8 points per game (123rd in Division I), make 43.8% of their shots (163rd) and average 13.3 assists per game (131st). In three of their five losses, they were outscored by at least 18 points.
Notable wins: At Wisconsin, 63-58; Texas Tech, 72-68, Creighton, 72-51.
Notable losses: Virginia, 58-40, in Newark, New Jersey; at Marquette, 88-56; Creighton, 85-58, in the Big East tournament.
Three points
1. Dream season: Cooley has the Friars in the Sweet 16 for the first time since 1997, when they reached the Elite Eight but lost to Arizona in overtime, and they reached that stage following their largest margin of victory in an NCAA Tournament game. "That was as well as we've played all year, and we picked the right time to do it," Cooley said after the game. Providence was the Big East regular-season champion for the first time, but that success did not translate to the conference tournament as it was throttled by Creighton in the semifinals. After the first-round victory over South Dakota State and the win against Richmond, the Friars are set for their toughest challenge of the season in Kansas.
2. Significant experience: Providence has five graduate students, three of whom transferred in, and its nine-player rotation includes only one underclassman in sophomore guard Alyn Breed. Leading rebounder Noah Horchler, in his sixth season, is in his second year at Providence after three at North Florida and one at Eastern Florida State, a junior college. Fifth-year senior guard Al Durham transferred from Indiana, fifth-year senior forward Justin Minaya is a transfer from South Carolina and junior guard Brycen Goodine transferred from Syracuse.
3. All of the luck: The Friars are No. 1 in KenPom.com's "luck rating," which the site explains as the deviation in winning percentage between a team's record and its expected record. Essentially, Providence is winning games that it shouldn't be; it won 11 games by five or fewer points this season, including a pair over teams that are No. 3 seeds in the NCAA Tournament — Wisconsin and Texas Tech. Cooley has, predictably, leaned into that notion as a sign of disrespect. "The more the narrative on doubt and luck and this and that, yeah, it plays on you," he said after the win against Richmond. "The players will come in the locker room and talk about it, and I tongue-in-cheek it a little bit, but, you know, you got some older guys out there just willing to try to compete for respect. I don't have to be liked, but I'll be damned if you're not going to respect me."