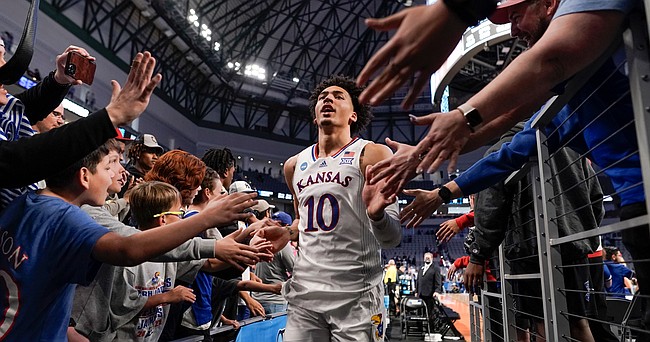 Fort Worth, Texas — Saturday's 79-72 win by top-seeded Kansas over No. 9 seed Creighton at Dickies Arena in the second round of the NCAA Tournament moved the Jayhawks into a tie with Kentucky for the most wins in NCAA men's basketball history.
Both teams currently sit on 2,353 all-time wins, but, thanks to Saint Peter's upset win over the Wildcats in the first round of the NCAA Tournament on Thursday, only the Jayhawks (30-6) can add to their win total the rest of this season.
Kentucky still has far fewer losses — and fewer seasons played — that the Jayhawks, currently sitting at 2,353-720 all-time compared to 2,353-877 for Kansas.
Photo Gallery
Kansas basketball v. Creighton (NCAA Round of 32)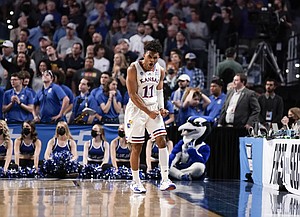 View a gallery of images from Saturday's game between the Kansas Jayhawks and the Creighton Bluejays from their matchup in the round of 32.
While owning the top spot is something that has meant a lot to fans of both programs who are constantly in search of some kind of edge in the bragging rights battle, Kansas coach Bill Self said this week that he's more focused on winning one game than the thousands that have come before it.
"I don't even know if it registers on what it would mean to the program," Self said Friday. "What it would mean is we won another game. And playing in the Sweet 16 is far more important than tying that (wins record). I hope we pass it by a couple, you know, by the end of the year. But not because of (moving into first place), just (because that would mean) we're still going to be playing."
North Carolina, which is also still alive in this year's NCAA Tournament, — as a No. 8 seed that upset top-seeded Baylor in the early game in Fort Worth on Saturday — is third on the list with 2,320 all-time victories.
Small ball success
With starting big man Ryan Kalkbrenner out for Saturday's game because of a knee injury he suffered in Creighton's first-round win, Greg McDermott knew his team would have to beat Kansas by playing small.
And while that strategy worked for large chunks of Saturday's Kansas victory, McDermott said Self's decision to match him with a smaller lineup might have been the deciding factor.
"He tried to avoid it as long as he could," McDermott said of Self. "And I had a feeling that it was coming at some point. We were able to take advantage with our small lineup, you know, pulling McCormack away from the basket, (but) I thought their small lineup made a game changing run in the middle (of the game)."
Patience pays off
Watching the game before theirs go to overtime for the second time in three days was not ideal for the Jayhawks.
But senior guards Ochai Agbaji and Remy Martin said the team utilized the extra pregame prep time, in both instances, to make sure it was as focused as possible.
"Usually you go into games and everything is on schedule," Agbaji said. "Everything's on time, you warm up and then you go and take the court and then you have a situation where the game is going into overtime. So you just have to stay focused, keep your body ready, keep your mind ready, just (fine-tune) your approach to the games."
Martin said the longer-than-expected wait time was not all that disruptive.
"It's been simple, man," he said after Saturday's win. "It's tough when you want to go out there and it gets pushed back, but the mindset still stays the same, keep getting ready, make sure your body is warm. We're here to hoop. So once we get on the court, everything's forgotten."
"Thanks guys"
For the second time this weekend, Martin delivered a solid game on the floor on Saturday and then listened to his teammates and head coach gush about his play and importance to the team.
Jalen Wilson called Martin the player of the game on Saturday, and Agbaji said all of Martin's trials and tribulations throughout his one wild season at Kansas "got him prepared for this moment."
"For him to shine (and) for him to go on out there and just be Remy, it was really nice to see and I'm just so proud of him," Agbaji said.
Smiling, Martin quietly said, "Thanks guys," repeating the appreciation he showed a press conference earlier in the week.
In KU's two victories in Fort Worth this week, Martin scored a total of 35 points on 13-of-22 shooting while adding eight rebounds, eight assists, two steals and just one turnover in 25 minutes per game.
'We want Kansas'
According to Internet reports from Buffalo, New York, where fourth-seeded Providence rolled over No. 12 seed Richmond to move into a Sweet 16 matchup with Kansas next Friday, fans of the Friars were heard chanting "We want Kansas!" near the end of their team's 79-51 win.
KU and Providence have never met in men's basketball.
The Friars enter Friday's matchup at 27-5 overall. They won the Big East Conference's regular season title with a 14-3 record and defeated No. 13 seed South Dakota State (66-57) and Richmond to reach their first Sweet 16 in 25 years.
This and that…
Saturday's win was KU's 30th of the season, marking the 16th time in school history that KU has cracked the 30-win mark. Ten of those have come in Self's 19 seasons with the program… KU now leads the all-time series with Creighton, 11-6, including victories in six consecutive games with the Bluejays… KU is now 111-48 all-time in NCAA Tournament games, including a mark of 41-13 as a No. 1 seed and a 7-2 record in games played against the No. 9 seed… Kansas shot a season-best 95% from the free throw line on Saturday, knocking down 19 of 20 charity shots… The Jayhawks outscored Creighton's bench 25-0 on Saturday, as the Bluejays played just six players until subbing in three reserves for the game's final eight seconds… Dajuan Harris made one of two 3-point attempts on Saturday, making the Jayhawks 9-1 in games when Harris hits a 3-pointer… KU led by one at halftime (39-38), moving the Jayhawks to 25-3 this season when leading at the break.