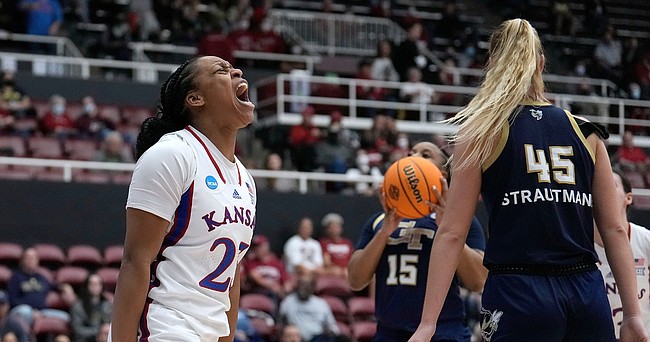 STANFORD, Calif. — Can Kansas shock the world? That question will be answered when the eighth-seeded Jayhawks (22-9) try to upset No. 1 seed Stanford (29-3) in Sunday's NCAA women's basketball tournament second-round game at Maples Pavilion. Tip-off is at 8 p.m. CT with the victor advancing to next weekend's Spokane regional.
The game features two coaches of the year in their respective conference — Brandon Schneider of Kansas, in his first season, and Stanford's Tara Vanderveer, the winningest coach in women's basketball with 1,154 career victories. The Cardinal is the defending NCAA champion.
"We have the utmost respect for Tara VanDerveer and what she has built and and sustained here for decades," Schneider said. "If you're smart, you'll try to emulate her. During the game, we'll have to make adjustments. Hopefully, we'll play well enough for them to make adjustments. But, neither of the coaches are going to get a rebound or a basket."
The Cardinal, ranked second in the nation, routed No. 16 Montana State 78-37 in first-round action Friday, shutting out the Bobcats 20-0 in the first period. The Jayhawks pulled away from ninth-seeded Georgia Tech to win 77-58, getting off to a 10-0 start. Another good beginning could be vital for the Jayhawks to pull off the upset.
"Kansas is a quality NCAA team," VanDerveer said. "They play in a great league. It feels like we play a Big 12 team at this part of the tournament. We played Kansas State in 2017, we played Oklahoma State last year. With any team, if you let a team do what they want to do, you're in trouble. We have to focus on things that will help our team be successful."
Stanford has a first team All-American in forward Haley Jones, a Swiss-Army knife type who can run the point and post up if needed. Jones is a National Player of the Year candidate. Center Cameron Brink is a third team All-America selection. Add the fact that Stanford is playing on its homecourt translates into an arduous task for the Jayhawks.
"Stanford is a very balanced team," Jayhawks guard Zakiyah Franklin said. "They are versatile and can score in a lot of different ways."
Both teams feature good interior players with the Jayhawks' Taiyanna Jackson a solid force in the middle.
"She is one of the top shot blockers in the country," VanDerveer said. "We have players who block shots every day in practice. It's not something that is totally new or something we have never seen before. We went to South Carolina, they have a great shot blocker. We went to Tennessee, they have a great shot blocker. She does have a good knack with good timing. Our team is well aware of her."
For the Jayhawks to have a chance, they have to win the battle out on the perimeter. Stanford has quality guards in twins Lexi and Lacie Hull and Anna Wilson, the younger sister of Denver Broncos quarterback Russell Wilson. Three-point specialist Hannah Jump comes off the bench. The Jayhawks' quickness factored heavily into Friday's triumph.
"Taking care of the ball is going to be very important," Franklin said. "Paint touches equal positive possessions for us. Being able to get into the paint is going to be important."
"You can't give Stanford baskets in transition," Schneider said. "You can't give them second-chance points. They're an elite offensive team. They're hard enough to guard in the halfcourt. If you give them easy baskets and give them extra opportunities, that's a recipe for disaster."
The question remains: Can Kansas shock the world?
"We just have to play our game and do what we do best," Franklin said. "Take it one possession at a time. We believe we can beat Stanford."
"You have to have a lot of confidence and belief in any competition you're going into," Schneider said. "The thing I respect about our team is that they've had great respect and humility all year. To have success, they have to prepare the right way. If they prepare the right way, they'll position themselves to play well and give themselves a tremendous chance to be successful."