Fort Worth, Texas — The start of top-seeded Kansas' NCAA Tournament run opened Thursday night, in the same city where the Jayhawks took their last loss of the regular season.
However, facing 16th-seeded Texas Southern in the opening round just three miles north of TCU's Schollmaier Arena was not too far away for the Jayhawks to forget the lessons they learned on the TCU campus 16 days earlier.
"That was a pretty big loss for us," KU senior David McCormack said ahead of KU's tournament opener, which KU won in convincing fashion, 83-56. "It was just a simple thing of mindset, being prepared. And from there on, we kind of just flipped the switch of being more locked in, being more tenacious, taking pride in the small things that can change the game, making sure that every possession matters."
Photo Gallery
Kansas Basketball v. Texas Southern (NCAA round 1)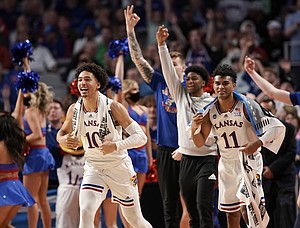 View a gallery of images from Thursday's game between the Kansas Jayhawks and Texas Southern Tigers from Fort Worth, Texas.
That approach led to five wins in their next five games and a No. 1 seed in this year's NCAA Tournament.
While the Jayhawks headed back home frustrated by the tough loss to TCU that night, several Jayhawks said the setback reminded them what it would take to be successful the rest of the season.
"That loss kind of opened our eyes a little bit to what's ahead of us," senior guard Remy Martin said. "It was a tough loss, but we knew that we had to learn from it. So, we just took everything we could. We watched film. We made corrections. In some (ways), it was a good thing."
Sophomore point guard Dajuan Harris Jr. agreed with Martin and said the loss to TCU, which moved KU to 0-4 in the state of Texas during the regular season, created a sense of urgency that has been beneficial in the days since.
"I think we were just too comfortable," Harris said.
Becoming uncomfortable — both in that loss and on the receiving end of some hard coaching from KU coach Bill Self in the days that followed — helped the Jayhawks reset their mindset and focus. McCormack said they began to emphasize how important the little things were to the big picture. Harris said the team responded to that loss by playing together more and with a new purpose on the defensive end.
"I don't know that any losses are great," Self said this week. "But I do think it humbled us (and) I do think that's good to have your team humbled from time to time."
Lightfoot in uniform
Injured forward Mitch Lightfoot was in uniform and available for the Jayhawks during Thursday's first-round NCAA Tournament game against Texas Southern.
He took the floor with the rest of his team, running onto the Dickies Arena court with a brace and leg sleeve on his left leg.
During his appearance on Jayhawk Gameday Live before Thursday's tipoff, Self said Lightfoot, who sprained his left knee last Saturday in KU's Big 12 title game win over Texas Tech, was a gametime decision.
Lightfoot practice three days in a row after taking the day off on Sunday. Self said the sixth-year senior had shown progress and improvement each day.
"But he's not 100%," Self added on the pregame show. "So let's not get it like if he's out there he'll have the same effectiveness that he has. He won't. He could in a couple days, though, because he's healing so fast."
Lightfoot did play in Thursday's game, checking in for the first time at the 14:19 mark of the first half. He did not play in the second half and Self said after the victory that he told Lightfoot he probably wouldn't.
"I thought we needed to play him early," Self said. "It worked out good that we could test it and he could get some confidence from it and have it not bother him and get through the game. I thought he did a nice job in a limited time. You could see he wasn't 100 percent. But you could also see that he wasn't far off. So that was positive."
Ochai a Consensus All-American
The United States Basketball Writers Association on Thursday named KU senior Ochai Agbaji a first-team All-American for the 2021-22 season.
The honor makes Agbaji the 31st Consensus First-Team All-American in KU history and the first since Devonte' Graham in 2018.
Thursday's USBWA honor was the sixth first-team nod for Agbaji this postseason. The USBWA, Associated Press, Sporting News and NABC collaborate to create consensus recognition, and players are considered Consensus First-Team All-Americans if they are honored on at least half of the lists. Agbaji, who led Kansas and the Big 12 in scoring at 19.8 points per game, also earned a first-team All-American nod from Bleacher Report and The Athletic.
Remy's tourney return
It's been an up-and-down season for Kansas guard Remy Martin, who came to KU from Arizona State as the top transfer in college basketball but spent the bulk of the Big 12 season in street clothes.
Martin's back now, though, and finds himself in a position he had not been in since 2019 — the NCAA Tournament.
"Being able to play in March is something that I've always thought about as a kid, just being able to feel the moment," Martin said before his first NCAA Tournament game with Kansas. "March brings a whole different energy to college basketball that I love."
During his first two trips to the Big Dance, Martin's ASU team was an 11 seed playing in the First Four games. Martin and the Sun Devils won one of those games but never advanced past the first round.
Despite the knee injury that kept him out of action for more than a month, Martin positioned himself to be a factor for the Jayhawks down the stretch, reclaiming the "Energizer Bunny" role that Self expected him to fill.
"I think he turned into that in Kansas City," Self said of Martin's contributions in the Big 12 tournament. "I think he's capable of being that for us. He's healthy. He looks fast. He's got energy. His body's rested. I think he's poised to give us an element that we haven't had consistently all year long."
Self honored, too
Agbaji is not the only one on the Kansas bench picking up some postseason hardware this year.
KU coach Bill Self, now in his 19th season in charge of the program, recently was named the USBWA Coach of the Year for District VI. He was joined on the team by Agbaji and KU junior Christian Braun.
USBWA teams have been named since 1956-57 and are voted on by its membership which is made up of journalists nationwide whose interest is to cover college basketball. District VI consists of schools from the states of Iowa, Kansas, Missouri, Nebraska, North Dakota, Oklahoma and South Dakota.
Brighter, better ball
You might have noticed that the official basketball of this year's NCAA Tournament looks a little more orange and a lot brighter than what you've been used to seeing all year long.
That's because it is. And it's not completely new to college basketball either.
According to an NCAA.com news release last summer, the ball was approved for use during the 2021-22 season last summer. It has a Micro-Touch cover that provides an extra layer of grip and moisture management and a newly designed core that provides a softer feel and better control. In addition, the ball's extended range construction is said to optimally balance the weight of the ball, making it easier to shoot from long range.
KU did not use the ball during the regular season but has had them at the team facilities since September and began using them exclusively after the Big 12 tournament. KU could not switch to them this season because Wilson was too far into production to add the Shot Tracker chip to them in time. The expectation is for KU and other schools who use the Shot Tracker technology to switch to them next season.
This specific NCAA Tournament issued ball retails for $94.95 on Wilson's official web site.

https://www.youtube.com/watch?v=npbj5SCCtUk
https://www.youtube.com/watch?v=FeBmLCNnunE