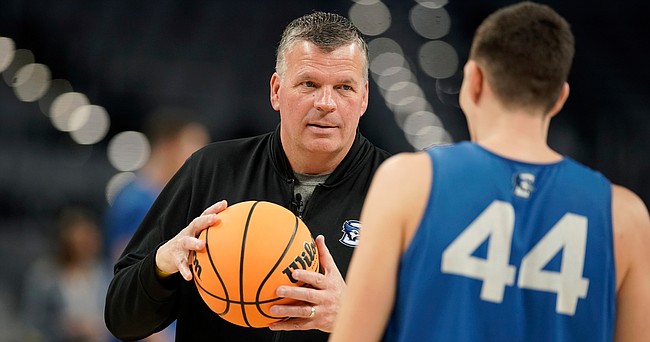 FORT WORTH, Texas — The top-seeded Kansas men's basketball team run in the NCAA Tournament continues Saturday when it faces No. 9 seed Creighton in a second-round game at Dickies Arena in Fort Worth, Texas.
Kansas defeated No. 16 seed Texas Southern 83-56 on Saturday in a game that wasn't close after the first few minutes. Creighton, however, had to battle back from a 14-point first-half deficit, and from being down nine with two and a half minutes remaining, to force overtime and then beat No. 8 seed San Diego State 72-69.
Photo Gallery
Kansas Basketball v. Texas Southern (NCAA round 1)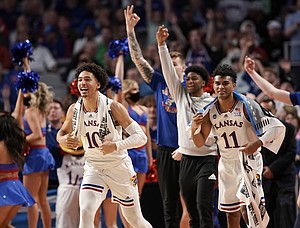 View a gallery of images from Thursday's game between the Kansas Jayhawks and Texas Southern Tigers from Fort Worth, Texas.
Its biggest question, though, is about the status of sophomore center Ryan Kalkbrenner, who left the game against the Aztecs in overtime with a left knee injury.
Here's what you should know about Creighton heading into the second-round matchup.
Record: 23-11; 12-7 Big East
Located: Omaha, Nebraska
Qualification: At-large bid; finished fourth in Big East
Coach: Greg McDermott (12th season; 276-136)
Top players: Senior forward Ryan Hawkins (13.8 points per game, 7.8 rebounds per game); sophomore center Ryan Kalkbrenner (13.1 ppg, 7.7 rpg, 2.7 blocks per game); senior guard Alex O'Connell (11.6 ppg, 5.4 rpg).
NCAA Tournament appearances: 23rd; last in 2021, a Sweet 16 run that included wins over UC Santa Barbara and Ohio before a loss to Gonzaga.
Strengths: A very good team defensively, Creighton is allowing 66 points per game and holding opponents to 43.7% from 2-point range and 31.5% from 3-point range. It is holding opponents to 52.1% shooting at the rim, per Hoop-Math.com, good for 20th in Division I, and has an adjusted defensive efficiency of 92.3, according to KenPom.com, which ranks 16th. The Bluejays are also a good rebounding team — at least, they were with Kalkbrenner in the lineup — as their 38.4 rebounds per game rank 40th.
Weaknesses: Despite counting Kyle Korver and Doug McDermott as alums, Creighton hasn't been particularly successful from 3-point range this season, with its 30.3 3-point percentage ranking 322nd of the 350 full Division I teams. The Bluejays do not have a deep bench as their starters averaged at least 30 minutes per game in the Big East tournament.
Notable wins: Villanova, 79-59; at UConn, 59-55; UConn, 64-62
Notable losses: Butler, 72-55
Three points
1. Kalkbrenner's knee: Kalkbrenner, the Big East Defensive Player of the Year, left the game against San Diego State with 2:42 remaining in overtime after his left knee buckled while he was trying to get back on transition. Coach Greg McDermott said after the game that "it's unlikely that we're going to have him on Saturday" and that "it doesn't appear to look great." The 7-foot-1 center is averaging 13.1 points, 7.7 rebounds and 2.7 blocks per game, and he entered the NCAA Tournament ranked second in Division I with 128 offensive rebounds and ninth with 89 blocks. He had 16 points and 10 rebounds against the Aztecs. Senior forward KeyShawn Feazell should replace him in the starting lineup.
2. A gritty finish: The Bluejays led briefly in the first five minutes, and never by more than two points, before falling way behind against San Diego State. They didn't tie the score again until freshman guard Trey Alexander made a right-handed runner in the lane with 11.2 seconds left in regulation, and even then, it wasn't until Alexander made a layup with 1:08 left in overtime that they took the lead. Creighton went 6-for-7 from the free throw line in the extra period. "We were dead in the water the first half, down 14, 15, whatever it was, against a team that's really hard to come back on," McDermott said.
3. Lesson in resilience: Creighton lost freshman point guard Ryan Nembhard for the rest of the season on Feb. 23 when he broke his right wrist in an 81-78 win at St. John's. Nembhard, the Big East Freshman of the Year and the younger brother of Gonzaga guard Andrew Nembhard, was averaging 11.3 points and 4.4 assists per game at the time of the injury. And while the Bluejays lost their next game, 72-51 at No. 11 Providence, they beat the Friars 85-58 two weeks later in the Big East semifinals before falling to No. 8 Villanova in the title game. "From where we've come on Nov. 10 to where we sit on St. Patrick's Day is a transformation that I'm not sure I've ever been part of," McDermott said.