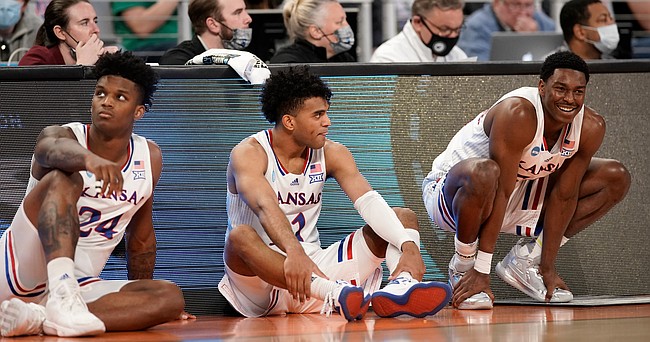 FORT WORTH, Texas — With 7:34 remaining on Thursday night and Texas Southern on an 8-0 run, Kansas men's basketball coach Bill Self decided he had seen enough. He called a 30-second timeout, and once play resumed, four of the five players who had been on the court found themselves on the bench.
The only one who survived, starting forward Jalen Wilson, found himself in familiar company. The Jayhawks' other starters were back in the game.
Photo Gallery
Kansas Basketball v. Texas Southern (NCAA round 1)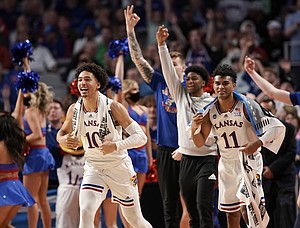 View a gallery of images from Thursday's game between the Kansas Jayhawks and Texas Southern Tigers from Fort Worth, Texas.
It was a clear message from Self, who expected four players — guards Remy Martin, Jalen Coleman-Lands and Joe Yesufu, and forward KJ Adams — to eat significant minutes as the Jayhawks wound down the clock. The Tigers were losing by 31 points when, with 9:28 to play, Wilson replaced Ochai Agbaji and joined that quartet.
The outcome was never in doubt. Kansas, the No. 1 seed in the Midwest Region, won the first-round game against No. 16 seed Texas Southern 83-56. And after Self made the decision to turn to the starters — validated with Agbaji's dunk off a lob from Dajuan Harris Jr. and a trio of 3-pointers, one from Wilson and two from Christian Braun — he again turned to his reserves to polish off the final 3:08 with a five-player hockey-style line change.
But as the NCAA Tournament wears on and the margin of acceptability narrows, what the Jayhawks showed late Thursday brings up a potentially important question. If the players in the second half of the rotation cannot finish out a game against a clearly overmatched opponent, should there be any worry about how any of them may handle a closer game as the tournament unfolds?
"I do think that the bench did not do a good job playing the way that you need to play to win the possession," Self said. "They were playing the game from what the score was, and so that was the only thing about tonight that I thought we didn't do very well."
No team — not even one that, like Kansas, has proven to be among the best in the country this season — has a second unit comparable to the first. Broadly, that's the nature of sports. The best players will play the most minutes, and so on.
To their credit, those who do not start for the Jayhawks seem to have settled into their roles — which is to be expected now 35 games into the season. Coleman-Lands, a seventh-year senior, is a lethal perimeter shooter who plays limited minutes. Yesufu, a sophomore, is a combo guard who is still finding ways to unlock the athleticism that can make him a quality defender. Adams, a 6-foot-7 freshman, is making the best of a season in which he has been forced to play minutes at the five.
That's to say nothing of Mitch Lightfoot, the sixth-year senior who was limited to seven minutes Thursday by a left knee injury, and Zach Clemence, a freshman who finished the game but missed more than a month with a broken toe earlier this season.
And then there's Martin, who led Kansas with 15 points on Thursday. The preseason Big 12 Player of the Year as a transfer from Arizona State, Martin, who began the season as a starter before he bruised a bone in his right knee, has dazzled in recent games and lived up to the hype. His passing and decision-making were on full, wondrous display against Texas Southern, especially in the first half. He finished with four assists.
As recently as late February, however, Self was speaking about how he would like to whittle the Jayhawks' rotation to nine players for the postseason. That hasn't happened, mostly because he hasn't needed to do so — two of the three Big 12 tournament games were blowouts, much like Thursday's first-round walkover, and lingering injuries to Martin, starting center David McCormack and now Lightfoot have complicated the equation. But, by now, Self and his assistant coaches have a good idea of what to expect from each of their players.
Complacency, as was the case for that stretch late against Texas Southern, doesn't seem like it would be on that list. The Tigers, down 47-19 at halftime, ended up outscoring the Jayhawks 37-36 in the second half.
"I think it's just holding us accountable for our standard," Martin said, referring to Self's late substitution. "I think (Self) holds us to a high standard, which we love, and it was just make corrections and get right. It was as simple as that. We wanted to go out and change the pace, change the game, and he was just holding us accountable, which I love him for."
Let's not forget, too, that the glory of the NCAA Tournament obscures the fact that not every game is competitive. Although No. 15 seed Saint Peter's eliminated No. 2 seed and national championship contender Kentucky in overtime in the first round on Thursday, six teams, including Kansas, won their games by at least 20 points.
Earlier this season, the Jayhawks endured a stretch of five games in 15 days against ranked teams — one of them being Kentucky — and won three of them. As McCormack said after the Big 12 title game when speaking about how he'll manage his sore foot, the quality of opponents and the scheduling can make the regular season more rigorous than the NCAA Tournament.
As a Big 12 regular-season champion, the Jayhawks handled that portion of their schedule just fine. Perhaps Thursday's late slide was just one blip on an otherwise smooth night, a letting down of the guard when there was no reason to expect any significant repercussions.
But it would behoove Kansas to not do that again. All it has to do is look to Creighton, its opponent on Saturday, as a cautionary tale. The Bluejays were down nine points with two and a half minutes remaining before catching San Diego State and forcing overtime.
"We just have to come in and work on closing the game better," Braun said. "We didn't do a good job the second half of taking care of the ball and just closing the game how we (did) in the first half. We have to do a better job of that."