No. 1 Kansas Jayhawks (29-6) vs. No. 9 Creighton (23-11)
Time: 1:40 p.m., Saturday, March 19, 2022
Location: Dickies Arena, Fort Worth, Texas
TV: CBS | Radio: IMG Jayhawk Radio Network
Keys for Kansas
1. Run like mad
We've seen all season that Kansas is at its best when it gets out and runs in transition. The reasons for this are many.
For one, the KU lineup — no matter who is on the floor — features several different players who can push the ball up the court. For two, KU's emphasis on the defensive glass automatically creates opportunities to play fast.

Both of those will continue to be keys throughout the rest of KU's season, no matter how long it lasts. But it is of particular importance in this game because of how thin Creighton's lineup is.
The Bluejays played just seven players in their Round 1 win over San Diego State. And one of those players — 7-1 center Ryan Kalkbrenner — was lost for the season with a knee injury in that game.
The Bluejays have veteran big man KeyShawn Feazell to step in for Kalkbrenner, but he has not been conditioned to play big minutes and the Creighton bench does not have many other options that allow head coach Greg McDermott to play a deep lineup.
Photo Gallery
KU-Creighton off day at 2022 NCAA Tournament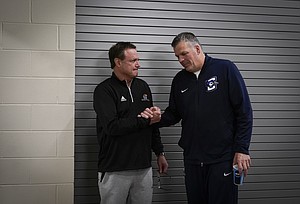 KU-Creighton off day at 2022 NCAA Tournament
Kansas does, and the Jayhawks, who like to play fast anyway, may try to play even a little faster in this one to see if they can overwhelm Creighton in the open court. If successful, that could lead to plenty of easy baskets and also could wear out the Bluejays' first unit.
"I think we have to try and slow (KU's) transition game the best we can," McDermott said Friday. "Rebounding is going to be an important part of this."
2. Be as versatile as possible
One way the Bluejays could look to play without Kalkbrenner is by going small. McDermott said Friday that spreading the Jayhawks out as much as possible and potentially getting some more open 3-point looks as a result could be a strategy that works for the underdogs.
One problem. Kansas is just as comfortable playing small, with Jalen Wilson in at the 5, as it is playing big with McCormack anchoring the middle.
Like with most games, the Jayhawks figure to open by trying to establish McCormack inside. If he goes off, the Jayhawks will ride him. But even if that happens, McCormack can't play all 40 minutes. He'll need a breather. Creighton will likely adjust to try to take him away. And the Jayhawks may want to throw something different at the Bluejays just to see how they handle it.
"There's that old adage, make them adjust to you more than you adjust to them," Kansas head coach Bill Self said Friday.
McDermott said the Bluejays' plan was to hang in there for as long as possible until it can get a good feel for how Kansas is attacking them.
We're going to have change as the game goes on and we see what Kansas is trying to do to exploit what we're doing in our coverages," McDermott said.
Changing things up before the Bluejays can get a good read on KU's approach would be a wise strategy and Kansas has both the personnel and the playbook to be able to do that.
"If they decide to do that, then how do we take advantage of them being small," Self asked Friday. "And then how do we guard them when they are small? That will be a big question with us, because, obviously, that would put David on the perimeter a lot.
"I think we can do it. I think there's a strategy and ways to do it. And we've actually played a couple of teams in recent memory that went small on us and we were able to do it and get by with it and not get hurt with it defensively. And (it was) a bonus offensively. So I can see it working favorably (for) us, but it won't be an easy guard, regardless, if that occurs."
3. Turnovers, turnovers, turnovers
Creighton is one of those rare teams that both turns it over at a higher rate than coaches would like and does not do a great job of forcing its opponents to do the same.
Creighton's offense ranks 313th nationally per KenPom.com in turnover percentage, giving it away on one of every five possessions. That number is even worse on non-steal turnovers — essentially unforced errors – as the Bluejays rank 332nd in that category at 10.8%, nearly two full percentage points higher than the national average.
Self said Friday that the Bluejays' identity under McDermott has been as much about defense and toughness as anything else, but forcing turnovers is not a big part of that CU defense. Creighton, which has an adjusted defensive efficiency ranking of 17th, is forcing turnovers on just 15.6 of its opponents' possessions. That ranks 322nd nationally and is nearly three full percentage points worse than the national average.
The Bluejays' offense averaged 14.2 turnovers per game for the season and 14.1 turnovers per game in their 11 losses.
That speaks to a team being who it is. The issue, however, was that in those 11 losses Creighton only forced its opponent into double-digit turnovers on four occasions and lost the turnover battle in every game but one. In that one, they tied with Seton Hall when both teams gave it away 13 times.
In their 23 wins, the Bluejays forced their opponent into double-digit turnovers 16 times. One of those came Thursday night, when they forced San Diego State into 16 turnovers but still turned it over 20 times themselves.
The most remarkable number in Creighton's turnover glance might be the fact that the Bluejays had fewer turnovers than their opponent just one time all season.
Marquee Matchup
Creighton point guard Trey Alexander vs. KU PGs Dajuan Harris Jr. and Remy Martin
The point guard position is an area that Kansas should be able to find an advantage.
Creighton freshman Trey Alexander, whom KU recruited, is plenty capable and very talented. But instead of going head-to-head with one other player in this one, he'll have to deal with two Kansas point guards who both are playing at a very high level.
"Remy Martin is a nice changeup from Harris," McDermott said in breaking down the matchup. "They have different skill sets, they bring different things to the table."
Alexander was a difference maker in Creighton's win over San Diego State on Thursday night. He hit a pair of clutch shots late and led the Bluejays in scoring.
"He played great," Self said of the 6-foot-4, 185-pound freshman from Oklahoma City. "And he's got size."
That last part will be the biggest question in this matchup. Neither Harris nor Martin can match up with Alexander's length and size, so the Jayhawks may have to get creative with their coverages. That could mean pressuring him so hard that he has to initiate offense closer to half-court than he'd like. Or it could mean using the length of wings like Ochai Agbaji, Christian Braun and Jalen Wilson to disrupt him on switches.
Alexander is quick and he has a good first step and good body control that allows him to pull up for short jumpers after getting by his defender. He also can shoot over the top of the smaller Kansas guards from distance. That's something Self is worried about with Duke transfer Alex O'Connell, too. O'Connell stands 6-foot-6 and has good bounce.
As much as the Jayhawks switch their defensive assignments, both Alexander and O'Connell figure to see plenty of different defenders in their faces and pushing them out of their comfort zone.
That could be particularly key for KU with Alexander, who is still just a freshman and is playing on this stage for the first time while filling in for injured Creighton point guard Ryan Nembhard.
"I think he's really, really improved in a very short amount of time," Self said. "We didn't recruit him as point guard. And I don't know that Greg (McDermott) recruited him as a point guard. But it he's turned out to be a terrific point guard, thrown into emergency duty. He's done a fabulous job."
Jayhawk Pulse
After a regular season that featured a whole bunch of grind-it-out, down-to-the-wire games, the Jayhawks appear to have found the formula for getting a little separation.
Part of that is playing free and loose and having a little fun.
"We talk about that all the time," Self said Friday. "This is the reward of months of hard work. And you don't want to look back and say what if. So you've got to have fun. It's got to be a great memory. And the best way to make a great memory is to be focused and maybe give 5 or 10% more and, you know, try to be as loose and as poised that you can be."
Self said these Jayhawks have done that pretty well all season long and given their veteran status and the fact that the makeup of so many of his players is to stay poised even in pressure situations.
"Regardless of how loose you hope to be, there's still going to be moments where you play tight," Self said. "That's natural. But I think, for the most part, this team has done a pretty good job of (staying loose and having fun)."
Few things are more fun than advancing in the NCAA Tournament and the Jayhawks enter this game looking to get to the Sweet 16 for the first time since their Final Four run in 2018.
KU and Creighton played last season, with Jalen Wilson hitting a game-winning 3-pointer late in the game at Allen Fieldhouse. But that Creighton team was almost entirely different than the one the Jayhawks will face in this one. And several of the Kansas players are either new to the program or playing different roles than they did in that game a season ago.
"McCormack has made strides from the beginning of last year and he actually played pretty well against us in that game," said McDermott on Friday. "Agbaji has made the jump. Christian Braun has made a jump. Jalen (Wilson) hasn't shot the ball from the 3-point line like he did against us last year, at least to this point of the season, but we know he's capable. … I coached against Bill a lot when I was at Iowa State. I didn't have a lot of fun doing that. But things haven't changed. They're just really well coached, great pace to what they do in the full court and the quarter court. And then defensively, he always has a great plan.
"We're going to have to be at our best. But the reality of it is, whoever you're playing this time of the year, you better be at your best or you're going to be on your way home."
Kansas leads the all-time series with Creighton 10-6, including a 2-0 record in neutral-court games. Each of the last two meetings was decided by a single point, including last season's 73-72 KU win in Lawrence. The only previous NCAA Tournament meeting between these two programs came in 1974, when KU defeated Creighton 55-54 in Tulsa. The Bluejays' last win in the series came in 1949.
McDermott, meanwhile is 0-9 all-time against the Jayhawks. His first eight losses came when he was the head coach at Iowa State from 2006-10. Self, meanwhile, is 3-3 all-time against Creighton – 0-3 at Oral Roberts and 1-0 at Tulsa, Illinois and Kansas.
The Jayhawks opened as a 10-point favorite in the eyes of the oddsmakers in Las Vegas. That line moved to KU -11.5 in the 24 hours after it came out.
KenPom gives Kansas a nine-point edge — 75-66 — and lists the Jayhawks with a 79% win probability margin.
Probable Starters
No. 1 Kansas
G – Dajuan Harris Jr., 6-1, 180, Soph.
G – Ochai Agbaji, 6-5, 210, Sr.
G – Christian Braun, 6-7, 205, Jr.
F – Jalen Wilson, 6-8, 225, Soph.
F – David McCormack, 6-10, 265, Sr.
No. 9 Creighton Bluejays
G – Trey Alexander, 6-4, 185, Fr.
G – Alex O'Connell, 6-6, 185, Sr.
G – Arthur Kaluma, 6-7, 220, Fr.
F – Ryan Hawkins 6-7, 222, Sr.
F – KeyShawn Feazell, 6-9, 230, Sr.
https://www.youtube.com/watch?v=wVtQG7902Po