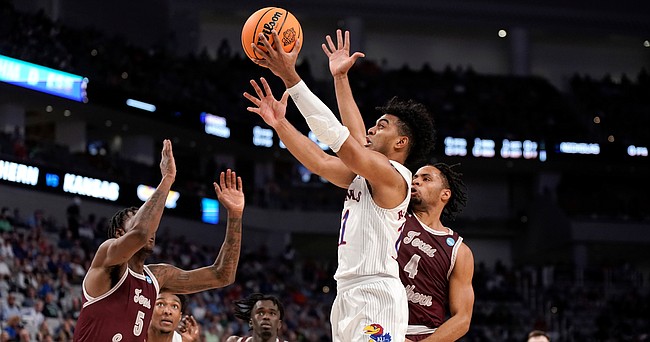 Fort Worth, Texas — For the past couple of weeks, Kansas basketball coach Bill Self has talked — marveled even — about how much faster senior Remy Martin has looked now that he's healthy again.
On Thursday night, during an 83-56 first-round NCAA Tournament victory over 16th-seeded Texas Southern at Dickies Arena, Martin showed off every bit of speed and quickness he has in his bag of tricks to help lead the Jayhawks to a run-away win and into Saturday's second round.
A spark off the bench if ever there were one, Martin first entered Thursday's game at the 13:34 mark of the first half and immediately and completely took over.
In his first eight minutes on the floor, he made all four shots he took and dished three assists with zero turnovers.
Photo Gallery
Kansas Basketball v. Texas Southern (NCAA round 1)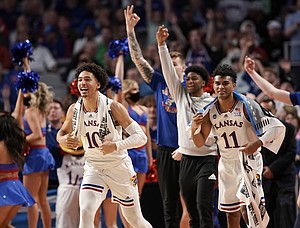 View a gallery of images from Thursday's game between the Kansas Jayhawks and Texas Southern Tigers from Fort Worth, Texas.
The shots were routine. The assists all had energy and emotion behind them. And the combination of the two fired up the entire Kansas bench and the pro-Kansas crowd.
With each individual Remy moment, the smiles grew bigger from his teammates both on the bench and out there on the floor with him. It was as if they knew they were witnessing something special. And not special in the sense of watching a generational talent do his thing. More special in the sense of this was the guy they have been waiting for all season long. And their smiles made it darn clear that they were thrilled that he's here.
"Just his passion adds a lot to our team," KU junior Christian Braun said after scoring 14 points with five rebounds and four assists in Thursday's victory. "We all kind of feed off of it. You can tell his confidence is coming back more and more. And when he plays like that, we're tough to beat."
Eight seconds into his first stint on the court, Martin made his presence felt by dishing an assist to KU's Ochai Agbaji to push the Kansas lead to 14-7.
The Jayhawks (29-6) spent the first few minutes of this one shaking off some rust and fighting off some nerves, so getting an easy bucket from their leading scorer was a key part of the settling in process that turned this one from a haphazard affair of teams running up and down the floor without getting much done to a Kansas masterpiece that ended with the Jayhawks shooting 59% from the floor in the first half.
For the game, Kansas made 11 of 23 shots from 3-point range, out-rebounded the Tigers 44-32 and held advantages of 40-24 in points in the paint and 23-6 in fastbreak points.
Texas Southern trailed just 19-12 as deep into the game as the 9:33 mark of the first half. But the 10-0 run that KU ripped off to blow the game open was almost all Martin.
His assist to big man David McCormack — through the lane and skipping off the floor like a flat rock on a calm lake — led to a hammer dunk for McCormack (nine points and seven rebounds in 23 minutes) and a 21-12 Kansas lead.
Self called the pass "pretty special." There was much more where that came from.
After a bucket by Dajuan Harris Jr. (12 points in 29 minutes) made it 23-12, Martin got into the high-flying act on his own, ripping a steal near mid-court and taking it the distance for a two-footed, two-handed dunk that put the Jayhawks ahead 25-12 and forced Texas Southern (19-13) to call timeout.
"I haven't dunked in forever," Martin said with a smile after the victory. "You know, that felt great."
Ribbed Self: "I didn't know Remy could dunk a basketball until today."
Martin pushed the pace for an easy layup to make it 27-12 and then assisted on another easy basket for McCormack, throwing a shoulder-high, side-eyed slip pass to the KU big man as he cut to the rim to give the Jayhawks a 29-12 lead with 6:49 to play in the first half.
"Remy was great," Self said. "He came in and played lights out, terrific. I also thought Juan was good early. On a night where I thought that, from an offensive production standpoint, we had some guys do pretty well but nobody was really lights out except for those two. So, I thought they keyed it more than anybody else."
Harris and Martin, whom Self called "about perfect" in the first half, combined for 27 points on 11-of-14 shooting. They were two of five Jayhawks who reached double figures in scoring. They also turned it over just one time between them and swiped four steals.
While Martin's improved health and offensive production have provided Kansas a lift in recent weeks, perhaps the most important part about him being healthy again is that it allows him to try harder and be more effective defensively, too.
There was one possession in KU's win Thursday night where Martin got sucked into the lane and watched as a teammate launched a shot from the outside that clanged off the back of the rim. Racing after it like Michael Phelps trying to touch the wall first to win another gold medal at the Olympics, Martin gave everything he had to get to the ball and save a possession for the Jayhawks. He got that one. It led to another Kansas bucket. And it was just another example of how good Martin was in this one and how easily KU rolled as a result.
"It's just fun playing with Remy," Harris said after Thursday's victory. "He gives us a lot of excitement on the bench, a lot of energy in the game. It's really good playing with him."
The Jayhawks now have done that eight times since Feb. 26 and they're 6-2 in that span and riding a six-game winning streak into Saturday's second-round matchup with ninth-seeded Creighton. Tipoff for that one is set for 1:40 p.m. on CBS.
"It felt great," Martin said of his contributions in his first NCAA Tournament game since 2019. "These guys have been very good to me. Great teammates. I'm just happy to go out there and, you know, try to give it my all and help them out. That's just my goal, my goal is to go in there and help as much as I can. I think I did that today. I'm just happy that we got the win and it was a collective effort."
Texas Southern coach Johnny Jones saw it through a slightly different lens.
"We ran into a team that's very efficient, played extremely well and looked like one of the top two or three teams in the country tonight," Jones said.