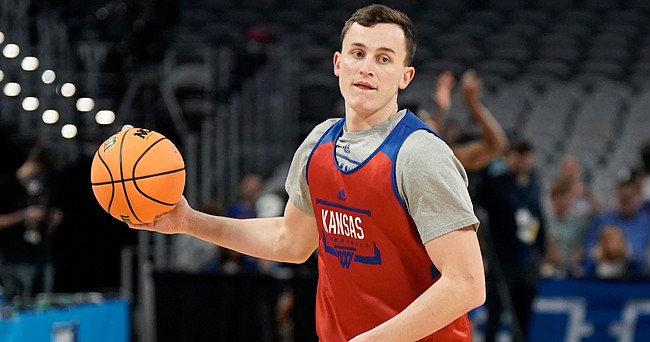 Fort Worth, Texas — Kansas senior Mitch Lightfoot practiced for the second day in a row on Wednesday, wearing a brace and protective sleeve on his sprained left knee during the Jayhawks' open practice at Dickies Arena.
All of it points to the KU forward being ready for Thursday's NCAA Tournament opener against Texas Southern, but Kansas coach Bill Self said, officially, Lightfoot remained "day to day."
"He practiced some today," Self said Wednesday. "Did not go full, but he did do some contact stuff. But it was limited. So, we'll wait and see how he feels tomorrow. But we're hopeful he's available."
Photo Gallery
Fort Worth Midwest Regional practices day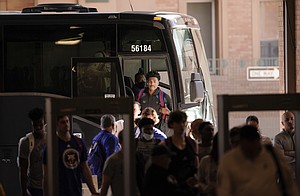 View a gallery of images from Wednesday's team practices featuring the Kansas Jayhawks, Texas Southern Tigers, San Diego State Aztecs and Creighton Bluejays.
In working in the post during the team drills portion of Wednesday's open practice, Lightfoot looked fairly comfortable moving in both directions. That was with his back to the basket and while facing forward. He also elevated enough to throw down a couple of dunks and seemed to be in good spirits.
The 6-8 sixth-year senior from Gilbert, Arizona, is playing in his last NCAA Tournament and Self has said on multiple occasions that he knows Lightfoot will do everything in his power to be in uniform and on the floor for the top-seeded Jayhawks (28-6) against No. 16 seed Texas Southern when the 8:57 p.m. tipoff rolls around.
"Like I said before, we're not going to put him out there if that puts him in some form of risk," Self noted. "But he's made tremendous improvements since Saturday."
A Self fan on the TSU side
The minute the bracket was revealed and a potential matchup with Texas Southern was possible, Self made it known that he had a ton of respect and admiration for TSU coach Johnny Jones.
Jones said Wednesday that the feeling was mutual, but, it turns out, the Texas Southern coach is not the biggest Self fan in his family.
Jones' wife, Kelli, is. Here's the reason.
When Jones was the interim head coach at Memphis during the 1999-2000 season, Memphis approached Self about applying for the job. According to Jones, Self told them they already had a coach in place and that he was not interested in talking to them any more about the situation until that changed.
"After my wife heard that, she became his biggest fan," Jones said with a smile on Wednesday.
KU-TSU almost happened in December
A few months ago, when COVID-19 issues were causing problems and cancellations throughout college basketball, the Jayhawks and Tigers almost joined forces to help each other out.
Jones said Wednesday that Self called him on a Thursday but by the time he returned the phone call, Self and the Jayhawks had already filled the hole in their schedule.
"I'm glad he found another opponent," Jones joked.
Jones said he and Self had coached against each other just once during their lengthy coaching careers. That came in 2010, when he was the head coach at North Texas. KU defeated the Mean Green 93-60 at Allen Fieldhouse in that matchup.
"I've always admired the job that he's done over the years," Jones said of Self. "(He's) just a very special individual."
Another honor for Ochai
Kansas senior Ochai Agbaji was named a first-team All-American by the National Association of Basketball Coaches on Wednesday morning.
The honor marked the fourth first-team All-American nod handed out to the KU leading scorer so far this postseason. The NABC joins The Sporting News, The Associated Press and Bleacher Report in naming Agbaji as one of the top five players in all of college basketball during the 2021-22 season.
The Kansas City, Missouri native enters the NCAA Tournament averaging 19.7 points per game in 33 starts.
Not that Shaq
The Texas Southern roster includes freshman forward Shaqir O'Neal, the son of former NBA star Shaquille O'Neal.
A freshman from Union Grove High in Los Angeles, Shaqir is a 6-foot-7, 185-pound forward who has not played in any games this season and appears to be redshirting.
After his son committed to Texas Southern, the older O'Neal told FOX 26's Coco Rodriguez that playing for the man who once coached him as an assistant at Louisiana State University would be great for his son.
"Johnny helped me get to where I am today," Shaquille O'Neal told FOX 26 of Jones, who was an assistant at LSU during all three of Shaq's college seasons from 1989-92. "So I know he knows what he's talking about, and my son needs to have that type of person to help him get to the next level."
This and that…
Kansas is making its 50th appearance in the NCAA Tournament and has a 109-48 all-time record in NCAA Tournament games… The Jayhawks have qualified for their NCAA-record 32nd consecutive NCAA Tournament, with 14 of those coming under Roy Williams and the last 18 under Self… In those 50 trips to the Big Dance, KU has reached 31 Sweet 16s, 15 Final Fours and five national championship games… This year marks the 22nd consecutive season that KU has earned a top-four seed at the NCAA Tournament… In all, Kansas faced seven different teams who qualified for this year's NCAA Touranment during the regular season, going 9-5 in those matchups… KU leads the all-time series with Texas Southern 4-0, with the most recent matchup coming in 2017.