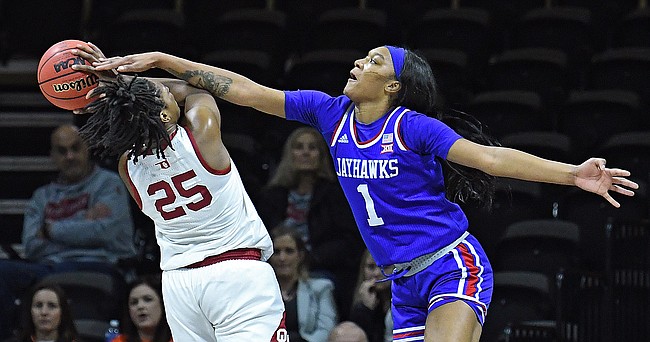 She may be called "Twin," but to the Kansas women's basketball team, Taiyanna Jackson has been one of a kind.
Jackson, a 6-foot-6 center who set the team's single-season record for blocks last week, is one of the biggest reasons the Jayhawks have returned to the NCAA Tournament for the first time in nine years.
As the No. 8 seed in the Spokane Region, they'll face No. 9 seed Georgia Tech in the first round of the tournament at 6:30 p.m. on Friday in Palo Alto, California.
And Jackson, who grew up with a fraternal twin sister, Tiara, in East Chicago, Illinois, has been at the middle of it all.
The transfer from Trinity Valley Community College is averaging 8.8 points, a team-high 8.2 rebounds and 3.1 blocks per game. That mark ranks fourth in Division I entering the NCAA Tournament and helped Jackson become the first Kansas player to be named to the Big 12's all-defensive team.
In a season of firsts for the Jayhawks under coach Brandon Schneider, Jackson has epitomized their unforeseen success — though since she joined the team in the summer, she believed an NCAA Tournament appearance was possible.
"When we started practicing (in July), we knew we were a different team than every other team that he has had," Jackson said. "We just reminded ourselves of that every day. We continued to put the work in to get here."
Worth the wait
One of the top junior college prospects in the country, Jackson has immediately filled a need for the Jayhawks after several of their top frontcourt players decided to leave the team last season.
Her path to Lawrence was not straightforward. A four-star prospect in the Class of 2019 out of Central High in East Chicago, Indiana, Jackson was recruited by Kansas and coach Brandon Schneider but instead signed with Ole Miss.
She never made it to campus. Instead, she enrolled at Trinity Valley, about 70 miles southeast of Dallas in Athens, Texas, and spent two seasons playing for the Cardinals. They won a pair of Region 14 titles and, with Jackson averaging more than 11 points and 13 rebounds a game, lost to Northwest Florida State in the NJCAA Division I national championship game last season.
Because it's a two-year school, Jackson couldn't return to Trinity Valley, so she began to explore her transfer options in the spring. Kansas still appealed to her, and she grew close to Schneider, associate head coach Terry Nooner because of their hands-off recruiting pitches.
"When I was talking to Brandon and all of the other coaches, it was never about basketball," Jackson said. "It was about me. They asked about my family and how my family was doing. We didn't talk about basketball (too much). ... They made me feel just wanted here and needed, and it made me feel like I needed to be here, that I needed to be playing here."
At the time, Jackson said she was also "going through something where I didn't want to play basketball no more." But through conversations with her family — including Tiara, who plays at Indiana University Northwest, an NAIA school not far from their East Chicago home — Jackson recognized that she had connected with Schneider "on a different level." She chose Kansas over Mississippi State and Auburn.
"We didn't pressure her and smother her, so to speak, in the process," Schneider said. "It was kind of out of the blue. One day she called and said, 'I've made my decision.' ... I think she felt we were genuine and we meant what we said, and she just liked the way we handled the recruiting process. We didn't negative recruit. We didn't talk bad about anybody else. I think that just speaks a lot to her character."
An instant impression
Kansas' coaches expected Jackson to make an impact this season, but he figured she'd be more of a force defensively. They were surprised that she could contribute on offense as well.
"Jackson has changed their team," said Iowa State coach Bill Fennelly. "You look at the history of the last few years with KU, they haven't been able to throw it on the block and score. I mean, the kid — she's a great defender. She might be the best defender in our league. She's blocking shots. She's getting steals. I think she's made a huge difference.
"To go with what they already had, I think that's the reason they're playing as well as they're playing and they're going to be a good postseason team."
Jackson began the season with 10 rebounds in the opener against SIU-Edwardsville on Nov. 10 and had 13 rebounds against Tennessee State on Nov. 14. Two games later, against Saint Louis on Nov. 21, she scored 10 points in a game for the first time.
Her first double-double was in the Big 12 opener against Oklahoma, an 82-68 loss on Jan. 8, and she scored a season-high 18 points in a win against Oklahoma State on Feb. 2 and a victory at Oklahoma on March 5.
But where she has really made her mark is with her ability to block shots. She had a season-high eight blocks in a loss at Kansas State on Jan. 19 and had five or more blocks in four other games, including the Big 12 quarterfinal against Oklahoma on March 12, when she had six. They gave her 90 blocks on the season and let her pass Lisa Tate's record of 88 from 1992-93.
"I didn't know I was going to come here and break a block record," Jackson said. "That's probably the one thing I'm most excited about that I did this year was breaking the block record, since it hasn't been broken in a long time."
Jackson has also integrated well with her new teammates. Redshirt sophomore guard Chandler Prater, speaking at a press conference on Thursday in Palo Alto, said she appreciates the way Jackson offers support during games.
"She's one of the first people to stand up and clap for you even if she isn't on the court, and she's always one of the first people to pick people up," Prater said. "And she's just a great teammate and great player to play with, so we're really grateful to have her on the court as much as possible."
Jackson is also grateful to have them. Should the Jayhawks defeat the Yellow Jackets, they would likely face defending national champion Stanford, the No. 1 seed, in the second round.
She hopes they can keep winning, this season and beyond, not just for her own enjoyment but for her teammates' as well.
"I care about my teammates and coach so much, and I don't want them to have that losing mentality and feelings," Jackson said. "I want them to be around a happy environment where we're winning, so I want to continue making an impact and continue putting smiles on our coaches' faces."