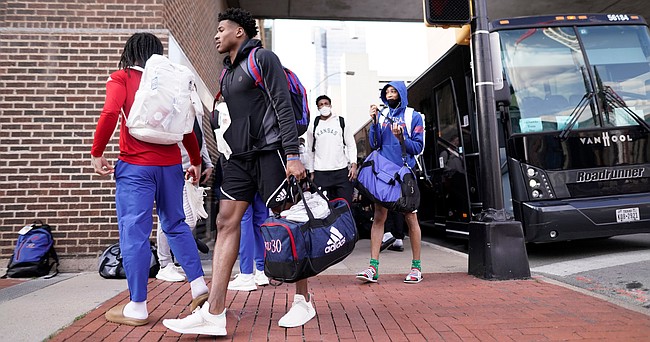 Fort Worth, Texas — Gone of the days of the bubble, where college basketball players were confined to their rooms, could only visit certain areas of the hotels they stayed in and still had to think and hear and fear COVID-19 every hour of every day.
The NCAA Tournament as we always knew it is officially back. And Kansas coach Bill Self will be the first to tell you that he's looking forward to what that means.
Sure, Self is glad his team is seeded on the 1 line and among the favorites to win this year's NCAA title. But that's been the case with Self and Kansas for the majority of his 17 prior NCAA Tournaments.
Now that the biggest, brightest and most important part of the season has arrived, the focus shifts to handling that the way they always have, with an attacking mindset and great appreciation for the opportunity to turn a good season into a memorable one.
"Winning the Big 12 tournament felt good," Self said on Sunday. "But it didn't feel like it did in 2006."
That was Self's first Big 12 tournament title with the Jayhawks, and the first of three straight and nine total during his 19 years in Lawrence.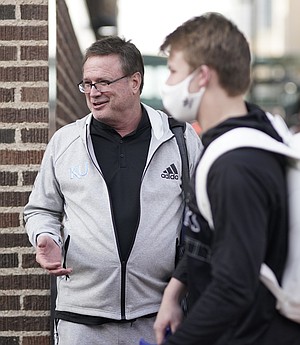 Because he was still trying to prove himself and still chasing those big wins at KU, that one stood out as a significant achievement.
While there were big moments, tough matchups and sweet victories in the Big 12 tournament that followed that one, Self said none of them quite measured up to that first one.
"There's some things here (that) even though it's big, it's routine," he explained. "The NCAA Tournament is never routine. The NCAA Tournament still gives you an extra juice that you don't get (with anything else)."
So the Jayhawks will move forward into this tournament with their sites set on following in the footsteps of the 2008 team that won it all of Self's Final Four teams from 2008, 2012 and 2018. At Kansas, anything less than that type of run — especially as a No. 1 seed — is considered a disappointment.
But rather than looking ahead to New Orleans in April or even next week in Chicago, the Jayhawks are locked into what they have to get done in Fort Worth this week, starting with Thursday's 8:57 p.m. matchup with No. 16 seed Texas Southern.
Asked on Selection Sunday about managing the line between confident and cocky, Self said the veteran presence on this roster has him confident that his team will be focused only on what's directly in front of them for however long they last this month.
"The way that this group does things, and the way we try to do things with them, (is), first and foremost you respect the game more than anything else," Self said.
KU sophomore Jalen Wilson, who is slated to make the first NCAA Tournament start of his college career on Thursday said the respect approach goes one step beyond that, as well.
"Just respecting our opponents," Wilson said. "I think we learned, playing in the Big 12, that the bottom team can still beat the top team any night."
Bottom. Top. Sixteen. One. Or anything in between. In the eyes of the Kansas players and coaches, none of that matters at this point.
The focus for the 28-6 Jayhawks is now entirely on Texas Southern. They got their first look at the scouting report on the Tigers after their arrival in Fort Worth on Tuesday night. And they'll spend the better part of today working on the specifics of it to try to commit the details to memory so they can execute Thursday night and get their tourney journey off to a good start.
There are still questions with this team, but none of them have to do with confidence or chemistry.
"I feel like we're all really confident right now," Wilson said. "We all know what we bring to this team. I don't think anyone's going out saying this guy has to do this, this and that for us to win. We know that if we just play normal, play loose and play free then we're a really good team."
Self has often referred to this concept as the pie of success being big enough for everyone on the roster to get a piece if a team focuses on the right things, plays the right way and buys in completely.
"I think there is an attitude like that with this team," Self said Sunday. "And I think it's been that way all year long."
— Stay in touch with KUsports.com throughout the week for more stories, video, player reaction and updates from KU's run in Fort Worth.