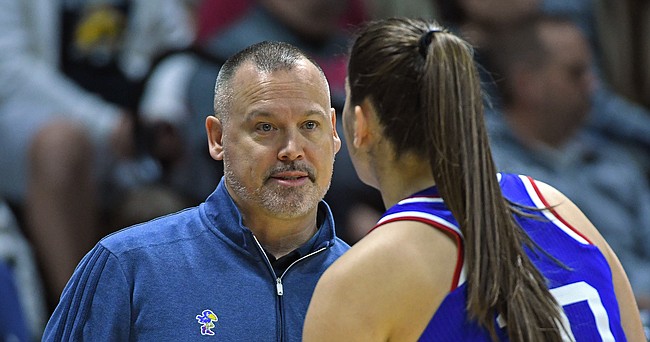 The mark of a successful program is not about reaching the NCAA Tournament just once. It's about being able to sustain playing at that level for several seasons and making a trip to the event an annual occurrence.
The Kansas women's basketball team, which is playing in the tournament for the first time in nine years, is hoping its performance this month will set that standard.
"I think through experiences like this and competing in the tournament goes a long way just beyond this particular tournament," coach Brandon Schneider said Sunday, after the 68-team field was finalized and Kansas was selected as the No. 8 seed in the Spokane Region.
"I think there can be an increased hunger to become a program that hopefully is a mainstay in the tournament. I think it can drive a lot of motivation going into the offseason. I think it helps in recruiting. I think it's a big step forward in Kansas women's basketball."
There's no doubt the Jayhawks (20-9) are ready for the NCAA Tournament, which will open for them on Friday when they face No. 9 seed Georgia Tech (20-11) in Palo Alto, California.
Despite the nine-year hiatus, it will be their 14th appearance in the event. They reached the Sweet 16 in 2012 and in 2013, when they were double-digit seeds each year.
Before that, they hadn't made the NCAA Tournament at all since they made nine consecutive appearances from 1992 through 2000, all under former coach Marian Washington.
Of the 68 teams selected, 36 participated in the event last season — including Georgia Tech, which won its first two games before losing to No. 1 seed South Carolina. Coach Nell Fortner, in her third season, knows how hard it can be for a team to continue qualifying. In eight seasons at Auburn, she only led her team to the NCAA Tournament twice.
"Their reward of getting to the tournament is fantastic, but now, you want to surpass that and see how far you can go in this tournament," said Fortner, who is in her third season at Georgia Tech. "We'll use that experience last year. They all remember it. It was a lot of fun and they want to feel that again."
One of the largest benefits to reaching the NCAA Tournament is realized in recruiting, as prospective players can take note of a school's magnified exposure and coaches can tangibly convince them that they can play on the largest stage.
Kansas has two players committed for next season in point guard Bella Swedlund, from Winner, South Dakota, and forward Zsofia Telegdy, from Budapest, Hungary, by way of Sharpsburg, Georgia.
That's not to say anything of the transfer portal — most players who are looking to leave their schools will be making those decisions in the coming weeks — and Schneider said he and his staff remain interested in adding one or two high school players during the spring signing period, which begins April 13.
That Kansas has won games and been competitive this season will also be attractive. The incoming class will join a team that was fifth in the Big 12, marking its first finish in the top half of the conference since 1999-2000.
Six of the 10 teams in the Big 12 were selected to compete in the NCAA Tournament, the most since six were chosen from the conference in 2017.
That performance gives junior point guard Zakiyah Franklin assurance entering the event. The Jayhawks went 11-7 against Big 12 teams during the regular season, including wins against three of the other five that were selected to the NCAA Tournament.
They beat Texas, a No. 2 seed, on the road on Jan. 12. They defeated Oklahoma, a No. 4 seed, on the road on March 5. And they recovered from a late deficit to beat Kansas State, a No. 9 seed, at Allen Fieldhouse on Feb. 12.
"The way that we performed against them in prior games, that's the confidence that we have — that we know we can go out against any team, honestly, and perform our best," Franklin said.
Georgia Tech finished sixth in the ACC and won three games against teams ranked in the top 25, including a 57-44 victory over then-No. 3 UConn on Dec. 9 that ended its 240-game winning streak against unranked opponents. It also lost 50-48 on Jan. 2 to then-No. 3 Louisville, which earned a No. 1 seed in the Wichita Region.
But nothing the Jayhawks did this season would generate more attention than what they could do on Sunday. If they beat Georgia Tech, a meeting with No. 1 seed Stanford, the defending national champion, would await.
Schneider hopes that regardless of the outcome, his players appreciate the NCAA Tournament experience — and what it can do for them, and for the program, in the future.
"Just a desire to want to be there every year and to understand the margin for error," Schneider said, "and how small it is when you get into the tournament and how everybody is very accomplished and deserves to be in the fight."