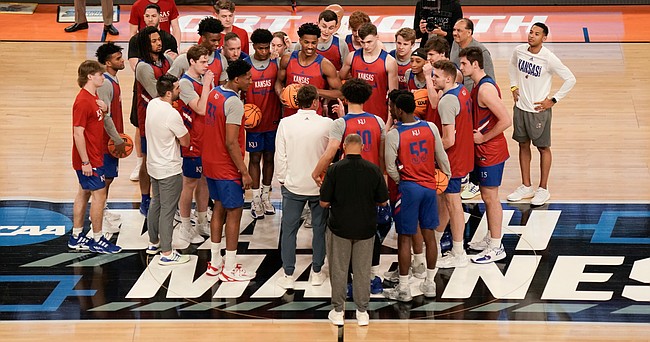 No. 1 Kansas Jayhawks (28-6) vs. No. 16 Texas Southern Tigers (19-12)
Time: 8:57 p.m., Thursday, March 17, 2022
Location: Round 1 of the 2022 NCAA Tournament at Dickies Arena, Fort Worth, Texas
TV: Tru TV | Radio: IMG Jayhawk Radio Network
Keys for Kansas
1. Stay disciplined
With so many athletes and TSU coach Johnny Jones electing to play so many players, Texas Southern prefers a wild style that forces opponents to play sped up and tries to create chaos and mistakes whenever possible.
That approach plays to their athleticism and requires the team on the opposite bench to stay disciplined all over the floor, possession after possession.
The chaos comes as much on offense as anything the Tigers do defensively, and the Jayhawks are well aware of the importance of staying locked in to their individual defensive assignments no matter where the guys they're guarding go on the court.
"We know that they like to back cut a lot," KU guard Dajuan Harris said Wednesday. "So if we stay focused and watch man and ball and get a lot of tips, it starts with me first. So I've got to start the pressure out first. If I do that, then I get the other guys going and (they get) tips and deflections."
Photo Gallery
Fort Worth Midwest Regional practices day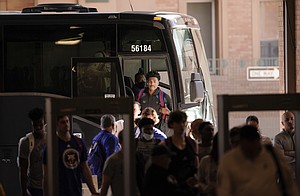 View a gallery of images from Wednesday's team practices featuring the Kansas Jayhawks, Texas Southern Tigers, San Diego State Aztecs and Creighton Bluejays.
Turning offense into defense has been a strength for the Jayhawks in recent weeks, and if they're able to do that in this one, it will go a long way toward Kansas dictating the style it wants to play.
2. Attack TSU's stout D
Texas Southern enters this one ranked 184th overall in the KenPom.com rankings — the lowest ranking of all 68 teams that made the bracket — and just 269th in KenPom's offensive efficiency rankings.
But the Tigers have a defense that, statistically speaking, is in the top 101 in all of Division I. The reason for that is simple. TSU forces teams to take tough shots and defends both 2-point shots and 3-point shots extremely well.
The Tigers' overall effective field goal percentage defense ranks 12th in Division I (44.9%) and their 2-point defense (44.9%) and 3-point defense (29.8%) both rank in the top 20 in Division I.
"And they played a monster schedule," KU coach Bill Self said of the slate that featured nonconference games against Oregon, Saint Mary's, Washington, North Carolina State, BYU and a win over Florida.
While watching film of the Tigers after learning Tuesday night that they would be KU's first-round opponent, Self said their defense really stood out. Particularly their 39.5% overall field goal defense.
"You think, 'Wow, there's some good teams in our league that guard that aren't close to that,'" Self said.
To double check, Self looked at just the nonconference numbers, thinking that playing in a small conference could have skewed the numbers. Nope. That number was 39.6%.
Patience, spacing and a good activity level will be key for Kansas on offense. The Jayhawks' ball movement has been terrific in the past couple of weeks, and continuing to use that to get open looks and shots at the rim, while keeping the Texas Southern defense off balance, will be a big part of KU's attack in this one.
"I think they're good," Self said Wednesday. "They've got interchangeable parts. They've got three big guys they can throw at you. One of them (Brison Gresham) is as athletic as any big we've gone against all year long. They've got a 4 man that can stretch it, in (senior forward John) Walker, and they're quick out front. After studying them, they don't look like a 16 seed to me, at all. So, we know we'll have to really compete and play well."
3. Match TSU's intensity
Everyone knows that a 16 seed has defeated a No. 1 seed just one time in NCAA Tournament — sorry, Virginia — but it has not been for lack of trying.
Year after year, these lower-seeded teams show up to play some of the Goliaths of college basketball knowing that they have to play harder and smarter than the favorite to even have a chance.
That's the focus for Texas Southern players, who are two nights removed from their First Four win in Dayton, Ohio.
"Definitely to play harder than them," Walker said Wednesday. "That's absolutely nonnegotiable. You've got to play harder than the other team. That's really what we're focusing on. At the very least, we're going to have to play harder than them to gain anything."
Kansas has been in more than its share of big games against tough teams, but the games where they've been favored by 20-plus points have been few and far between.
The Jayhawks won't be worried about that number as much as they will be focused on matching the Tigers' intensity.
"I think they're going to come out with tons of energy and ex-citement to play against us," KU senior Remy Martin said Wednesday. "I think that we've just got to remain ourselves. You know, do what got us here, stay connected. They may make some runs, but as long as we're together and stick to the basics and stick to what we know how to do, we'll be fine. I know they'll be excited to play us. And we've just got to match that energy."
Marquee Matchup
KU senior David McCormack vs. 44
It's no stretch to ask Kansas to play inside out, but doing so could be a huge key in this one, particularly if it leads to early foul trouble for Texas Southern.
With senior forward Mitch Lightfoot's status uncertain because of his sprained left knee, McCormack becomes an even bigger key for KU.
The Tigers have good, athletic big men, who can use their size and length to be disruptive. But they also like to use their strength and size.
"Smashmouth basketball" is the way Texas Southern big man Gresham described the TSU style of play, and he said he hoped the officials would let both teams battle inside without bogging the game down with whistles.
"We want the game to be as physical as it can possibly be," Gresham, who finished Tuesday's win with six points, 13 re-bounds and six blocks.
McCormack has said in the past that he's good with physical showdowns, and his size, skill, strength and offensive re-bounding prowess make him well built for such a battle.
He also has a recent history of success using his physicality to help Kansas win an NCAA Tournament game. Last year, in Indianapolis, McCormack's 22 points and nine rebounds in 25 minutes fresh off of COVID, helped KU survive a first-round scare from Eastern Washington.
Beyond that, the Jayhawks routinely like to start games by throwing the ball inside to McCormack, and that first posses-sion at Dickies Arena could tell us a lot about this game.
"We know they have really athletic, really strong post players," McCormack said Wednesday. "And they're really strong on the offensive glass. They crash hard. So, we just have to be defensively sound (and) not give them second-chance opportunities."
Jayhawk Pulse
It's been three years since anyone on the Kansas basketball roster has experienced a normal NCAA Tournament. But that's exactly what the Jayhawks get to experience this year.

No bubble. No cancellations. Just good, old-fashioned postseason basketball.
As a No. 1 seed, KU is among the favorites to win this year's national title and the Jayhawks enter the tournament playing some of their best basketball of the entire season. Three wins in three days last weekend in Kansas City, Missouri, provided a serious boost to the team's confidence, and Kansas coach Bill Self has said throughout the week that he believes his team is both loose and locked in on the task at hand.
"Hopefully the confidence, the good feeling of winning is something you can bottle, so to speak, in a way that it does carry over," Self said Wednesday. "I think we've got it in us to recreate that and I know our guys are very excited to play."
While the Kansas veterans who have been through March Madness before said the tournament's return to normalcy was great to see, they also made it clear that the opportunity to play in March and compete for a title, no matter what it looks like, is the best part of every season.
In all, eight players on this KU roster have appeared in at least one NCAA Tournament game. But the experience will be new for a few Jayhawks and the experience of competing in this tournament and chasing this title will be entirely new for everyone in it.
"I'm just grateful to be able to play basketball, and March is a very big month for college basketball," Martin said. "(I'm) just really grateful that we're able to play. Because I know other teams' seasons (are) over with. So I'm just grateful to be able to play with the guys and be able to put a Kansas uniform on. I think it's a great opportunity for everybody."
Added McCormack: "I appreciate every moment that I have to play in this month."
Probable Starters
No. 1 Kansas
G – Dajuan Harris Jr., 6-1, 180, Soph.
G – Ochai Agbaji, 6-5, 210, Sr.
G – Christian Braun, 6-7, 205, Jr.
F – Jalen Wilson, 6-8, 225, Soph.
F – David McCormack, 6-10, 265, Sr.
No. 16 Texas Southern
G – John Jones, 6-0, 165, Sr.
G – A.J. Lawson, 6-5, 205, Sr.
G – Justin Hopkins, 6-5, 205, Sr.
F – Joirdon Karl Nicholas, 6-9, 220, Sr.
F – Brison Gresham, 6-9, 240, Sr.