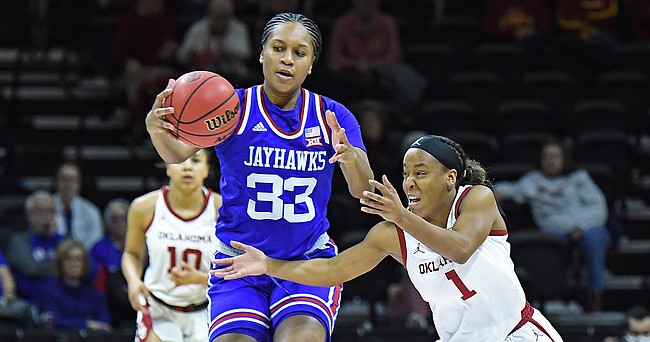 Throughout the season, Kansas women's basketball coach Brandon Schneider wanted his players to do what they could to celebrate the little victories they earned along the way.
They saved their greatest celebration for Sunday night, when the Jayhawks qualified for the NCAA Tournament for the first time in nine years.
As a No. 8 seed, they'll face No. 9 seed Georgia Tech in Palo Alto, California, at 6:30 p.m. on Friday. Should they win, they'll likely face top-seeded Stanford, the defending national champion, which plays No. 16 seed Montana State in its first-round game.
Kansas (20-9), which lost to Oklahoma in the quarterfinals of the Big 12 tournament on Friday, will head west on Wednesday and practice Thursday in preparation for its NCAA Tournament opener. Georgia Tech (21-10), which finished sixth in the ACC, lost to Notre Dame in its tournament quarterfinal.
Before that game begins, let's look back at the moments that defined Kansas' record-setting season.
Dec. 28: Virus cancels nonconference finale
Kansas was 9-1, with its lone loss against then-No. 11 Tennessee in Las Vegas, heading into its final nonconference game against Northwestern State. A little more than an hour before tipoff, however, the game was canceled because of COVID-19 issues among the Jayhawks. A series of postponements followed, and Kansas ended up going 17 days without playing a game before finally opening the Big 12 portion of their schedule with an 82-68 home loss against Oklahoma. Neither junior guard Zakiyah Franklin nor sophomore forward Ioanna Chatzileonti started as they recovered from the illness, but the Jayhawks righted the ship two days later with a 78-72 win at TCU.
Jan. 12: Defeating Texas in overtime
The highlight of the season was, until Sunday, arguably the best moment in Schneider's seven seasons coaching at Kansas. The Jayhawks defeated the then-No. 13 Longhorns 70-66 in overtime for their first victory over a ranked team on the road since Jan. 4, 2012, when they also won at Texas. Junior guard Holly Kersgieter scored a team-high 19 points for Kansas, which led for 24:46, forced 23 turnovers and never trailed in overtime.
Jan. 16: Falling to Baylor late
The Jayhawks seemed to be headed for their second consecutive win over a ranked team — and one they have never beaten under Schneider — when they were leading 79-75 with 15 seconds remaining. Baylor, however, showed why it has been one of the best teams of the past two decades by outscoring Kansas 7-0 and winning, 82-79. While the outcome was certainly not what the Jayhawks wanted, players said several times in the weeks following the game that they were able to learn from that situation. "I think we will be more mature in the future and make better decisions when the game is on the line," said sixth-year senior guard Julie Brosseau. "I think it was good that we learned so early because now, we can definitely learn from that mistake for the future games, which are more important than that was."
Feb. 12: Kersgieter scores 1,000th point
Kersgieter became the first player recruited out of high school to Kansas by Schneider to reach 1,000 points in a 63-51 home victory over Kansas State. She hit that mark with 4:32 left in the first quarter when she made a 3-pointer from the right wing, and she finished the game with 12 points. Kansas then outscored Kansas State 18-4 over the final five minutes to clinch the win in the rivalry game. "It doesn't really get much better than that," Kersgieter said. "I feel good. There's a lot to celebrate, but even though it was a big day, we still have a lot of work to do. This was a good way to do it. ... I'm grateful. It's a great thing to have."
Feb. 19. Winning streak hits seven
Kansas overcame a 13-point halftime deficit, and Chatzileonti blocked a shot by Vivian Gray with 5.2 seconds left, in a 71-68 road victory over Texas Tech that pushed the Jayhawks' winning streak to seven games — its longest against Big 12 opponents since the end of the 1996-97 regular season. That streak included a pair of sweeps of Oklahoma State and West Virginia — and the first win over the Mountaineers in Schneider's time at Kansas — though it ended in the following game, an 85-59 home loss to then-No. 9 Iowa State.
March 5: Big win at Oklahoma
Taiyanna Jackson had 18 points, six rebounds and four blocks as the Jayhawks went into Norman, Oklahoma, and defeated the 19th-ranked Sooners 73-67 to seal an NCAA Tournament bid. They ended the season with the most difficult four-game stretch of any Division I team — all four games were against ranked teams and three were in the top 10 — and the first win at Oklahoma since 2015 gave Kansas its first 20-win regular season since the 1999-2000 season.
March 9: Schneider's new contract
The accomplishments of the season led to Schneider signing a new four-year contract that will keep him at the university through the 2025-26 season. Schneider, 50, was named the Big 12 Coach of the Year for Kansas' accomplishments, which included 11 wins in the conference. Those were its most since 1999-2000 — the last time the Jayhawks finished in the top half of the conference standings.