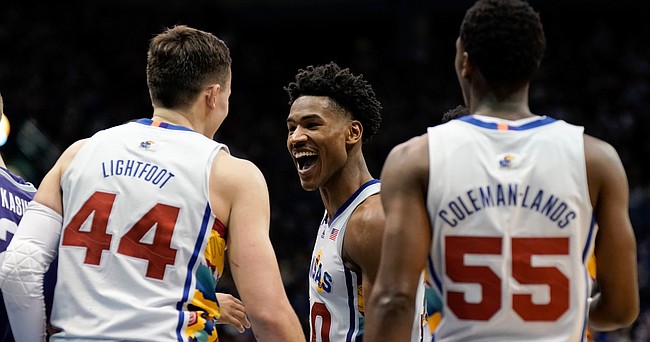 Throughout his stellar senior season, which ended with a Big 12 championship, two conference player of the year nods, All-America honors and the third best single-season scoring average in the Bill Self era, Kansas senior Ochai Agbaji was always focused on what's next.
That approach was responsible for him maintaining his focus and for much of KU's success. And he never wavered.
As Big 12 player of the week honors rolled in and Agbaji's name began surfacing as a lottery pick in NBA mock drafts, the senior guard's gaze remained fixed — obsessed even — on getting better and doing better the next time out.
"I think he's been excited about it," his mother Erica Agbaji told the Journal-World of all of her son's accolades. "But it's always been, 'We've got another game to play.' And it's not always about him. He always thinks, 'How did I get where I am without my teammates?'"
Now that the final stage of his Kansas career has arrived, Agbaji has one more opportunity to put a bow on his legacy. Kansas coach Bill Self has already broken the news that Agbaji's name and No. 30 one day will be hanging in the south rafters at Allen Fieldhouse. But both he and Agbaji know that, as special as that honor will someday be, there's still business to take care of this season first.
KU senior Mitch Lightfoot, who has grown close with Agbaji throughout their Kansas careers, said the Big 12 Player of the Year never wavered in his approach this season. From Day 1, it was all about getting better, locking in and leading this team as far as it could go. While that inspired Agbaji to take every aspect of the season with a more serious tone, it never touched Agbaji's core. The smile stayed put. The humility shined through. The joy of playing the game he loves was ever-present in good times and bad.
"He's the same old Och," Lightfoot said. "But a killer on the court."
That duality ensured that Agbaji was both aware of the praise coming his way and driven to prove worthy.
"I think he's aware, but, at the same time, he's doing everything that got him to this position," Lightfoot said. "That's the thing about Och, he's very composed about how he goes about his business. You can be excited about it, but at the same time there's a reason you got there, so you've got to make sure you continue to do what you're doing. He does that extremely well. I don't know if I've seen anybody else do it as well as he has."
For his family, the honors mean a little more.
"We're excited," Erica said. "We feel very blessed that he's had this opportunity to come to KU and play at this level and he's improved every year. I've seen how much hard work he's put into it and I give it all to him. He's the one that has done this and wants it and we're just there cheering him on."
Self said he never would tell Agbaji to soak up the honors. There's too much work for that. But he also knows that Agbaji has enjoyed the honors and appreciation for his game.
"He knows he's had a good year," Self said. "But in order to make good years special you've got to finish strong. That's what he's focused on."
It's a position in which plenty of other Jayhawks have under Self have found themselves during Self's 19 seasons in charge of the program.
Here's what those names from the past did in the NCAA Tournaments that followed their player-of-they-year campaigns.
KU's Big 12 POYs in Self Era
(as selected by conference coaches)
• Wayne Simien Jr. – 2004-05
Simien's encore to his strong senior season — one of just two in the Self era that ended with a scoring average above 20 poitns per game — lasted just one round. Simien was one of third-seeded KU's few bright spots in the 2005 first-round loss to Bucknell, though. He scored 24 points on 9-of-14 shooting and grabbed 10 rebounds. And the ball was in his hands with the game on the line, but his turn-around jumper in the final seconds just missed, leading the Bison to a 64-63 upset.
• Marcus Morris – 2010-11
Morris' NCAA Tournament run, which followed a Big 12 tournament MVP honor, lasted four games and featured the 2011 Big 12 Player of the Year hitting double digits in all four games. That included double-doubles in a second-round win over Illinois and the Elite Eight loss to VCU. In that one, Morris scored 20 points and grabbed 16 rebounds.
• Thomas Robinson – 2011-12
No one on this list had a better postseason run following their Big 12 Player of the Year honor than Robinson. Not only did the future No. 5 pick in the NBA draft lead the Jayhawks to the national championship game, but he also was a beast in doing so. In six games that postseason, Robinson recorded 75 rebounds and four double-doubles while averaging 17 points per game. It wasn't just his gaudy stats that powered Kansas. Robinson was also the emotional leader and heart and soul of a team that made coming from behind a regular thing during that run.
• Frank Mason III – 2016-17
The end of Mason's career came in the Elite Eight in Kansas City, but the sting was lessened a few weeks later when he swept all of the major national player of the year awards. Mason's 2017 NCAA Tournament offered a glimpse into why. He topped 20 points in all four games and shot 51% from the floor, 37.5% from 3-point range and 90% at the free throw line while leading KU to blowout wins over UC-Davis, Michigan State and Purdue. He also averaged six assists per game in those four games.
• Devonte' Graham – 2017-18
Graham joins Robinson as the only players on this list to follow up his Big 12 Player of the Year achievement by leading the Jayhawks to the Final Four. Graham was clutch in a tough first-round win over Penn, scoring 29 points in Wichita. And he played the role of set-up man, with nine assists and just eight points, in helping KU survive Seton Hall in the second round. He scored double digits in wins over Clemson and Duke but also added 11 rebounds and 10 assists in those two games, playing all 45 minutes of KU's overtime victory over Duke in the Elite Eight. His postseason numbers weren't quite as eye-popping as some of the other company here, but his impact was immeasurable and he was the heartbeat and personality of KU's most recent Final Four team.
• Udoka Azubuike – 2019-20
There's no telling what Azubuike would've done had he been given the opportunity to lead Kansas through the 2020 NCAA Tournament. Instead, the tourney's cancelation, at the beginning stages of the COVID-19 pandemic, left us forever wondering what Azubuike and his loaded Kansas team would have done if the tourney had been played. KU finished the postseason-less season with a 28-3 record and a 17-1 mark in Big 12 play. In those 31 games, Azubuike averaged 13.7 points, 10.5 rebounds and 2.6 blocks per game.
• Ochai Agbaji - 2021-22
To be determined...
———
Enter our 2022 NCAA Tournament Bracket Challenge HERE for a chance to win $500.