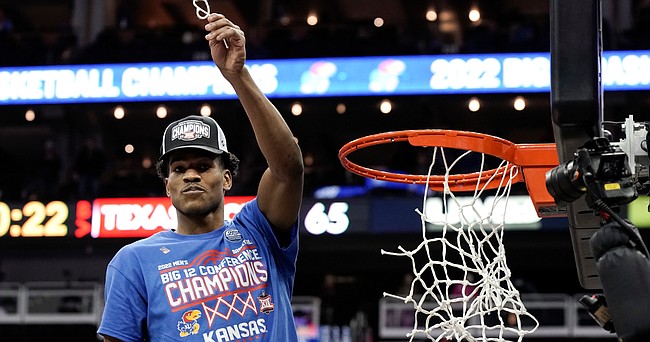 After a fight to the finish during the grueling Big 12 regular season — KU lost two of its final four games and needed OT at home in the finale to secure a share of the conference title — Bill Self's 19th Kansas basketball squad looked much looser and played more freely during its run to the Big 12 tournament title in Kansas City, Missouri.
That showing, along with the fact that this is Kansas we're talking about, and Final Fours and championships are the expectation not just the hope, provided a boost for the team's confidence and seemed to create renewed faith among Kansas fans.
What becomes of the Jayhawks' postseason run, which opens Thursday in Fort Worth, Texas, as the No. 1 seed in the Midwest region, remains to be seen. But here are five reasons for Kansas fans to be optimistic about their team's chances this month.
1 – They believe they can win it all – Through the good times (of which there were many) and the bad (of which there were just a few), this group of Kansas basketball players kept a pretty even mindset and focused on the work above all else. After losses, it was back to the drawing board. After wins, it was "How can we get better." That approach delivered a heck of a season (28-6 heading into the Big Dance) but also kept KU's confidence high. "They think they're really good and I'm not going to tell them that they're not," KU coach Bill Self said on the court after the Jayhawks' Big 12 title game win over Texas Tech on Saturday. "And, you know what; they are getting really good. They've really grown together as a team."
2 – Tons of experience – You know this team is full of veteran players, from super-seniors like Mitch Lightfoot, Jalen Coleman-Lands and Remy Martin to three- and four-year Jayhawks like Christian Braun, Jalen Wilson, Dajuan Harris Jr., Ochai Agbaji and David McCormack. But do you realize that that group has 29 NCAA Tournament games under its belt, with 16 starts in that time? Eight different KU players have played in at least one NCAA Tournament game in the past, so this will not be a new experience for this team or its players. Beyond that, six of those eight are guards or wings, and people have said for years that guard play is what wins in March. Add to that the fact that Bill Self and his staff have logged more time together in big time NCAA Tournament settings than most and you're looking at a group that should be able to do what every team says it wants to do this time of year — treat this like a business trip.
3 – Jayhawks have a guy – Self has said for years that if you've got "a guy" you've got a chance, and it certainly seems like the Jayhawks have one. Not only was senior guard Ochai Agbaji the unanimous Big 12 Player of the Year, he's also likely to land on several first-team All-American teams and only appears to be getting stronger. After averaging 19.8 points per game in the regular season Agbaji backed that up by averaging 18.7 points per game in the Big 12 tournament. Beyond that, he showed moments where he looked like a man among boys, playing at a slower speed and with a different style than the nine other players on the court. If he can keep that up, none of the rest of the Jayhawks have to do anything more than play their roles.
4 – You have to score to win – While KU's defense took a turn for the better during the Big 12 tournament, it's the team's offense that has carried it all season long. Rather than wrestle with that, the Jayhawks have leaned into it for much of the season. It goes without saying that Self will always demand better and more from the KU defense. And these guys want to give that. But even if they don't, they understand that when they rebound well and get out in transition and move the ball, they're as tough to guard as any team in the country. The numbers show that, too. KU, which spent the entire season ranked in the Associated Press top 10, has consistently been among the top five or six teams in the country in KenPom.com's offensive efficiency ranking. Kansas enters March Madness ranked sixth in that category, which measures points scored per 100 possessions. The fact that that showing came in the defensive-minded Big 12 only makes it more impressive.
5 – KU enters March Madness battle tested – Speaking of the Big 12, KU's strength of schedule rating per KenPom ranks as the No. 3 toughest in the country. Credit the talent in the Big 12 Conference for a lot of that, but don't forget that KU builds its non-conference schedule each season as an ideal tune-up for what's to come. Per KenPom, the Jayhawks have played the No. 1 hardest schedule when it comes to opposing defenses and the 31st hardest offensive schedule. So many close games. So many grind-it-out wins and game-winning plays or shots. This team has seen it all up to this point. And, through that, it appears to only be getting stronger.
———
Enter our 2022 NCAA Tournament Bracket Challenge HERE for a chance to win $500.