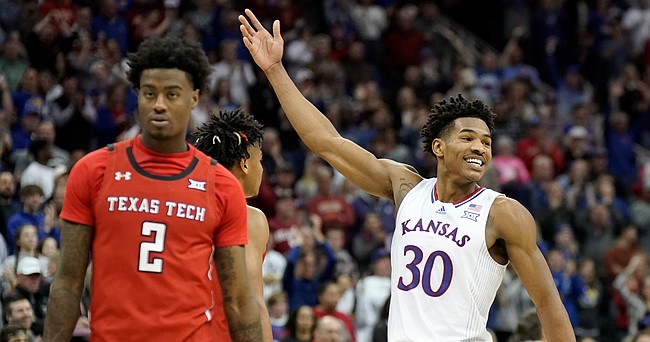 KANSAS CITY, Mo. — Ochai Agbaji was named the Big 12 tournament's most outstanding player after he scored 16 points and had seven rebounds in the top-seeded Kansas men's basketball team's 74-65 victory over third-seeded Texas Tech on Saturday at T-Mobile Center.
Agbaji, a senior guard who was playing in his hometown, averaged 18.7 points and 4.3 rebounds and shot 47.6% (20-for-42) in the three-game tournament. He had 16 points and a team-high seven rebounds against Texas Tech.
He became the fifth player to win the award after being named the player of the year in the conference, and he was the 11th Kansas player to be named the tournament's most outstanding player.
"Means a lot," Agbaji said. "I'm honored to receive that. I'm just blessed to be in this position. I always got to give it back to my teammates, because I literally couldn't have done it without them."
Kansas junior guard Christian Braun joined Agbaji on the all-tournament team after he scored 14 points on Saturday and averaged 11.3 points and 8.3 rebounds in the three games.
Texas Tech senior forward Bryson Williams and junior guard Terrence Shannon Jr. joined them on the team, as did Oklahoma senior guard Umoja Gibson and TCU sophomore guard Mike Miles Jr.
Six players were chosen because of a tie in the voting, which was undertaken by members of the media who were covering the tournament.
Photo Gallery
Kansas basketball v. Texas Tech (Big 12 Tournament Championship)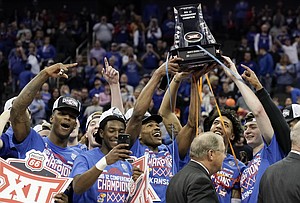 View a gallery of images from the championship game of the Big 12 Tournament between the Kansas Jayhawks and Texas Tech Red Raiders on Saturday at T-Mobile Center.
"It's awesome to see somebody that I have known for so long accomplish these things, and it showed," Braun said. "It started last summer. His work ethic has gone up so much and it's at a level where he's competing with himself every day. ...
"He carries us a little bit — a lot, actually. He carries us, and it's also fun to watch him. (He's) fun to play with. He's super unselfish. He's super humble, so he'll never tell you, but it's great to see from all our perspectives."
Lightfoot sprains left knee
Sixth-year senior center Mitch Lightfoot left the game midway through the second half with what coach Bill Self said afterward was a sprained left knee.
Lightfoot, who finished with two points in 10:33 against Texas Tech, set a career high in the semifinal victory over TCU on Friday with 15 points.
He was injured with 7:26 to play when redshirt sophomore forward Jalen Wilson was guarding Texas Tech's Adonis Arms on a drive to the basket. Wilson was backing up and fell backward into Lightfoot, who had his legs cut out from underneath him.
The play led to a timeout, and Lightfoot was evaluated on the bench by athletic trainer Bill Cowgill. He was taken through the tunnel for further examination but returned to the bench after about 10 minutes while wearing sweatpants.
Self said after the game he had no update on Lightfoot's situation, though Lightfoot was able to climb the ladder — albeit gingerly — to cut down the net as part of the Jayhawks' victory celebration.
With Lightfoot out, McCormack played nearly all of the final 7:26, though freshman KJ Adams spelled him for about half a minute.
Self: KC good for Big 12
Self joked that he "didn't notice it was a home-court advantage at all" when asked about the decidedly pro-Kansas crowd that remained for the tournament final.
Attendance for the game was listed at 16,344, and except for the sections reserved for Texas Tech fans, many of those in the others were cheering for the Jayhawks.
"It's a great tournament, and, you know, I'm biased, I'm selfish, but I think even players on other teams would agree that Kansas City is probably the best host for this tournament," Self said.
The event, which has been held at what is now the T-Mobile Center every year since 2010, has also been played in Oklahoma City and Dallas. It was held at the former Kemper Arena, two miles west, in seven of the first nine years.
This and that
By winning the tournament, the Jayhawks became the 11th No. 1 seed to claim the title. It last happened in 2018, when Kansas defeated West Virginia. ... Agbaji, Braun, McCormack, Wilson and Remy Martin scored more than 10 points. It's the fourth time this season Kansas has had five or more players finish in double figures in scoring. ... Kansas improved to 4-0 against Texas Tech in the Big 12 tournament, though the previous meeting was in 2013. ... Texas Tech was in the Big 12 title game for the second time. It lost to Oklahoma State in 2005. ... Teams lined up on the foul line before the game for a moment of silence meant to emphasize the Big 12's inclusivity campaign. ... Wilson fouled out for the first time this season when he picked up his fifth foul with 28.6 seconds remaining.