KANSAS CITY, Mo. — Even though David McCormack wasn't necessarily happy with the plan for his Big 12 tournament minutes restriction, he understood it.
On Saturday, his patience paid off.
McCormack had team highs of 18 points and 11 rebounds for his 10th double-double of the season in the top-seeded Kansas men's basketball team's 74-65 win over third-seeded Texas Tech in the championship game.
A sore foot has increasingly bothered McCormack in recent weeks, and he briefly experienced concern about a left knee injury in the second half that he downplayed afterward.
Photo Gallery
Kansas basketball v. Texas Tech (Big 12 Tournament Championship)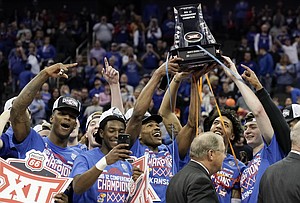 View a gallery of images from the championship game of the Big 12 Tournament between the Kansas Jayhawks and Texas Tech Red Raiders on Saturday at T-Mobile Center.
But knowing earlier in the week that playing three games in three days could further aggravate the foot injury, coach Bill Self decided against handing the senior center a usual workload.
McCormack played 10:17 in the quarterfinal win over West Virginia and 13:28 in the semifinal victory against TCU. That meant that on Saturday, he was free to play 28:59 — and he delivered.
"Coach made a joke about it because I was kind of upset in the process of it," McCormack said. "You know, you always want to play, but it definitely made a difference just as far as feeling fresh and feeling like I have great stamina and being able to execute plays and do what I need to do later on in the game."
McCormack played 13:50 in the first half, in which he had nine points and five rebounds, and 15:09 in the second half. A left knee injury to Mitch Lightfoot, his primary backup, forced McCormack to play all but nearly two minutes of the final 7:24 once Lightfoot left the game.
Self said Lightfoot sprained the knee but didn't have a substantive update on his health or availability so soon after the game.
An absence to Lightfoot, combined with McCormack's ailing foot, could cause problems for the Jayhawks in the NCAA Tournament.
But McCormack said the regular season is hard given that games are interspersed with full-speed, competitive practices, and the NCAA Tournament, with two games a week as long as a team keeps winning, should offer him a reprieve.
"Just a little soreness because of the game, banging and bruising, but besides that, I'm really feeling good," McCormack said. "Honestly, it's probably the best I've felt in a while."
Kansas defeated West Virginia 87-63 on Thursday and only briefly led by fewer than 15 points after the first 10 minutes. Self said after that game that McCormack's 10 minutes were about as much as he should have played, though he would have put him back on the court had the outcome been different.
On Saturday, Self said the Jayhawks "caught a break" with the way the first two games played out.
"The fact that he didn't have to play much the first two games was probably a bonus and (led to) him playing better today," Self said. "His foot is tender. It's not anything that's going to keep him from playing, but it's tender and sore, and so that was nice that we didn't have to tax him the first two days. But he was terrific today."
That he stood out in two title-winning games — the regular season-clinching victory over Texas on March 5, in which he had a season-high 22 points and 10 rebounds, and the tournament title win on Saturday — is not lost on McCormack.
"Everybody always wants to play the best when it matters the most, and I can say I've done that in these two most important games of the season," McCormack said. "I hope to continue to do it going forward."
https://www.youtube.com/watch?v=QrYkyYnVLlI
https://www.youtube.com/watch?v=OQLWKBF3mtI
https://www.youtube.com/watch?v=HJJ2gx6H-1c
https://www.youtube.com/watch?v=AH0a_Y12PaY
https://www.youtube.com/watch?v=s7ol7QD3lnk
https://www.youtube.com/watch?v=mpDtsCold1Y
https://www.youtube.com/watch?v=CcCmL8WpgG4
https://www.youtube.com/watch?v=EqTMz58i4u8