Kansas City, Mo. — After what wound up being his final game as the head coach at Kansas State, now former-K-State coach Bruce Weber shared with the media on Wednesday that he had been growing his hair out as a protest of sorts and only planned to cut it when the college basketball programs tied up in the FBI's investigation into corruption in college basketball were punished.
Thursday morning, Kansas State announced that Weber had resigned following his team's latest losing season.
On the way out the door, Weber boasted about running his program "the right way" and said that he was proud of how he had done things during his time at Kansas State, win or lose.
With Kansas being one of the schools Weber referenced — KU is still awaiting a ruling from the IARP in its infractions case — KU coach Bill Self was asked following Thursday's 87-63 quarterfinal win over West Virginia if he had seen Weber's comments.
Photo Gallery
Kansas basketball v. West Virginia (Big 12 Tournament)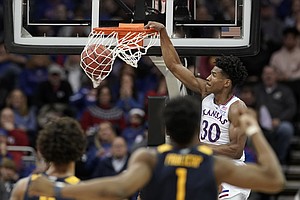 View a photo gallery from Thursday's Big 12 Tournament game between the Kansas Jayhawks and the West Virginia Mountaineers.
"I heard them," Self said.
The Kansas coach then became the latest in the league to commend Weber for the work he did in leading the Wildcats.
"This time of year, I think everybody in our profession feels a little bit of pressure, stress (and) certainly can be emotional," Self said. "I know that I go through those phases as well. I have enjoyed competing against his teams. I never thought it was him against me. But I have enjoyed my players competing against his players. And I thought he did a good job in Manhattan and certainly wish him well whatever the next step is for him."
Kansas State Athletic Director Gene Taylor held an impromptu press conference with the media in downtown Kansas City on Thursday to reveal a look at what KSU would do in its search for Weber's replacement.
Taylor said he would not be hiring anyone from Weber's staff to take over and the assumption is the Wildcats will conduct a national search while looking for their next men's basketball coach.
Self and Weber have been connected in college basketball circles for the better part of the past two decades. Weber succeeded Self at Illinois after the KU coach left the Illini to come to Kansas in 2003. And the two faced each other 23 times after Weber took over at Kansas State 10 years ago. Self went 20-3 in those head-to-head matchups.
Dajuan's dunk
Late in Thursday's win over West Virginia, Kansas point guard Dajuan Harris Jr., got his hands on a pass near mid-court and tipped it ahead to himself before chasing it down for what quickly turned into a breakaway opportunity for the KU sophomore.
Rather than laying it in, Harris went up and flushed it. The play, which was Harris' exclamation point on a day that featured six points, seven assists and zero turnovers in 25 minutes, turned out to be Harris' last. And it was greeted by some pretty good reactions on the Kansas bench.
"It was all right," KU junior and longtime Harris friend Christian Braun said of the highlight play. "I've seen him dunk better than that in eighth grade. It was good for him to get one of those, but it wasn't his best."
On the other hand, KU senior Ochai Agbaji said he "loved it."
Document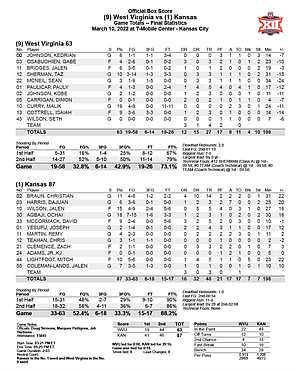 "I thought he was going to lay it up, but then he kind of took off too far (out) and got one of those iffy dunks," Agbaji said while reliving the play. "But a dunk is a dunk, and for him to be doing that on a fastbreak just shows you a lot about our team and a lot about him."
More minutes for Martin?
Prior to Thursday's win over WVU, Self discussed the idea of senior point guard Remy Martin logging more minutes in this week's Big 12 tournament.
"I'll be honest," Self said. "In a perfect world, it would be nice to give him some major minutes, but we're also trying to win the game. So, I hope they both can co-exist."
It looked like that might happen on Thursday, when KU raced out to big leads and Martin played nine minutes in the first half alone. That was one minute more than his per-game average in his four outings since returning from the bone bruise in his right knee that forced him to sit out several games.
But Martin, who finished with four points, two rebounds, two assists and three turnovers, played just two minutes in the second half on Thursday.
"I thought Remy's second half wasn't as engaged," Self said after the win. "He had a couple of bad turnovers. He looked healthy, though.
Martin looked jet-quick on a couple of layups in Thursday's first half, providing support for Self's Wednesday comments about Martin's health being "pretty good."
"I think he's gotten past worrying about cutting sharp and playing on it full-speed," Self said. "I do think he's shown flashes of being his old self. But, you know, he was out for quite a bit of time. I don't know that, up until the last couple days, he actually looked like old Remy. If he plays like old Remy, then he'll get his minutes. But I'm not going to put him out there if he's not able to perform in a way that gives us the best chance to win."
Ochai collects his hardware
In his final appearance at the Big 12 tournament in his hometown, KU senior Ochai Agbaji kicked things off by receiving his Big 12 Player of the Year trophy from conference commissioner Bob Bowlsby.
Bowlsby presented Agbaji with his trophy on the T-Mobile Center court after TCU's win over Texas and before Kansas and West Virginia tipped off.
The unanimous pick for this season's MVP and the fourth Jayhawk to win the award in the past six seasons, Agbaji talked recently about returning to T-Mobile Center — known throughout most of his KU career as Sprint Center — for one final run.
"Being the one on the court now, I feel that buzz," Agbaji said of playing in the venue he grew up watching others play in. "It's crazy that I'm about to have my last go around."
This and that…
Thursday's win made Kansas 22-3 in Big 12 tournament quarterfinal games and pushed the Jayhawks into the Big 12 semifinals for the 22nd time in 25 years… The Jayhawks are now 4-1 in neutral-site games this season, 78-28 in league tournament play all-time and 48-12 all-time at the Big 12 tournament… KU's win improved the program to 44-10 all-time inside T-Mobile Center (formerly known as Sprint Center), including a 2-0 mark this season… Self is now 43-13 all-time in league tournaments, with 34 of those wins, against just eight losses, coming at Kansas… Agbaji is now 17 points away from moving into 20th place on KU's all-time scoring list… KU's 24-point win is the biggest margin of victory for Kansas in a Big 12 tournament game since topping Texas Tech 91-63 in 2013.
https://www.youtube.com/watch?v=rklEv2Lett8
https://www.youtube.com/watch?v=BVZylFGNGto
https://www.youtube.com/watch?v=cRj47bJvLW0