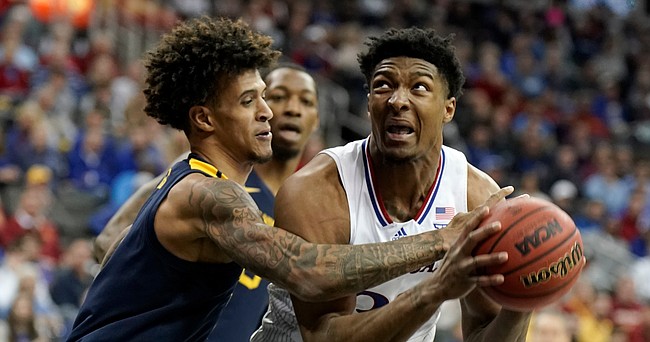 KANSAS CITY, Missouri — By playing only 10 minutes in the top-seeded Kansas men's basketball team's 87-63 victory over West Virginia in the Big 12 quarterfinals on Thursday, David McCormack may have bought himself more time throughout the rest of the tournament.
Coach Bill Self said Tuesday that McCormack, who has a sore foot, was going to have his minutes limited after the opening-round game in an effort to manage his discomfort.
Photo Gallery
Kansas basketball v. West Virginia (Big 12 Tournament)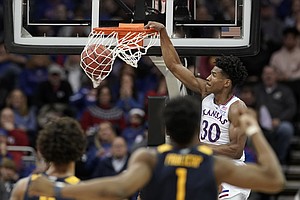 View a photo gallery from Thursday's Big 12 Tournament game between the Kansas Jayhawks and the West Virginia Mountaineers.
But the senior, who had nine points and five rebounds, wasn't needed as much against the Mountaineers. He was pulled after a pair of turnovers 3:35 into the first half and played just 6:42 in the second — and that should allow to play more than originally expected in the semifinals against No. 5 seed TCU on Friday.
"That's about the amount he should have played knowing that we've got a big one tomorrow, too," Self said Thursday. "If the game would have been different, he would have played more, but I thought Mitch (Lightfoot) played well and I'd rather have Dave fresh tomorrow."
Lightfoot was the first player off the bench for the Jayhawks, and he finished with 10 points, five rebounds and a season-high five blocks in 22:43.
Self also got seven minutes out of freshman Zach Clemence, who had two points, two assists and three rebounds. Freshman KJ Adams, who has replaced McCormack at center at times this season, played just shy of six minutes, but all were late in the second half and alongside McCormack or Clemence.
"It's next man up," Lightfoot said. "Enabling (McCormack) to take some time is a big thing. When Dave's out there, we're going to be our best when he's playing his best, so enabling him to be his best is my job."
Document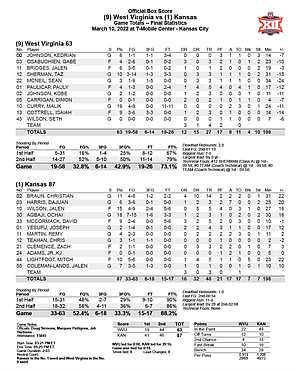 Lightfoot, who made five of his six shots and had eight points in the first half, was also active defensively. A block on Isaiah Cottrell on Kansas' second possession with him in the game led to a 3-pointer in transition by Ochai Agbaji, who finished with a team-high 18 points. He also drew a charge on Pauly Paulicap with 7:59 to play and was congratulated by his teammates as he walked toward to the bench at the start of a dead-ball timeout.
The Mountaineers also made only 11 of their 29 shots in the paint, including just two of eight from within 6 feet in the first half.
"I think we were able to affect some shots and make sure we were contesting them," Lightfoot said. "Everybody was flying around. You saw (Christian Braun) get out there. He was contesting shots at the rim, and I think that has maybe something to do with taking away their confidence at the rim."
Self has been limiting McCormack in practice in recent weeks as his foot, on which he had surgery nearly a year ago, continues to ache. Not since the November tournament in Orlando, Florida, have the Jayhawks played so frequently, and Self made it clear Tuesday that the priority is to have McCormack available for the NCAA Tournament beginning next week.
And while McCormack was Kansas' best rebounder in Big 12 games during the regular season, the Jayhawks benefited from Braun's career-high 14 rebounds against West Virginia and at least four from three other players.
"When we rebound well, it's easier for us to get out in transition, to rebounding the ball enables us to really get out there and run," Lightfoot said.