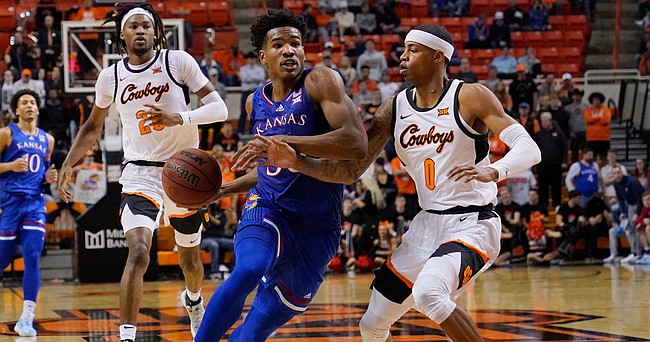 One day after being named the Big 12 Conference player of the year by the league's coaches, Kansas senior Ochai Agbaji landed his first All-American honor.
Voted a first-teamer by The Sporting News, Agbaji is well on his way to racking up a collection of All-American nods, with most expecting him to land on the first team of many of the postseason All-American teams.
Agbaji has been tracking toward these types of accolades since the opening night of the season, when he dropped 29 points on Michigan State in the Champions Classic last November. That performance proved to be a springboard for a season that featured 17 20-point games and five games of 25 points or more.
As TSN pointed out in its blurb about Agbaji, his defining moment of the season came when he scored 37 points in a home win over Texas Tech. Included in those 37 points was a 3-pointer at the end of the first overtime to save the Jayhawks and force a second OT.
By season's end, that shot and the Kansas victory it led to, helped KU earn a share of the Big 12 regular season title.
In addition to being KU's top threat, Agbaji led the Big 12 in scoring at 19.8 points per game while finishing second in the conference in both 3-point percentage (41.1%) and 3-point makes per game (2.9).
His scoring average put him 25th in the nation and his 3-point percentage was good for the 26th best mark in NCAA Division I.
Joining Agbaji on 2021-22 Sporting News All-American first team were Johnny Davis (Wisconsin), Oscar Tshiebwe (Kentucky), Keegan Murray (Iowa) and Kofi Cockburn (Illinois).
Here's a list of Agbaji's 2021-22 honors to date...
The Sporting News All-America First Team
Big 12 Player of the Year
All-Big 12 First Team
Wooden Award Final Ballot (1 of 15)
Jerry West Shooting Guard of the Year Finalist (1 of 5)
Academic All-Big 12 Second Team
co-Big 12 Player of the Week (Feb. 21)
Naismith Trophy Player of the Year Midseason Team (1 of 30)
Jerry West Shooting Guard of the Year Watch List (top 10)
Big 12 Player of the Week (1.24.22)
The Sporting News Midseason All-American Second Team
Big 12 Player of the Week (Jan. 17)
Big 12 Player of the Week (Nov. 22)
Big 12 Player of the Week (Nov. 15)
Wooden Award Preseason Top 50
Naismith Trophy Player of the Year Watch List (1 of 50)
NABC Player of the Year Watch List (1 of 20)
Preseason All-Big 12