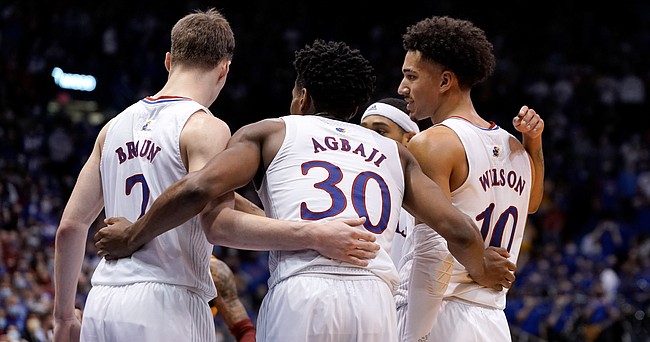 The brackets are set for next week's Big 12 men's and women's basketball tournaments, running simultaneously in Kansas City, Missouri.
The KU men are the top seed in their bracket and they'll face the winner of Wednesday's 8-9 game between Kansas State and West Virginia at 2 p.m. Thursday at T-Mobile Center.
This year's men's event has just nine teams because Oklahoma State is ineligible to participate in the postseason due to NCAA penalties.
If KU wins its quarterfinal matchup, it would play the winner of the 4-5 game between Texas and TCU at 6 p.m. on Friday.
The championship game is set for 5 p.m. on Saturday, and all eight games will be televised on ESPNU, ESPN2 or ESPN.
Baylor, which tied with Kansas for a share of the regular season title, is the No. 2 seed and Texas Tech is the 3 seed. Baylor will play Oklahoma in the quarterfinals and Texas Tech will face Iowa State. Both of those games are in the night session on Thursday.
On the women's side, Kansas is the 5 seed and will play No. 4 Oklahoma at 11 a.m. Friday at Municipal Auditorium.
KU and OU split the season series, with the Jayhawks winning in Norman, Oklahoma on Saturday.
The winner of that matchup will face the winner of top-seeded Baylor and the 8-9 winner on Saturday, with the title game slated for Sunday.