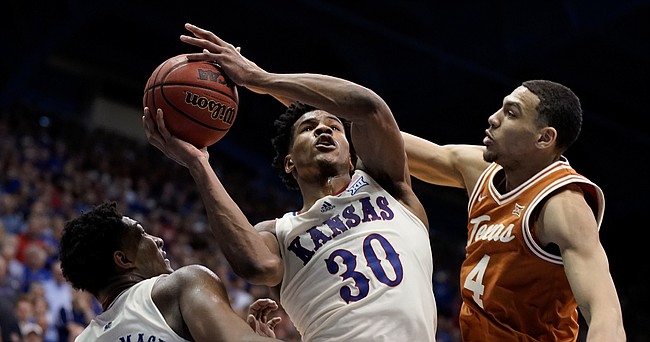 When Kansas men's basketball coach Bill Self took Ochai Agbaji off the court with 12:50 to go in the first half of the 70-63 overtime win against No. 21 Texas on Saturday, he pulled Agbaji next to him on the sideline and offered a few words of encouragement.
Agbaji, the Big 12's leading scorer at 20.2 points per game entering Saturday, hadn't made any of the three shots he took until that moment. Self recognized Agbaji was trying too hard on senior day, his last game at Allen Fieldhouse, and wanted to let him know everything was OK.
"It was just diffusing the tension," Agbaji said, recalling that moment after the Jayhawks clinched a share of the Big 12 regular-season title. "He was kind of just like, 'Get back to playing your game. It's all right.' Just letting me know that all the shots that I had taken and was taking were good. They all looked good, so he's going to trust in me and I'm going to trust in him."
It was a rare off day for Agbaji, who scored eight points and had four rebounds in 39:08. He missed his first 10 shots and connected on a layup with 2:37 left in overtime to finish 1-for-11, though he made six of his eight free throws.
The points were a season low for the senior guard, and the last time he scored fewer was on Dec. 8, 2020, when he did not score in a 73-72 home win over then-No. 8 Creighton.
Self attributed Agbaji's off night to the emotions of senior day, as the face of the program was staring down the reality of playing his last game at Allen Fieldhouse, and he warned against looking further into it than that.
"The mentality was senior day, and he wanted to do well and go out in style and was playing for a Big 12 championship, too," Self said. "We had a guy not have his best game, without question, and he was pressing and he missed three uncontested layups that he always makes, but when you care as much as he does, that happens sometimes."
Agbaji, who spent around 10 minutes after the game addressing the crowd and publicly thanking his family, teammates and coaches, acknowledged that he found it difficult balancing his emotions throughout the game.
"I felt the pressure," Agbaji said. "Feelings were high and all that, but like I said, I was just trying to win the game. I wasn't shooting the ball to miss. I kept saying that. I'm not going to keep shooting it to miss. We adjusted. We made adjustments during the game. Props to Coach for doing that. That all means, 'Just win. We've just got to get out of here with a win.'"
Texas guard Courtney Ramey spent much of the game guarding Agbaji, and coach Chris Beard said after the game that Ramey should be on the Big 12's all-defensive team following the regular season given how much trust he puts in the senior to shut opponents down.
Perhaps Agbaji's most notable play came with 5:23 in regulation, when he dove through Ramey's legs to tip a loose ball to Christian Braun to initiate a fast break.
"Och contributes to the game regardless of what he does," fellow senior David McCormack said. "Even though he's not hitting shots, he can screen or rebound. He always has an impact on a game regardless. He finds a way to help us win with whatever does. He does it with 110 percent effort every time."
Agbaji has led the Jayhawks in scoring 19 times in 31 games this season, including 17 in which he had at least 20 points. The only other time this season when Agbaji made fewer than four shots was against Oklahoma on Feb. 12, when he went 3-for-12.
Self said he doesn't see Agbaji's performance "as something that will be lingering at all" heading into the Big 12 quarterfinals on Thursday, when Kansas will play as the No. 1 seed against either No. 8 seed Kansas State or No. 9 seed West Virginia.
But that the Jayhawks can claim they're the top seed, and that they can say they clinched a share of the Big 12 title, was enough for Agbaji on Saturday.
"I don't care if I scored 40 this game or if I scored zero points," he said. "It was just about winning this game — winning this game for the program, winning this game for the coaches and the fans."