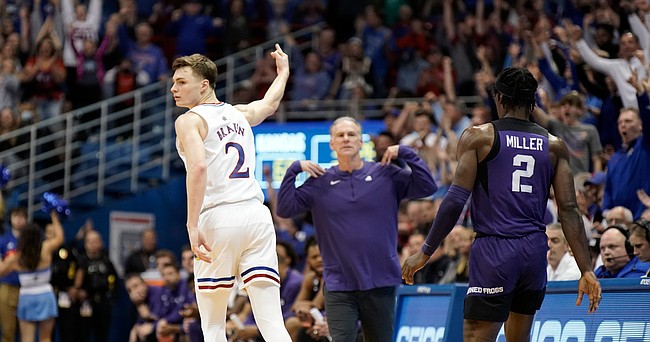 There's two ways you can look at junior guard Christian Braun's performance against TCU during Thursday night's 72-68 victory by sixth-ranked Kansas.
On one hand, KU's second-leading scorer made every field goal he attempted, knocking in four shots total including a 2-for-2 mark from 3-point range.
On the other hand, for a guy who averages nearly 11 shot attempts per game, taking just four shots in 35 minutes could be viewed as a little too passive.
Braun believes it's the latter.
"I didn't do a very good job of being aggressive," he said after scoring 12 points and grabbing 6 rebounds in KU's latest win. "I've got to put up more shots than four. I only shot two 3s again today. So, I just have to do a better job of starting early and that'll help our team (and) open other stuff up for (my teammates)."
Photo Gallery
Kansas basketball v. TCU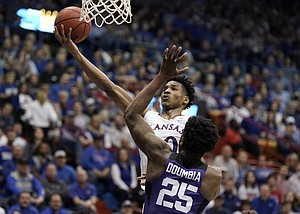 View a gallery of images from Thursday night's game between the Kansas Jayhawks and TCU Horned Frogs.
Kansas coach Bill Self also would like to see Braun be more aggressive. But Self viewed Thursday night's outing through a more sympathetic lens.
Rather than roasting Braun for taking just four shots and not asserting himself the way he's capable of doing, Self looked closer at why Braun's shot attempts stayed low.
"He wasn't open," Self said of Braun. "Their length and interchangeable parts keep you from shooting shots with space and time."
With explosive athletes capable of playing the 2, 3 and 4 positions, Self said he knew that Thursday's rematch, even in the friendly confines of Allen Fieldhouse, would be another dog fight.
"We didn't give our best effort down there (on Tuesday), but we could've given our best effort and still come up short," he said. "That's a good basketball team, and we don't match up well with them."
Braun and his teammates knew that going into Thursday's game. So rather than putting the entirety of their emphasis on players and execution the Jayhawks made this one about pride and effort.
"(On Tuesday), they were the more aggressive team just overall, whether that was offensive rebounding or defense," Braun said. "We knew that we kind of had to punch them back. They punched us at their house so we just had to respond. We knew that this game was really important for our goal and we came out and won a big game."
Despite his slow start and limited number of shots, Braun rallied after spending some time on the bench in the second half. During the stretch when Braun sat, KU point guard Dajuan Harris Jr. and reserve guard Joe Yesufu both hit 3-pointers that helped turn the tide in KU's favor. And the two 3-pointers that Braun hit were both crucial and the result of the aggressive attitude by his teammates.
"I just knew that I had to come in and play better," Braun said.
His first 3-pointer of the night came with 9:03 to play and gave KU a 56-55 lead. That was the Jayhawks' first lead since 39-37 early in the second half. After taking a pass on the right wing, he dribbled twice to his left, saw daylight and eased into the shot that fell softly through the net.
Braun's second 3-pointer came with 3:26 to play and, in many ways, was the knockout blow. This one was wide open from right in front of the bench off of an extra pass from Jalen Wilson and a hockey assist from David McCormack in the post. It put Kansas ahead 67-61, giving the Jayhawks any kind of real separation for the first time since early in the first half.
"I didn't think CB played particularly well at all — he or Jalen — until about midway through the second half and then I thought they both played very well to end the game," Self said. "Very well. CB made a couple of big plays."
After the victory, Braun credited his teammates for pushing him through the quiet night.
"These guys told me I just need to shoot the ball," he said. "I had a couple shots down the stretch that were open and I hit them. That's what I need to do throughout the whole game so we're not in that position. They do a really good job of keeping my mind in the game, but I've got to do a lot better than what I did today."