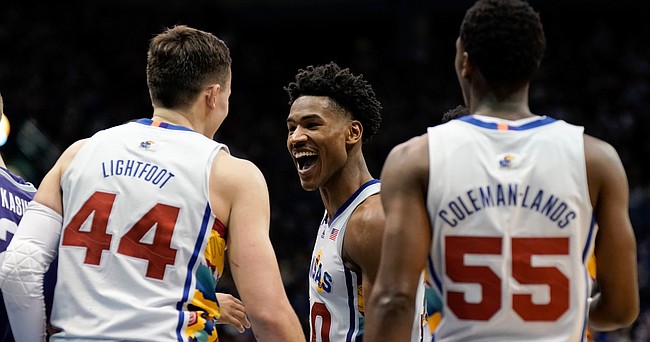 A unique group of Kansas basketball seniors is set to say its final farewell to Allen Fieldhouse and the adoring KU fan base on Saturday in the regular season finale for the sixth-ranked Jayhawks.
Made up of a couple of four-year Jayhawks in Ochai Agbaji and David McCormack, two more players who extended their Kansas basketball vacations past the four-year mark in Mitch Lightfoot and Chris Teahan and a pair of first-year Kansas players in Remy Martin and Jalen Coleman-Lands, this season's senior class will be tasked with trying to keep alive KU's streak of 38 consecutive Senior Night victories.
Standing in their way will be 21st-ranked Texas, which already defeated Kansas once this year and, with a win on Saturday, can keep KU from claiming any part of the Big 12 regular season title.
Tipoff is set for 3 p.m. on ESPN.
"There's been some great ones," Kansas coach Bill Self said Friday. "There hasn't been a ton of games that I can remember that the stakes were as high to win a game as it is this year."
While the rematch with Texas figures to be challenging enough, this group will have to face it while juggling the emotions that come with a whole bunch of lasts. Last time playing in front of the home crowd. Last time running through the tunnel. Last time hearing the cheers and chants associated with game night at Allen Fieldhouse. And many, many more.
"There's a lot of tradition, a lot of history behind it all," said Lightfoot on Friday. "A lot of great guys came before us that set this tradition and we've got to keep up our end of the deal and make sure we follow in their footsteps."
The Kansas Basketball experience has meant something different to each one of these guys. On Friday, they all tried to express what it meant, meeting with the media in groups of three before jumping back into preparations for Texas.
Ochai Agbaji — Kansas City, Missouri
Self said Friday that he could not think of too many former Kansas players whose importance to the team and popularity on campus were equal during their senior season.
From the night he scored 29 points against Michigan State in the season opener, Agbaji has been the face of this Kansas team. But his popularity surfaced long before that.
Even as a freshman, while planning to redshirt his first season at KU, fans saw the smile, the frame and the athleticism and wondered what he might be able to do when he got out there. They soon found out when injuries to teammates inspired Self to pull Agbaji's redshirt midway through the 2018-19 seaaon, and he became a fixture in the starting lineup the rest of his career.
This season, as he closes in on becoming the Big 12 player of the year and remains in the hunt for national player of the year, Agbaji has added a dozen or so memorable moments to his scrapbook.
He crossed the 1,000-point threshold and is closing in on 1,500. He has climbed into the top 10 of KU's 3-point shooting list. He has received numerous individual accolades and seen his NBA draft stock soar. All of it, while leading the Jayhawks to 26 wins, the second most in a single season in his four-year career.
"I've just enjoyed every second that I've been here."
Agbaji's first time ever coming to watch a game at Allen Fieldhouse was on Senior Night in 2018 when Kansas beat Texas. He said that vibe, along with the memories of all of those firsts that came after it, have made the anticipation of the regular season finale feel like "a full-circle" experience.
Mitch Lightfoot — Gilbert, Arizona
You've all heard the coaches say that a Jayhawk would come flying out of Lightfoot's chest if you cut him open, and, for six seasons, including a redshirt year in 2019-20, Lightfoot gave everything he had to the program, while getting even more back in return.
He contributed in games as both a starter and a reserve. He helped the 2017-18 squad reach the Final Four. He became known as Prison Mitch to thousands of Kansas fans. He was known by nearly everyone as the ultimate teammate. And he even got a completely unexpected bonus season because of the pandemic.
"It definitely feels like it's gone by super quick," Lightfoot said on Friday. "I've been here for a while, but time flies when you're having fun. Being able to be a part of this tradition, teammates with these guys, learning from our coaches has been amazing. There's nothing quite like the family, the brotherhood of Kansas."

Lightfoot said he expected the emotions of the end to hit him on Saturday, when he takes the floor with his family or delivers his senior speech. Until then, though, it's been business as usual for the lifelong Jayhawk.
"Preparing for this game like I would all the others," he said. "It's kind of crazy that the clock's ticking down and it's coming to a close, but I'm excited for us to go out there and compete in the Fieldhouse one more time. It stinks that it's over. Glad it happened."
After college, Lightfoot said he plans to pursue whatever basketball opportunities exist.
David McCormack — Norfolk, Virginia
Earlier this week, McCormack joined KU's 1,000-point club and he also has racked up a total of 615 rebounds during his Kansas career.
While his production and performance has been prone to peaks and valleys, the one thing that has never been questioned from those inside the program is McCormack's desire to do well. At times, that has put unnecessary pressure on his shoulders, but he always has been willing to put in the work and been a good teammate and good representative of KU as an athlete and in the academic world.
A preseason all-Big 12 pick this year and a second-team pick a season ago, while also earning the conference's Most Improved Player honor, McCormack has appeared in 122 games in his four seasons at Kansas, making 86 starts.
Although he's a senior in classification, McCormack, who graduated in three years, also could have another year of college eligibility because of the pandemic. Self said he had not discussed next season with McCormack yet but that he did not anticipate having him back.
"I haven't made any concrete decisions," McCormack said Friday. "I'm just going into senior night just because it's my fourth year. I have given a lot to the program and still want to give the speech and enjoy that time with this being my senior year."
While talking about his plans, McCormack said he did not even know if "double down" on a senior night was doable. Lightfoot quickly chimed in and said, "Nothing's impossible. If you want to do it again, go ahead."
McCormack burst into laughter, providing a perfect demonstration of how tight these guys become during their time together.
Chris Teahan – Leawood, Kansas
Every Kansas team has a favorite walk-on among the Kansas fan base, and for five seasons, Teahan has had a stranglehold on that title.
He came to the program with some familiarity, following in the footsteps of his older brother, Conner, who played a key role on KU's national runner-up team in 2012. And while the younger Teahan's goals were to follow in those same footsteps, he wound up making the experience something totally different and just as rewarding.
Outside of the Rock Chalk chant, few things have singled a Kansas victory quite like the sounds of the KU student section chanting "We want Tea-han." And while he has tried to remain locked in and businesslike when the chants rain down, Teahan admitted on Friday that he loved them.
"It means a lot to me," he said. "When I hear those chants, that's something that I never dreamed of or expected when I came to Kansas. It's a good kind of nerves, but it's definitely something that, at some points, I feel undeserving of. The fans have been great to me and have made it a dream come true."
The chants mean something entirely different to his teammates.
"When I'm on the court and I hear those chants, I like that feeling," Agbaji said with a huge smile. "Everyone loves that. It's like a whole different game when he gets in."
Like Lightfoot, Teahan's time with the program was extended by a year because of the pandemic. And although he knows the end is nearing, he's trying to keep his mind focused on helping this team finish strong.
"Right now, it's mostly just about trying to enjoy my last couple games here and enjoy the rest of the season," Teahan said Friday. "Because I know it's something that I'm obviously not going to be able to experience again."
Jalen Coleman-Lands – Indianapolis, Indiana
He arrived on campus ready to rival Lightfoot for the title of oldest player on the team. And, as coincidence would have it, the two oldest Jayhawks are separated by one day and one year, with Coleman-Lands actually being older.
Known as a lights-out shooter when he arrived at KU after stints at Iowa State, DePaul and Illinois, Coleman-Lands quickly embraced the Kansas basketball experience and made himself a part of the Lawrence community.
He knew the minutes would be tough to come by, but he said when he committed that he could not imagine a better way to wrap up his college basketball career.
"It's been everything and more," he said Friday. "Even just being with these guys every day. You definitely have to be a part of it to understand. And, from the outside looking in, I didn't know."
In limited minutes (9.3 per game in 29 appearances), Coleman-Lands has shot 43.6% from 3-point range and been the type of teammate who stayed ready whether the opportunities came or didn't. He enjoyed so much his one season at Kansas that he hopes the program and the community will be a part of his life for years to come.
"I'm looking forward to growing our relationship post-career," Coleman-Lands said Friday.
This will mark Coleman-Lands' second senior night of his college career. He also participated in senior night festivities last season at Iowa State.
Remy Martin — Burbank, California
He arrived at Kansas as a super-senior transfer from Arizona State with two wins over the Jayhawks under his belt.
Many KU fans despised him then, but they sure seemed to love adding him to the Kansas roster. Picked as the Big 12 Conference preseason player of the year and named by some outlets as the top transfer in all of college basketball, Martin's one season at Kansas never really got going.
He dealt with ankle, back and knee injuries throughout and also showed signs of being slow to adapt to the Kansas basketball philosophies. Through it all, his teammates and coaches remained supportive and Martin found a way to make the most of his experience.
"I'd say every moment," he said on Friday, when asked for a favorite KU memory. "I haven't been able to participate on the court as much as I would like due to my injury, but just being involved in these games, I embrace all of it. Every time I get to go out and play, it's always a blessing. This is such a special place to play. These fans are special. This team is special. Everything about this place is special."
Martin missed 10 games because of the knee injury but has played in KU's last three. For the season, he is averaging 7.4 points per game in 21.4 minutes.
All six of KU's seniors talked on Friday about their belief that there's still a lot of basketball to be played this season. Martin agreed and that he hoped to go out with a bang.
"My main goal is to do as much as I can for these guys to win," he said. "These guys put a lot of blood, sweat and tears into this game and I just want to be able to help in any way possible. I came here to win. Whatever my role was, that was the main goal and it still is the main goal. I'm just going to try to put my best foot forward and try to help. That's all I'm here for — to help and try to win."