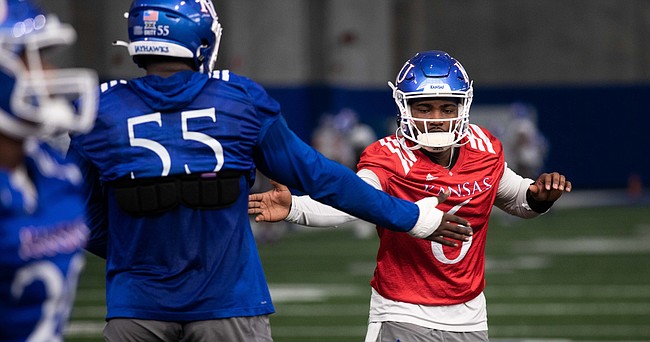 Although Jalon Daniels finished last season as the Kansas football team's starting quarterback, it's not guaranteed that he'll be in that role at the beginning of the next one.
Daniels and Jason Bean, the Jayhawks' starter for the first nine games, will compete throughout spring and, likely, into the summer to earn that responsibility.
That's exactly how offensive coordinator Andy Kotelnicki wants it — not just because they can push each other, but because they can motivate their teammates while doing so.
Photo Gallery
Kansas spring football practice, March 1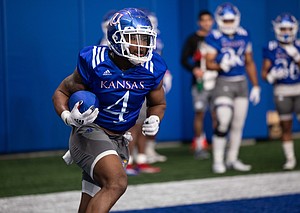 View a gallery of images from the Kansas football team's spring practice on March 1, 2022.
"If you have competition in the quarterback room, everybody sees that the most important position is competitive, which allows everybody to see and accept competition in their room," Kotelnicki said Thursday after Kansas' third of 15 spring practices.
"We want every position in our program to have to compete to play. We don't want anyone to start by default, so we're lucky that we have two experienced quarterbacks coming back from last season, people who have taken meaningful reps, which just helps our football team."
Coaches often preach the importance of competition, even when it's seemingly one-sided, so players have something to work toward. If there's no opportunity to play, motivation can be lost, especially in an era when disgruntled players can easily transfer to a new school.
Kansas' coaches, however, can honestly dangle those rewards because of the situation in which the team finds itself. The Jayhawks went 2-10 last season, loyalties don't necessarily run deep and eight players at key positions transferred in with the expectation that they'll play significant roles.
"All our positions will be highly competitive," coach Lance Leipold said Tuesday. "That's going to be a point of emphasis for this spring, and everything that we do moving forward is going to be continuing to build a culture of competition and that each and every day, we're going to compete."
At positions like quarterback, where both players have experience and reached their own highs and lows last season, the path to playing is straightforward: Improve in specific areas during the offseason and come the fall, they'll be on the field.
That's not how Daniels replaced Bean last season. Bean was unable to play in the 57-56 overtime win at Texas on Nov. 13 because of an injury, and that gives the idea of a true competition more credence.
Although Daniels will be limited in spring practice through at least the end of next week — he has an unspecified injury that he called "a little hiccup" — he and Bean have plenty of time to state their cases.
"I'm just going in with the same mindset that I went into last year's spring ball," said Daniels, who will be a junior in the fall. "I'm just focusing on myself, trying to get better as a quarterback. The past is the past. I can't really worry about that now."
Bean completed 56 percent of his passes for 1,252 yards, six touchdowns and six interceptions last season, and he ran 92 times for 400 yards and two touchdowns. Daniels, meanwhile, completed 69.2 percent of his passes — on 65 fewer attempts — for 860 yards, seven touchdowns and three interceptions.
If Daniels earns the starting responsibilities, that doesn't mean the door has been shut on Bean contributing. Kotelnicki said Bean's "elite speed" will force the coaching staff to find a spot on the field for him, but there have been no discussions on a permanent position change.
"We are open to doing anything with any of our personnel," Kotelnicki said. "Heck, you guys saw us throw a football to our left tackle last year. That's what we felt necessary to do to win that game, or try to win that game, and we're going to do those sorts of things."
Said Bean, who will be a redshirt senior: "I'm just excited at any chance I get to get on the field. However they use me, I'm willing to do it and willing to do it 100 percent. I'm happy at the position of quarterback and I think I'm just trying to continue to better myself each day and help this team win."
An unproven group of wide receivers will compete to fill the void in production left by the departure of Kwamie Lassiter II. Adding a pair of transfers in Eriq Gilyard and Craig Young jumbles the mix at linebacker. Even at offensive line, which returns four starters, Leipold said he wants to figure out if it's possible to identify a second five-player unit to serve as backups at each position.
If any of those players can see Daniels and Bean compete — and earn a starting job through their performance — Kotelnicki believes they'll think the playing field is even for them, too.
And they just might be able to step onto it.
"We have put a lot of those leadership growth on those individuals," Kotelnicki said, "and they've risen to that occasion and done a good job with that."